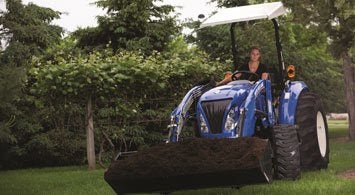 The Boomer series of compact utility tractors is known for its durability, capability, and comfort. The five-model lineup, Boomer 24 (really a subcompact), 33, 37, 41 and 47 can be somewhat confusing, due to the numbering not quite matching the horsepower ratings for every model. For 2017, this will change, with the series soon to be Boomer 33, 40, 45, 50, and 55. We look forward to getting some seat time with these new models as they become available.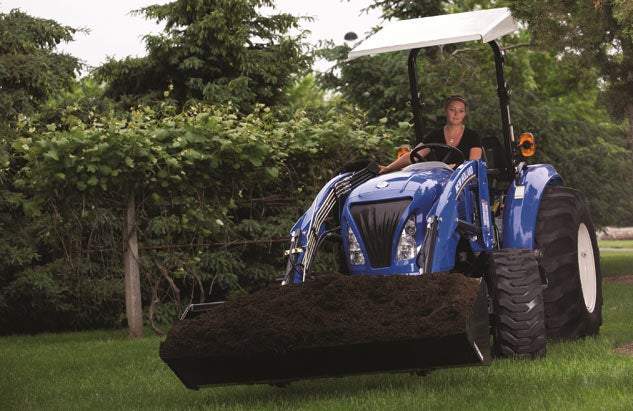 Boomer tractors are manufactured by LS Tractor in South Korea and imported by LS-New Holland. LS's roots date back to 1975 when LG Tractor was created through a joint venture between Hyundai and Yanmar. In 2005, a Fiat association was added who then purchased New Holland. LS Tractor has a technology association with Mitsubishi, and along the way, LS has manufactured tractors for brands such as Montana, Farmtrac, TAFE, GoldStar, McCormick and Landini. The somewhat confusing DNA aside, LS has carved out a reputation for building quality tractors with modern conveniences.
COMPARISON: Read our review of the 2017 John Deere 3046R
In 2012, Tractor.com tested the Boomer 40 and came away impressed with just two nits: lack of telescopic link ends on the three-point hitch (3PH) and a somewhat cramped cockpit for the legs of taller operators. The Boomer 54D CVT Cab tractor we tested in 2015 addressed those shortcomings, but that was a special cab model and we wondered if the current series did so as well.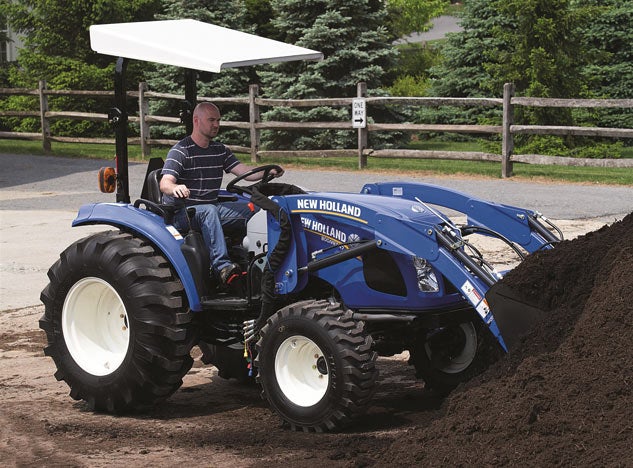 The Boomer 47 is powered by a naturally aspirated 135 cubic inch four-cylinder engine that is EPA Final Tier 4 (FT4 or T4b) compliant through exhaust gas recirculation (EGR), diesel oxidation catalyst (DOC) and diesel particulate filter (DPF) technologies. Diesel exhaust fluid (DEF) is not needed. Output is 45.6 gross horsepower at 2600 engine rpm. For gear transmission tractors, the power take-off (PTO) rating is 37.3 while for hydrostatic transmission (HST) tractors such as our test tractor, the PTO rating is 35.
COMPARISON: Read our review of the 2017 Kioti CK4010SE HC Cab
HST tractors come with a three-range transmission modulated by a pair of side-by-side pedals, easily recognizable by the bright orange over-molded pedal covers. The set up offers fine forward and reverse modulation over the 0-17.9 mph speed range. An electro-hydraulic fully independent 540 rpm rear PTO is standard with a 2000 rpm mid PTO as an option. HST tractors also come standard with cruise control. For purchasers choosing gear drive, a 16 x 16 synchro shuttle transmission is available. To reverse direction with this combination, all that is required is the depression of the clutch and a toggle of the left-hand turn signal-like stalk. 4WD and differential lock are standard with either transmission.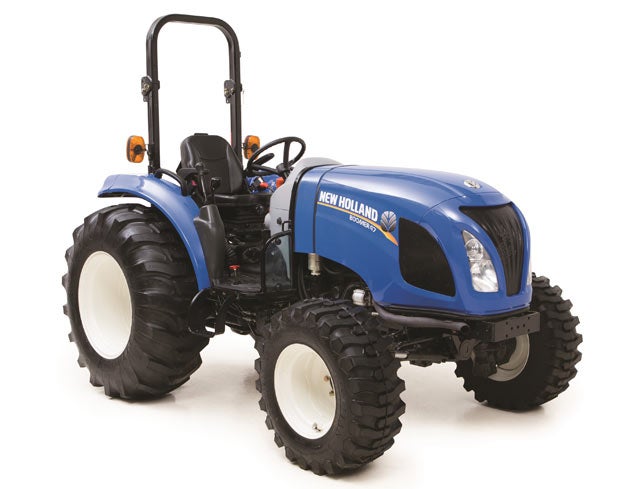 Hydraulics run through a dual pump system flowing 8.2 gpm to implement demand and 5.3 gpm (13.5 gpm total) to power steering needs. Gear drive tractors flow 4.2 gpm to the power steering system (12.4 gpm total). 3PH lift capacity (Cat I) is 2756 lbs at ball ends, while the rating at the industry standard of 24" behind is 2116 lbs. Lower link arm ends telescope for ease of attachment as do the outboard quick adjust stabilizers. Position control is standard, so an implement can be returned to a preset position time after time. For purchasers requiring more hydraulic control, up to two rear remotes are supported as an option.
COMPARISON: Read our review of the 2016 Massey Ferguson 1739E
Our test tractor was outfitted with the model 260TLA loader, which is rated to lift 1849 lbs to a max height of 109". This rating comes at a point 19.7" forward of the pivot pin and more readily represents a real life lift capacity. Rating at the pivot pin is 2371 lbs. Likewise, the breakout force rating 19.7" out is 3191 lbs while at the pivot pin is 4081 lbs. With 8.2 gpm flowing to the loader, hydraulic performance is crisp and quick, with full raise taking 3.8 seconds, full lower 2.0 seconds, full dump 3.5 seconds, and full curl 2.2 seconds. The curved boom loader matches the hood curvature nicely and gives the operator enhanced visibility. Two backhoes are available, the 925GHB which can dig to a depth of 89.9" and the 935GHB which can dig to a depth 102".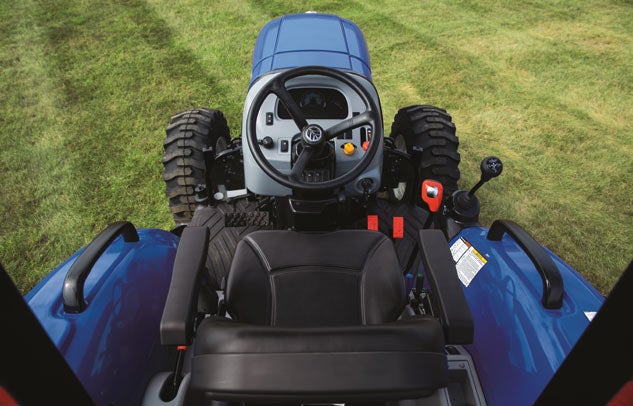 Climb up into the cockpit, and now the extended wheelbase (73.2" vs. 69" on the Boomer 40 we tested in 2012) really shines. Legroom for even our 6'2" tall tester was aplenty. Control layout is friendly and ergonomic with color coded controls, an uncluttered feel, and a backlit dash easily readable in even bright sunlight. The seat is a high-back design with armrests and is height adjustable for operator comfort. The steering wheel also tilts for operator preference. The floorboard is rubber isolated and mostly flat with just a small transmission hump. Grab handles are located on both fenders and the joystick is nicely integrated into the right fender. The automotive-style ratcheting brake lever locks positively and is a welcome addition.
For the ultimate in comfort, the Boomer 47 can come with New Holland's SuperSuite cab. This is a four-pillar design foregoing the traditional B-pillar of six-post designs, and offers improved side visibility and through the wide glass doors, easier access. The cab has a high-visibility roof panel that adds additional visibility for loader work. A lighting package that includes two front and two rear work lights along with rear warning and turn signal lamps is also standard.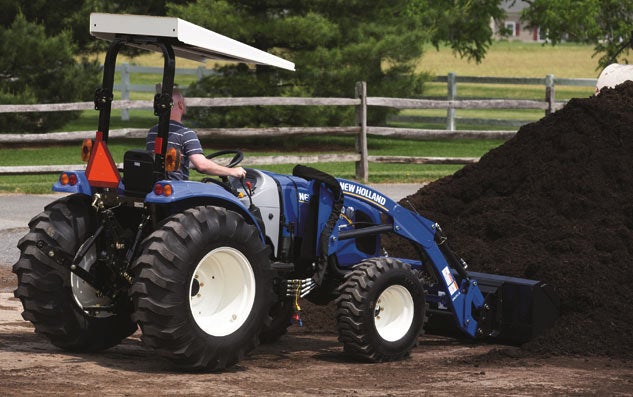 The 3490-pound Boomer 47 open station tractor measures 128.1" long by 69.1" wide and is 97" high to the top of the ROPS when in full upright position. Currently New Holland warrants this series of Boomer tractors for two years bumper-to-bumper and with extended powertrain coverage for five years. Prospective owners should keep their eyes on the warranty as New Holland will be offering six-year coverage for the incoming 2017 line up and wonder if this will include the existing line up. Either way, the Boomer 47 would be an excellent choice for a homeowner, rural lifestyler, landscaper, agribusiness, golf course or municipality requiring a 45+ horsepower compact utility tractor in a nimble-sized package.