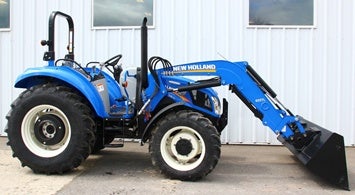 The New Holland Powerstar series consists of two tractors, the 64 horsepower T4.65 and the 74 horsepower T4.75. The T4.65 comes only in a cab/4WD configuration, while the New Holland Powerstar T4.75 can be ordered as an open station tractor with choice of 2WD or 4WD, or as a cab tractor, again with choice of 2WD or 4WD. For many dealers, Powerstar tractors have become the volume leader and therefore not known to sit on lots for long. Thanks to the good folks at Capital Tractor, Inc. in Greenwich, NY, we were able to get behind the wheel of both an open station tractor and the cab variant.


All Powerstar tractors are powered by Fiat Powertrain Technologies (FPT) 3.4L 4-cylinder engines that are turbocharged, have common rail injection, and make rated power at 2,300 rpm. A flat power curve between 1,900 and 2,100 rpm maintains maximum performance throughout the wide powerband, and in the case of our New Holland Powerstar T4.75 test tractor, allows for up to 310 Nm of available torque. To achieve EPA Final Tier 4 (FT4 or Tier 4B) compliance, advanced PM catalyst technology is employed. This type of filter burns off particulate matter (PM) as it passes through and requires minimal operator intervention with fewer occurrences of regeneration than with a diesel particulate filter (DPF). These engines are quiet, clean, powerful and efficient, with an added benefit that the service interval has been extended to 600 hours.
COMPARISON: Read our review of the 2018 John Deere 5115R
Two transmissions are offered, though not for T4.65 purchasers who get a 12F x 12R hydraulic shuttle transmission. New Holland Powerstar T4.75 purchasers can choose between an 8F x 8R transmission with either a mechanical or hydraulic shuttle or an12F x 12R transmission with either a mechanical or hydraulic shuttle. A creeper option is also available with speeds as low as 5.9 feet per minute. Both transmissions offer a 20 mph transport speed, but 4WD tractors with the 12F x 12R transmission have a 24-mph option and the benefit of enhanced braking through the 4WD system (more on this below).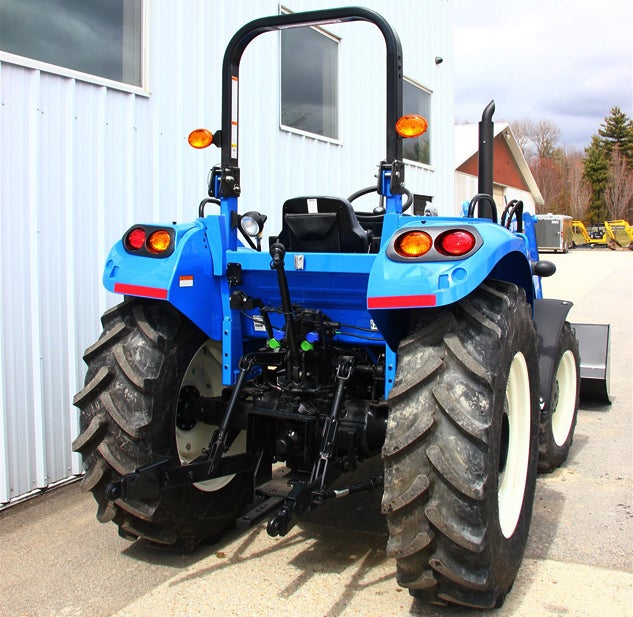 Hydraulics run through an open center system with separate pumps for the power steering and implement circuits. Flow rate is 9.5 gpm for the steering and services pump and 12.5 gpm for implement demand (22 gpm total). Two color-coded rear remotes are standard with up to three supported. Hydraulic output allows the Cat I/II three-point hitch (3PH) to have a lift capacity of 3,664 lbs measured at ball ends. Lower lift arms feature flexible ends, while the outboard stabilizer telescope for ease of attachment. Position and draft control are both standard. At the rear of the tractor, there is a hitch control (though not built into the fenderwells as on more expensive tractors) that allows the operator to lower/raise the hitch without having to climb up into the operator cockpit.
The base 540 rpm rear power take-off (PTO) needs 1,958 engine rpm to run at rated speed, but there is a fuel-saving 540E option available that lowers needed engine rpm to 1,592 and is perfect for running equipment such as a tedder or light-duty mowing.
COMPARISON: Read our review of the 2018 Massey Ferguson 6713
4WD tractors get an electronic front axle that is engaged by a rocker switch on the Command Arc console arm. For tractors so equipped, stepping on the brake pedal (both) engages the 4WD to provide additional stopping power. 2WD tractors get a heavy-duty front axle with 55-degree steering angle and a 134" turn radius (without using brakes).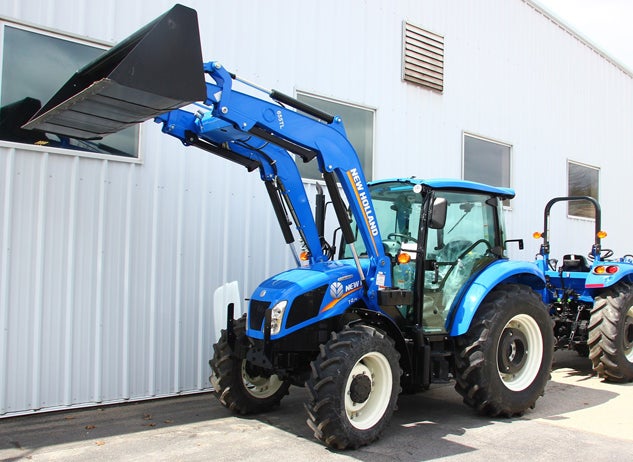 Both the open station New Holland Powerstar T4.75 and the cab T4.75 variant we had access to were equipped with 655TL loaders, which feature lower and shorter loader brackets for better visibility. Available as non-self-leveling (NSL) or mechanical self-leveling (MSL), the former has a lift capacity of 2,478 lbs to a max height of 126" with a dump clearance of 93" and an 8" dig depth, while the latter can lift 3,179 lbs to a max height of 125" with the same dump clearance and dig depth. Need more lift capacity? New Holland also offers the 665TL which does just that. Skid-steer style quick couplers which open a wide range of available, rentable, or borrowable attachments, and available 3rd function hydraulics which allow implements such as a grapple to be used, round out the built-in functionality.
COMPARISON: Read our review of the 2018 Kioti DK4510 Open Station
How does it all work? We'll start with the open station New Holland Powerstar T4.75. Due to the roomy platform and steps port and starboard, the operator platform can be accessed from either side. With the Command Arc console which houses the most frequently-used controls in ergonomic fashion on the right, access is a little more limited from that side, but still not-at-all approaching a gymnastic event. Access from the left is outstanding. With a cab option, it's not surprise that the pedals are suspended (makes making a cab variant all the easier) with a clutch pedal to the left, split brakes middle-right, and a foot throttle to the right.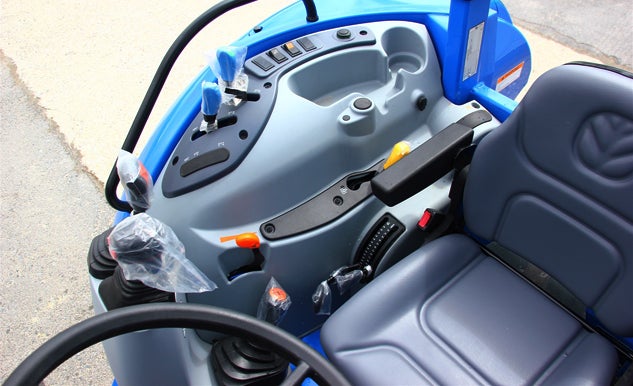 A tilt wheel and adjustable seat allow personal adjustment, while the lever placement – ergonomically engineered with input from farmers and enhanced by New Holland's virtual reality tools – fell comfortably to our testers' hands. We measured 86/87 dBA from the operator seat at idle – a point where loader response was slow but certainly acceptable – then mid 90s at PTO rpm where loader response nodded approvingly to the 12.5 gpm on tap. Shuttle action and gear/range operation worked quite well with the levers clicking positively into place. For both test tractors, the optional ratchet-style parking brake lever was installed. Dustin Gibbon explained that on tractors not-so-equipped, the operator has to fuss a bit with getting the gear lever into cog and the low-cost option was well worth it.
As nice as open station New Holland Powerstar T4.75 tractors are, T4.75 cab tractors take comfort and control to even higher levels. The VisionView cab is spacious, with plenty of glass, minimal support posts, and well-thought-through grouping of controls. The HVAC system has 10 vents, is nearly silent (we measured 70/71 dBA at idle with AC on), dual fans, and two filtered intakes to draw outside air. Controls are located on the "B" pillar and are automotive-familiar (blue to red temperature and 0 to 4 fan). To go along with the cab quiet is an optional radio with MP3 capability. Our cab tractor was outfitted with the optional air ride seat that also swivels for ease of viewing a rear implement and full-size instructor seat with its own seatbelt. Another nicety for cab variants is the tilt wheel, which also features a dash that moves with each adjustment to always keep the display in view. The digital display also gets high marks, with readouts for information such as PTO rpm, ground speed, and service intervals. We're not quite sure if New Holland pioneered the high-visibility roof panel that also opens for ventilation or not, but many have grown to appreciate this feature, especially during loader use.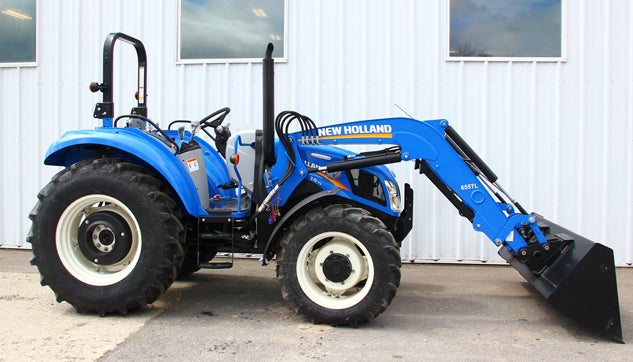 In addition to the 600-hour service interval, tractor maintenance has been designed in, beginning with the one-piece hood that opens high for easy access, a cooling package that slides out for easy cleaning, fender mounted cabin filters, and under step, ground-level fuel filling. Daily checks of engine and hydraulic oil level are accomplished without having to raise the hood.
The New Holland Powerstar T4.75 cab tractor comes in at 6,239 lbs, is 151" long, and rides on an 83.9" wheelbase. Our test tractor was outfitted with 420/85R30 rear and 280/85R24 front R1 (Ag) tires.
For an agribusiness in need of a high-efficiency, high-performance 65-75 horsepower utility tractor with 2WD, 4WD, open station and cab variants, the Powerstar lineup would be well worth checking out. And for those in the vicinity of Greenwich, NY (greater Albany), Capital Tractor, Inc. would be a good place to start.