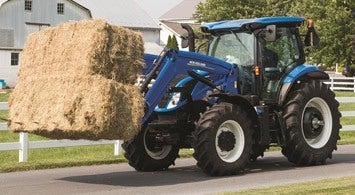 The New Holland T6 series consists of five tractors that have been redesigned and restyled to keep pace with the needs of today's agribusinesses, municipalities, and other heavy-duty applications where maneuverability is paramount. Ranging in engine horsepower from 116 to 145, the model T6.175 was recently honored as "2018 Machine of the Year" at the Agritechnica trade show held in Hanover, Germany.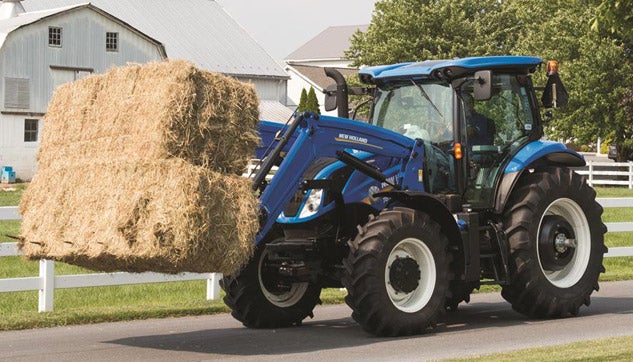 Power for the series comes from 4.5L four-cylinder (6.7L six-cylinder for the T6.180), ECOBlue HI-eSCR engines designed and manufactured by sister division FPT. These engines meet stringent Final Tier 4 (FT4 or Tier 4B) emissions requirements using aftertreatment technologies that do not rob engine power. With a torque rise of up to 42%, and boosted power using Engine Power Management that allows up to 34 additional horsepower, these tractors are ready to get to work. In the case of the T6.175, boosted power equates to 175 max horsepower with a power take-off (PTO) rating of 120. 540 PTO rpm comes at 1969 engine rpm, while 1000 PTO rpm comes at 1893 engine rpm. Switching the PTO from 540 to 1000 rpm is by a reversible shaft.
Further adding to the tractor versatility is the ability to customize with four trim levels, four axle choices, seven Electro Command transmission possibilities plus an Auto Command CVT option.
COMPARISON: Read our review of the 2016 New Holland T5.120
The four trim levels are Value, Plus, Elite, and Auto Command with each step up offering enhanced performance and comfort. Order a T6 in Value trim level and you get the Electro Command Semi Powershift transmission offering clutchless gear change within each range, a 21.1 gpm fixed hydraulic pump, two mechanical rear remotes, eight LED lights outputting 15,600 lumens, and a low-profile roof ideal for height-challenged barns or storage sheds. Move up a level to Plus and you get upgraded hydraulics with a 29.9 gpm closed center load sensing (CCLS) circuit, 12 LED lights, and the ability to add options such as cab suspension and auto guidance.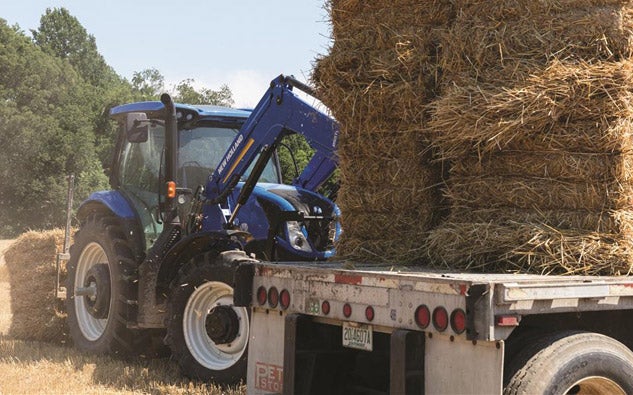 Elite trim level adds standard cab suspension and can be optioned with ISO BUS II (Class 3 compatibility) bringing enhanced control over implements such as balers. Auto Command trim level ups the ante with a 33.5 gpm CCLS circuit and three electrohydraulic remotes.
As mentioned above, four axle choices are available, an economical 2WD axle with a 96" wheelbase, a standard FWD axle with 104" wheelbase, a FWD Terraglide axle with 106" wheelbase, and a FWD SuperSteer axle with 110" wheelbase. Standard and Terraglide equipped tractors have a turn angle of 55 degrees that equates to a 15.1' turn radius, while 2WD and SuperSteer tractors benefit from a 65-degree turn angle that reduces the turn radius to 14.1'. Pretty impressive given that the longer wheelbase SuperSteer matches the turn radius of 2WD tractors. Field testing shows headland turn time is decreased by up to 35%.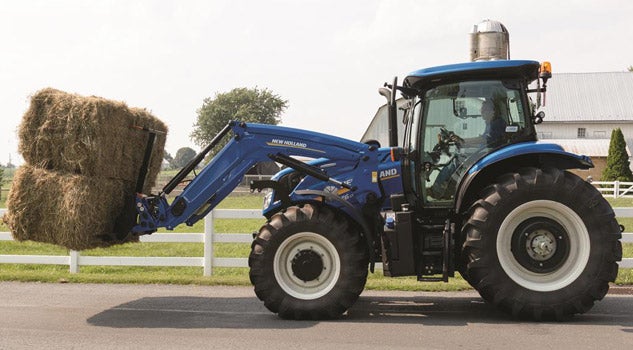 Electro Command transmissions choices are 16×16 semi-powershift 19 mph (2WD only), 16×16 semi-powershift with AutoShift 19 mph (2WD only), 16×16 semi-powershift 25 mph, 16×16 semi-powershift with AutoShift 25 mph, 17×16 semi-powershift with AutoShift 25 mph, 17×16 Fast Mover semi-powershift with AutoShift 31 mph, and 32×32 semi-powershift with AutoShift and Creeper 25 mph. Auto Command equipped tractors come with constant velocity transmissions (CVT) that have four operating modes (Auto, Cruise Mode, Manual Mode, PTO Mode) along with 0.06 mph accuracy. Directional change can be accomplished using the left-hand steering wheel stalk, pushing the CommandGrip lever forward or backwards, or by tapping a thumb switch on the same lever.
COMPARISON: Read our review of the 2018 John Deere 5115R
The CommandGrip lever has soft touch buttons that are backlit and give customizable control of up to two rear remotes, headland turn sequencing (if so optioned), IntelliSteer auto guidance (if so optioned), rear three-point hitch (3PH) raise/lower (and front 3PH if so optioned), and forward/reverse shuttle. Adding to control versatility, and also found on the SideWinder II armrest which can be adjusted for operator preference, is a second joystick that can control 3PH, loader or remote valves. Add a rear linkage mouse control, and fine operator control is the tune of the day. Rear 3PH lift capacity is 11,650 lbs measured at 24" behind the lower link ends.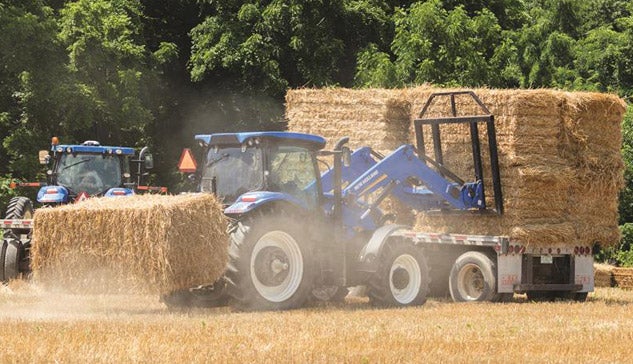 T6 tractors are cab-only and come with New Holland's impressive Horizon Cab, offering great visibility, quiet operating environment (69 dBA), and a long list of comfort and productivity enhancing niceties starting with three seat options. Top of the line is the Auto Comfort Seat which comes in blue and gray leather, is heated and ventilated and has a low frequency suspension. The middle choice is the Dynamic Comfort Seat which comes with a low frequency suspension and 2-stage heating. Standard is a Comfort Seat which has a nice swiveling backrest feature that helps reduce operator fatigue while running a rear implement.
COMPARISON: Read our review of the 2017 Massey Ferguson 5711SL
The Horizon Cab has 12 vents for directing heat/A/C airflow (with an Auto Temp Control option), can come with a Bluetooth radio option that allows the operator to take cellular calls handsfree and/or listen to tunes through a MP3 player or USB thumb drive, and can be optioned with New Holland's Comfort Ride Cab Suspension which uses two rubber isolators at the front corners and a sway bay with two shock absorbers at the cab rear. Cab-controlled electronics include AutoPTO which disengages and then reengages the rear (front if so optioned) PTO during headland turns, Precision Land Management (PLM) compatibility with systems like WAAS (+/- 6-8") all the way to PLM RTK+ (+/- 1"), Electronic Draft Control, and Droop Control which reduces engine rpm but not max forward speed. The GLONASS enabled NH 372 receiver can track up to 44 satellites at any given time.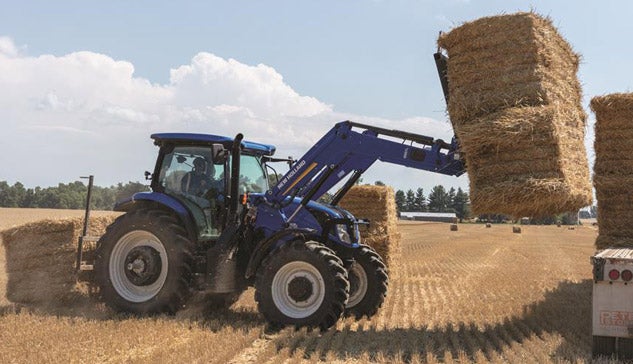 All T6 tractors are factory ready for 800TL loaders and are compatible with models 825TL, 835TL, 845TL, and 855TL in non-self-leveling (NSL) and mechanical self-leveling (MSL) configurations with lift heights in excess of 13' and lift capacity in excess of 2-tons. T6 tractors can support up to four rear remotes (electronic or mechanical) and up to three mid-mount remotes for the front linkage or loader. If equipped with a front 3PH, the lift capacity is 6,834 lbs. T6 tractors have 52.2 gallons of on-board fuel with a 10.4-gallon DEF tank.
Ideal for dairy, livestock, hay, forage, and mixed farming, an agribusiness in the market for a heavy-duty mid-class Utility tractor would be well served to stop by their local New Holland dealership and check out the new T6 lineup.