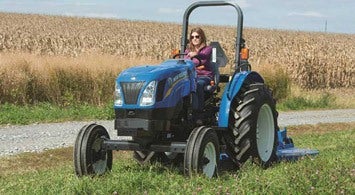 The Workmaster nameplate dates back to the 1960s, when tractor purchasers expected their machines to be easy to use, tough, economical, and durable. Fast forward nearly 60 years and tractor purchasers still expect their tractors to be easy to use, tough, economical, and durable. The current generation of New Holland Workmaster tractors deliver on that premise that never seems to grow old.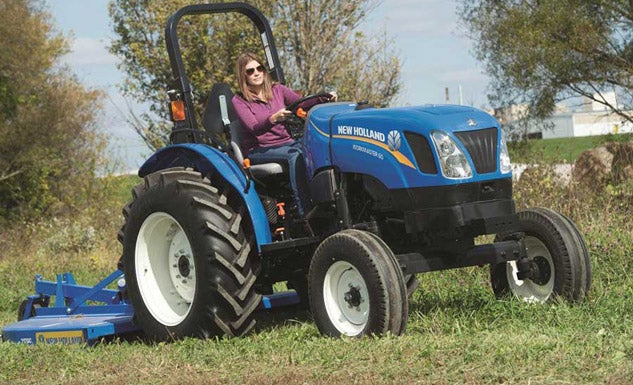 The New Holland Workmaster lineup consists of five tractors ranging from 32 to 70 horsepower. Two models, the Workmaster 33 and 37 are Compact Utility Tractors (CUTs), while the Workmaster 50, 60, and 70 are Utility Tractors (UTs). The subject of this week's review, made available to Tractor.com by the good folks at Kahn Tractor & Equipment in North Franklin, Conn., is the middle Utility model, which is same-sized as the Workmaster 50 and 70.
Power for these tractors comes via three-cylinder 136-cubic-inch diesel engines that are turbocharged, have common-rail direct-injection fuel delivery, and require no extra fluids (DEF) or operator interaction to achieve EPA Final Tier 4 (FT4 or Tier 4B) compliance. These engines are also approved to run on B7 biodiesel, a capability remaining true to New Holland's vision of a cleaner, more ecologically green environment. Rated output for out test tractor is 60 gross and 51 PTO (power take-off) horsepower at 2600 rpm.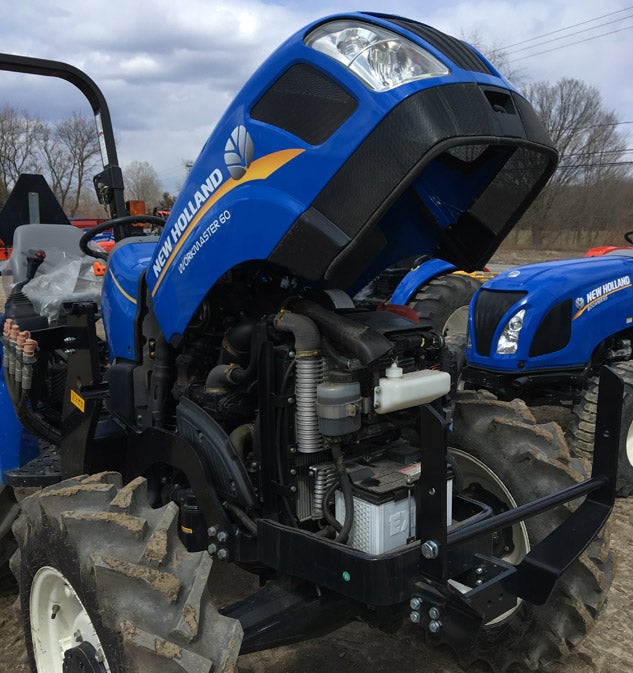 Engine output is sent through an 8 x 8 synchronized shuttle transmission, with directional control via a left-hand turn signal stalk. Clutching is required when reversing or moving from reverse to forward, but the setup is low-effort and intuitive. Top forward transport speed is 19.1 mph. Differential lock (mechanical) is standard, as-well-as 4WD (Workmaster Utility Tractors are also available as 2WD-only).
COMPARISON: Read our review of the 2018 John Deere 4066R
Hydraulics run through an open-center, twin pump arrangement that flows 5.5 gpm to the power steering circuit and 12 gpm to implement demand (17.5 gpm total). This gives the Cat I/II three-point hitch (3PH) a lift capacity of 2701 lbs 24" behind ball ends (3307 lbs at ball ends). Lower link arms have flex ends and the outboard stabilizers are telescopic for ease of attachment. Position control is standard, so an implement can be returned to a set position time after time. At the rear, a single rear remote is standard with two optional. The 540 rpm rear PTO is independent and mechanically engaged. Optional is a 540/540e PTO. And unlike some competitor tractors, a swinging drawbar is standard fare.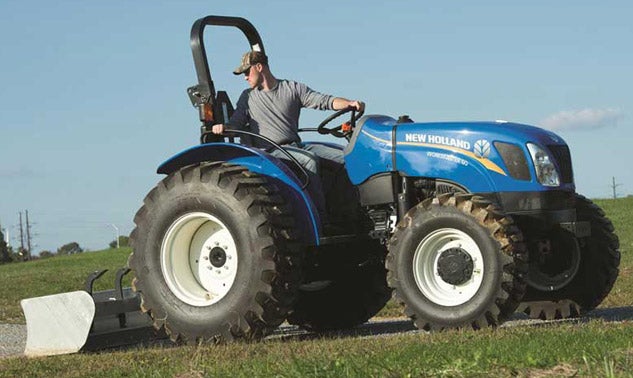 Four loader options are available for Workmaster Utility Tractors, the 611TL and 616TL which are non-self-leveling (NSL), and the 621TL and 626TL which are mechanical self-leveling (MSL). The 621TL can lift 3549 lbs to a max height of 119" with 3086 lbs of breakout force available. Rated cycle times are 4.3 seconds full lift, 3.3 seconds full lower, 4.2 seconds full dump, and 3.1 seconds full curl. As might be expected, greater lift capacities are found as the model number goes up, with NSL loaders lifting more than MSL loaders. For purchasers in need of a backhoe, New Holland matches their model 935GHB to the Workmaster 60. The 935GHB can dig to a depth of 102".
COMPARISON: Read our review of the 2018 Kioti DK4510 Open Station
Maintenance is also part of the New Holland Workmaster DNA, with checks like oil level able to be accomplished without having to raise the hood.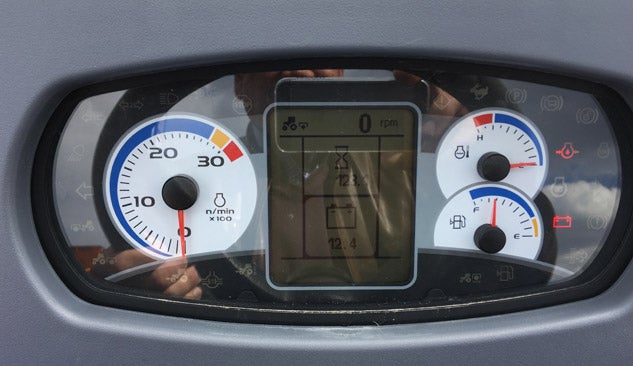 Climb up into the operator cockpit and you'll find a spartan layout with plenty of room. Being the economy offering that it is, there are lots of spaces where exposed castings are visible, and in places the operator can see through to ground. That said, everything you need and expect is within easy grasp. The dash – partially analog and partially digital – is backlit and easy to read, even in full sunlight. The shift lever, gear range selector, and shuttle lever all click nicely into place. There is plenty of hydraulic flow, even at idle, enough so, that the steering turns with two finger ease.
COMPARISON: Read our review of the 2017 Massey Ferguson 5711SL
So how does it all work? Quite well. The tractor is quiet (86 dBA at idle), shuttles nicely from forward to reverse to forward again, has a surprisingly tight turn radius, and rides well-enough to spend the day behind the wheel. With that agile turn radius, and given the height above the ground, the two large grab rails are sure to be appreciated. Visibility over the sloping hood is excellent. We didn't get to test the tractor in the field, but have no doubt, with its 51 PTO horsepower on tap, that a large rotary cutter or tiller would be well within its capability.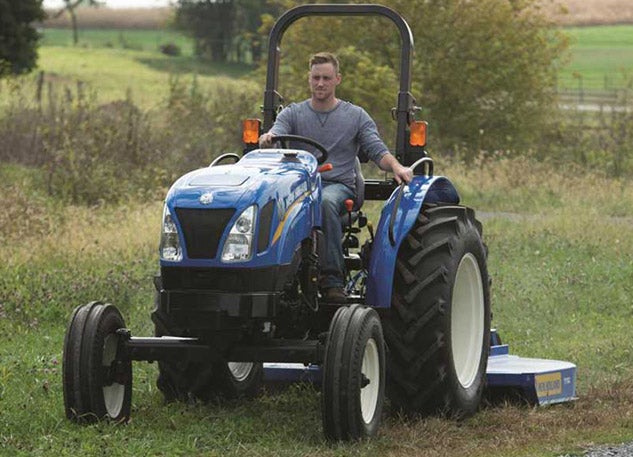 The 5059 lb (4WD measurements) New Holland Workmaster 60 measures 134" long by 77.5" wide and rides on a 97.6" wheelbase with choice of R1 (Ag) or R4 (industrial) tires sized 14.9-28 at the rear. Height to the top of the upright ROPS is 97.6". Current incentives include 0% to 84 mos.
For an agribusiness, municipality, homeowner with acreage, or rural lifestyler in need of a 60 hp basic, no-frills tractor, the Workmaster lineup is well worth consideration. And if you're in the vicinity of North Franklin, Conn., Kahn Equipment with their sizeable inventory and knowledgeable staff would be a great place to start.