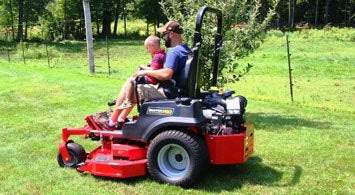 Snapper Pro, a Briggs & Stratton company, is known for its commercial lineup of zero-turn and walk-behind mowers. The current S series, consists of four zero-turn mowers ranging in horsepower from 19 to 37 and with mower deck sizes from 36" to 72". On a recent demo at Brentwood Power Equipment in Brentwood, NH, we were able to spend some time with the Snapper Pro S200xt flagship model.

The S200xt is available in five flavors, with the model 5901664 powered by a Kawasaki 852cc engine making 25.5 hp and with a 61" deck, the model 5901280 powered by a Brigs & Stratton Commercial Series 810cc engine making 27 hp and with a 61" deck, the model 5901665 (and the model of our test zero-turn) powered by a Vanguard 810 EFI with OGS (more on this below) making 28 hp and with a 61" deck, the model 5901666 powered by a Vanguard Big Block 993cc EFI with OGS making 37 hp and with a 61" deck, and the model 5901667 powered by the same Vanguard Big Block but with a 72" deck.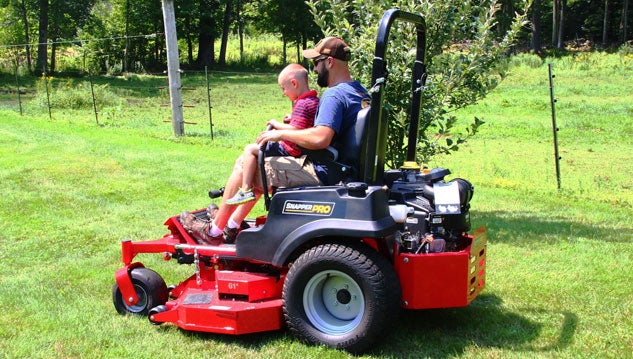 Our test zero-turn was powered by the 810cc Vanguard making 28 hp at 3600 rpm and equipped with the abovementioned OGS system. OGS stands for Oil Guard System, which uses dry-sump technology along with an external oil reservoir to extend oil change intervals to 500 hours. The dry-sump increases off-angle lubrication protection, while the external reservoir helps keep oil temperature cooler. Factory oil is 15w-50 synthetic and the savings over a machine with hundred-hour service interval can be as much as 60% per mower, per season. At the rear, the integrated oil fill cap and filter access is factory wired closed, preventing an errant fluid addition and/or introduction of dirt, while the dipstick to check fluid level locks in place with a positive click. A two-stage air filter with primary and secondary elements is also employed. Onboard fuel is 10 gallons using two switchable five-gallon tanks. Filler caps are wide for easy fueling.
COMPARISON: Read our review of the 2017 Cub Cadet XT2 LX42″ EFI
Two commercial Hydro-Gear ZT-5400 transaxles with 9" cooling fans and dual hydro fluid reservoirs and filters put power to the 24 x 12-12 drive tires riding on 1-3/8" axles. An internal transaxle parking brake assures safe and positive parking. Ground speeds up to 10 mph forward and 5 mph reverse are possible. Front caster tires are 13 x 6.5-6 pneumatic with a solid flat-free option.
Snapper Pro S series machines come with iCD decks, which utilize extra wide discharge chutes to evenly disperse grass clippings and a sloped nose to reduce front discharge. Seeing that iCD is a trademarked name, we asked Nate Flagg of BPE what it stood for, and were told he raised that question at the Munnsville factory but received no answer. Flagg just tells customers it stands for Improved Cutting Design, which the system is.
The iCD decks have greaseable 1" cast-iron spindles on an 8" diameter flange to add strength and aid in dispersal of energy to the deck. Quarter-inch Marbain steel blades generate high lift, require less frequent sharpening and make for a precision cut. The heavy gauge steel deck includes a step for cockpit access. The two-belt drive belt system extends belt life and the easy deck lift system allows for effortless quarter-inch adjustment over the 1.5" to 5" cut height range. Debris shields on idler pulleys extend bearing life.
COMPARISON: Read our review of the 2017 John Deere X730
Climb into the thick high-back suspension seat with weight adjustment and armrests and the operator is treated to an uncluttered layout. Thick 1" diameter tubular steering control levers feel comfortable and offer good modulation of direction and speed. On the left fender is a combo storage tray/cup-holder while the right gets the hour meter, throttle, and PTO engagement knob. A retractable seatbelt and foldable ROPS deliver operator safety. For engine access and to fend off seat puddling while parked, the seat flips up.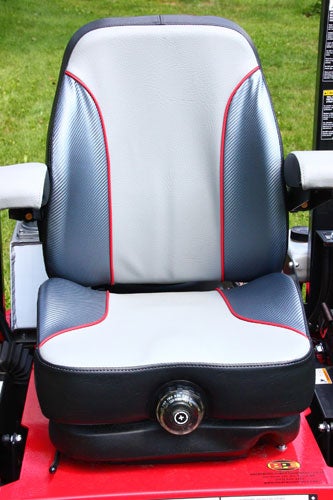 Fire up the EFI Vanguard and the engine settles into an 82/90 dBA idle which is quite good considering the engine is directly behind the operator seat. Still, operator ear protection is always advised. Pulling in the thick control levers, and heading off to the north forty, we liked the nice modulated feel that made the operator feel completely in control, aided by a neutral position that is easy to locate. Highland three-point turns were accomplished without concern of tearing up turf. For those that have never operated a zero-turn, the experience is a lot like driving a grocery cart – push both levers forward to move forward, pull both back to reverse, and push the right forward while leaving the left in the neutral position to turn right and vice-versa to turn left. We found the system modulation as nice as any competitive zero-turn. At 80% efficiency, the S200xt is rated to cover 8.5 acres/hour.
COMPARISON: Read our review of the 2016 Simplicity Courier 23/48
Options for the S200xt include collection systems (see below), mulch kit, trailer hitch bracket, LED lighting for the ROPS, flat-free caster wheels, 3.75-bushel fabric or steel grass catchers, and a professional stripe kit. Several grass collection systems are available, beginning with the Turbo-Pro Max triple bag soft (12.5 cubic foot) or hard (15 cubic foot) top collectors. This system uses a spindle-driven impeller that acts like a lawn vacuum and operates best in normal to dry cutting conditions. The same soft or hard top triple bag collectors can come in Fast-Vac configuration, which is also spindle-driven but uses industrial-grade bearings to achieve higher airflow. Fast-Vac collectors work best in heavy and wet conditions and use a vertical turbo, which is narrower for getting in and out of tight spaces.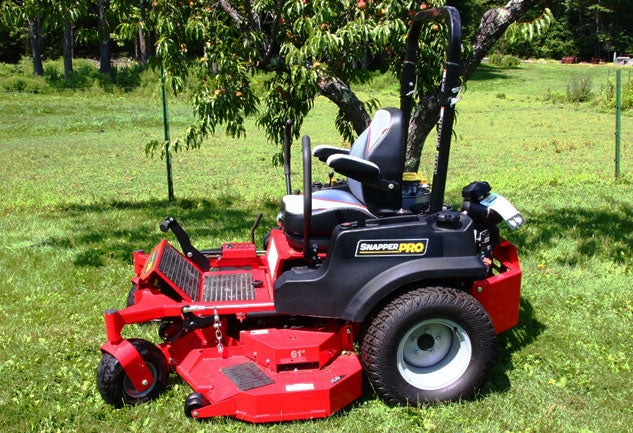 Three dump from seat collection systems are available, the 12.5-cubic-foot Electric DFS which operates from a switch on the control panel and is available with Turbo-Pro Max or Fast-Vac blowers, and the EZ Dump (12 cubic foot) and EZ Dump XL (14 cubic foot), which are lever operated from the operator seat. EZ Dump collectors have a winch option for even less operator effort.
MSRP for the model 5901665 Snapper Pro S200xt is $8,999. With a three-year engine warranty, a three-year/300-hour limited belt warranty (parts & labor year one, and parts only in years two and three), a four-year/500-hour limited machine warranty (unlimited hours the first two years), the S200xt delivers a professional cut using top materials and craftsmanship designed for long life.
For a landscaper, municipality, golf course or homeowner with large real estate, and in the market for a commercial zero-turn, the Snapper Pro S200xt would be well-worth consideration. And for those in the vicinity of tax-advantaged New Hampshire, stopping in to meet the good folks at Brentwood Power Equipment would be a good place to start.