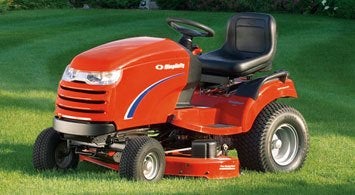 A few months ago we were fortunate to spend some time behind the wheel of Simplicity's flagship tractor and were so impressed that we agreed to make it a point to check out other models in the Simplicity lineup. When a dealer mentioned it had just opened the crate containing a brand new Broadmoor, we were right there.
The Broadmoor lineup is comprised of three models with either a 20 horsepower Briggs & Stratton Vanguard V-Twin engine or a 22 horsepower Briggs & Stratton Professional Series V-Twin with Electronic Fuel Management (EFM). The Vanguard powered Broadmoors are available with either a 46" or a 52" mowing deck while the EFM equipped tractors are available with a 44" deck. The tractor we were invited to test was the 20 horsepower Broadmoor teamed to a 52" deck.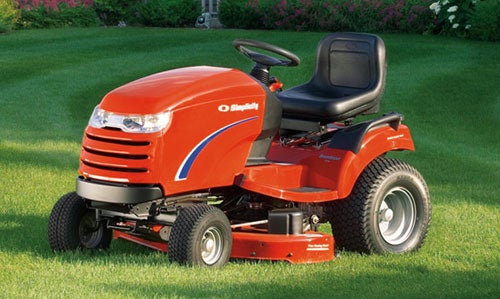 Each Broadmoor begins with a 10-guage welded steel frame designed to give years of service. The cast iron front axle comes with 1" diameter steering spindles that yield a tight 18" diameter turning radius. A Tuff-Torq K57 Hydro with Automatic Controlled Traction (ACT) delivers power to the ground and is controlled by twin side-by-side pedals that offer infinite control over ground speeds. The ACT system continuously applies power to both rear wheels while reducing ground damaging slippage. Cruise control is standard.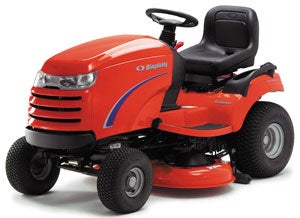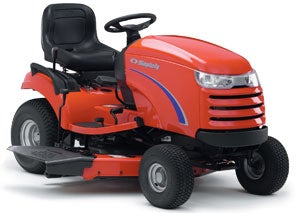 The 52" three-blade deck is a deep profile design for maximum airflow and lift and is free floating. Combined with a full width rear roller that gives you a professional striped look, the Simplicity deck system excels on uneven terrain where it follows every ground contour without scalping or leaving uneven steps from pass to pass. The deck is also connected by a Quick Hitch mount that allows for easy removal for cleaning or blade sharpening. A deck washout feature is standard, but something we personally would skip using—something about mixing those nice bearing spindles with water goes against the grain. Cut height, using a hand crank, is adjustable from one to four inches and can be easily changed by the operator without leaving his or her seat. A casualty or advantage—depending on your point of view—of today's legally-driven safety requirements, the Broadmoor comes with Simplicity's reverse mowing option (RMO) that allows you to mow in reverse, but only after activating the RMO each time the power take off (PTO) is engaged.
We found the operator's platform comfortable, the controls intuitively right at your hands or feet, and the adjustable seat supportive. We especially appreciated the adjustable springs which balance the operator's weight to the desired ride comfort level and bet you will too.
The Broadmoor comes with a four-gallon fuel tank, but a warning to not use methanol or a gasoline with more than a 10 percent ethanol content. With a curb weight of 595 lbs, an envelope that measures 70" L x 62" W x 43" H, large 22" diameter rear tires, a drawbar capacity of 470 lbs, and a MSRP of $4495, the Broadmoor delivers consistent value across the board. Throw in a 12V DC outlet, hour meter with service reminders, two-year consumer warranty, a long list of available attachments including snowblowers and a soft side cab, dealer incentives ranging from 3.75% 60 month to 0% 36 month financing, and this might be the perfect tractor for all your needs.
Related Reading
2012 Simplicity Legacy XL 27 4WD Diesel Review
2011 John Deere Select Series X304 4WS Review
2012 Cub Cadet GTX 2100 Review
2012 Kubota BX 1860 Review