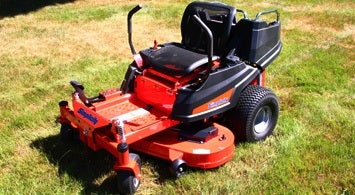 Simplicity zero turn mowers, like the tractors that have paved the way, are known for their sturdy construction, dependability, and quality of cut. From the top of the line Cobalt, one step down Citation, and another step down Champion – all with four-year/500-hour residential or commercial warranties – homeowners and landscapers alike have carved out a strong following. There was, however, a void at the lower end where homeowners wished for something better than sold at box stores but without the need and associated cost of commercial rated machines. Enter the all-new Contender, and one step down subject of this week's review, Courier zero turns.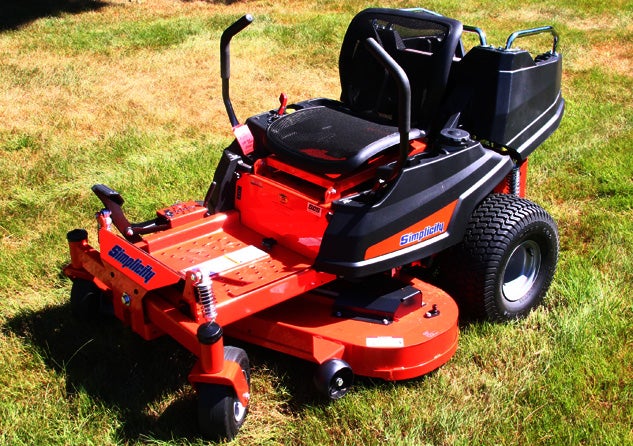 The Courier lineup consists of four models with the familiar engine horsepower followed by deck size nomenclature: 23/42, 23/44, 23/48 and 25/52. Base pricing ranges from $2,999 for the 23/42, which still sports a fabricated deck, to the $4,199 line topper 25/52. Thanks for making this week's review possible goes to the good folks at Brentwood Power Equipment in Brentwood, NH who not only made available a 23/48 but a 23/42, so we could get some firsthand experience of the subtle differences even among this class of zero turns.
COMPARISON: Read our review of the 2016 John Deere X750
Courier machines begin with 12-gauge steel frames mated to thick wall welded steel front axles into which are inserted parent Briggs & Stratton 724cc Professional Series V-Twin engines. In the case of the 23/42, 23/44 and 23/48, horsepower rating at 3600 rpm is 23. The 25/52 makes two ponies more at the same rpm. All engines come with keyed ReadyStart technology, which brings choke less automotive-ease starting no matter the atmospheric or machine temperature.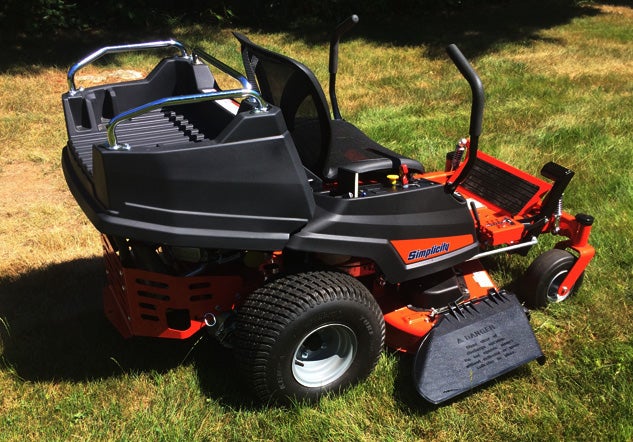 Output from the engine is sent to a Hydro-Gear EZT (ZT-2200) transmission. The EZT utilizes a four-stage spur gear design with powdered metal gears and has no external hoses, minimizing potential leak points. The design package also allows for a lowered center of gravity making for a more stable vehicle platform. The EZT is a sealed unit, which means non-serviceable, but with 1″ axles, a 7″ cooling fan, and up to 125 lb-ft of continuous torque output should provide a homeowner years of satisfactory life if not a lifetime's worth. Supported speed range is 0-7 mph forward and 0-4 mph reverse.
Courier zero turns come standard (optional on the 23/42) with a feature many owners are sure to appreciate; an integrated cargo bed. Rated to carry up to 50 lbs, the box is molded as such that an owner can use a 2×4 in two positions to help hold cargo from sliding off. For users of baggers, the box is removable by pulling two pins. And for easy engine service/maintenance, the box tilts forward.
COMPARISON: Read our review of the 2015 Simplicity Conquest
Simplicity mower decks are known throughout the industry for quality of cut. The decks used on Simplicity zero turns are identical, though the non-axle mount doesn't allow for the true free-floating ability possible with Simplicity tractors. Nevertheless, the full width rear roller will stripe in a ballpark-envious way, and with the exception of the 42″ deck come with front anti-scalp front wheels. 44″, 48″ and 52″ decks have three blades while the 42″ has two. Cut height is adjustable from 1.5″ to 4.5″ in 13 increments, using a foot pedal assist and quick pin arrangement.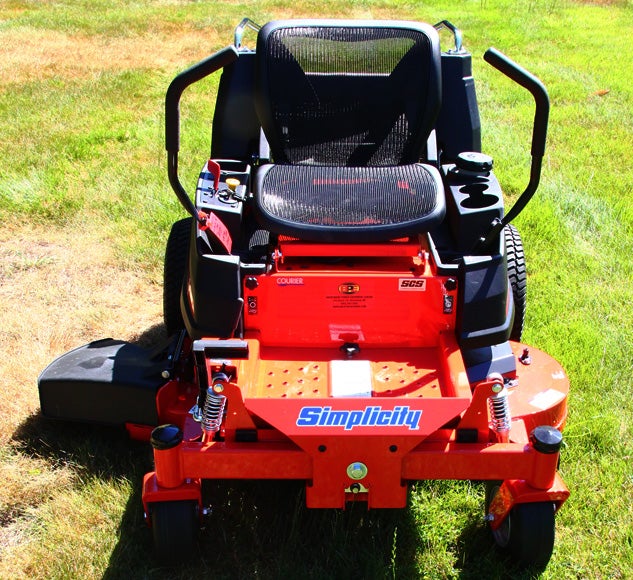 All Courier machines come with SCS, which stands for Suspension Comfort System. This is the same shock/spring suspension system we've grown to appreciate on Regent, Broadmoor, Conquest, and Prestige tractors. For Courier zero turns, the 23/42 comes with front suspension only, while the rest of the models are suspended at all four wheels.
Slip into the comfortable mesh seat, another improvement drawn from Simplicity tractors, and you'll find a minimal but ergonomic layout. The right console houses the key switch, throttle, electric power take-off (PTO) switch, and if so equipped, an hourmeter and/or front headlamp switch. The left console houses the fuel fill cap (there are three gallons onboard) and cup holder/storage tray. Courier machines have the parking brake incorporated into the control arms – just push them to the sides and the brake automatically engages.
COMPARISON: Read our review of the 2014 Gravely 460 Pro-Turn
Firing up the gasoline V-Twin is diesel-instant and results in an 84/86 dBA idle (89/90 PTO). Driving the 23/48 off to Brentwood's North 40, the controls felt well-modulated and not at all like some compromise zero turns. We could see the four-shock suspension actively at work with major reduction to the jostling reaching the driver seat. At PTO rpm we did a number of "J" turns that never tore up the grass – even when we tried to do so. After some North 40 fun we jumped into a 23/42 for comparison and found that though the front suspension-only 23/42 absorbed bumps better than a fixed suspension zero turn it was in no way as plush as the ride on the 23/48. If it were our purchase the $600 premium decision would be made on that point alone, notwithstanding the cargo bed additional nicety.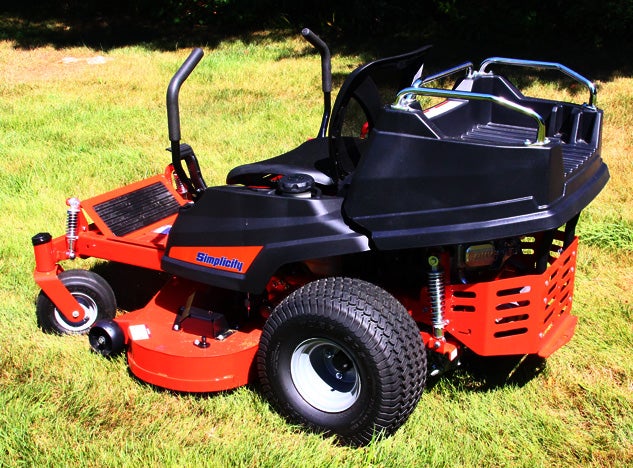 The $3,699 MSRP 23/48 measures 72″ long by 59″ wide and is 42″ tall. Riding on 11 x 4 front and 20 x 10-8 rear tires (the 23/42 and 23/44 have 20 x 8-8 rears), which also helps improve ride quality, we were impressed with the package Simplicity has put together. With a limited lifetime warranty on fabricated decks, a three-year residential machine warranty (90-day commercial), and added niceties such as floor access door for belt maintenance and a rear hitch mount for a light duty trailer or tow-behind implement, the 23/48 might be the perfect way to tackle your yardage.
If a zero turn mower is on your to-buy list or if you are just considering one, the Simplicity Courier lineup would be well worth checking out. And if you're in the vicinity of Brentwood, NH, stop by at Brentwood Power Equipment where their friendly staff and extensive inventory makes the trip well worth it.