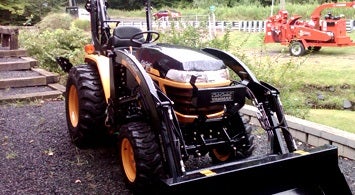 Cub Cadet dealers carrying the joint Yanmar line, at least here in New England, are a bit scarce. I'd heard good things about the Ex3200, but had never tested one, so when the opportunity came up to get one dirty (only a little), I jumped on it.

The Ex3200 is a mid-frame CUT (Compact Utility Tractor) that comes with a 32 gross horsepower 3-cylinder Yanmar direct injected diesel rated to deliver 25.5 horses at the PTO (power take off). Mated to a 3-range hydrostatic transmission, it means the operator can always find the right combinations of speed and power to get the job done. Low-range (1) gets a 4 mph top speed, mid-range (2) goes to 6.9 mph, and high-range (3) is rated at 13.2 mph. 4WD is standard as is a locking rear differential.
Hydraulic power comes from a dual pump that sends 5.6 gal/min to the implement, such as a loader or backhoe, and 4.3 gal/min to the power steering, which was effortless in even the bumpiest of conditions. The 3PH (three point hitch) is rated to lift 1100 lbs and has position control making it easy for an operator to return the hitch to exactly the chosen height each and every time. Think box blade or brush hog here.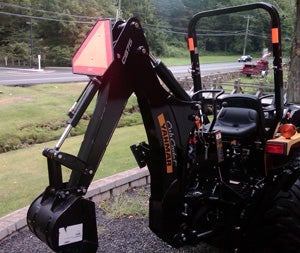 The operator's platform felt dated (the John Deere 790 no doubt influenced the design) and was a little on the cramped side, though all the controls and levers were clearly marked and intuitively where you wanted them. That said; the sloping hood and CL300 matching loader were anything but dated. Together they make for great visibility, which is appreciated when carrying a full load (up to 900 lb. rated capacity in the 7 cubic foot bucket), and especially in tight quarters. The loader is QuickAttach, which means it goes on and comes off in minutes and without tools. But unlike its smaller and larger brothers (CL100 and CL400) the bucket isn't compatible with skid steer type attachments, which seemed an odd omission to me.
The Ex3200 tested was outfitted with the CB75 curved boom backhoe and 18" bucket. The manufacturer claims the design maximizes power and reduces weight, while giving the operator better visibility. I'll leave the power and weight claims to Cub Cadet Yanmar, but have to agree with the improved visibility. It makes me wonder why some manufacturers are going back to straight designs.
Instead of a shared swivel seat, the CB75 has its own, which I found to be less of a compromise and quite comfortable. I especially appreciated having float control on the boom, which prevents the operator from burying the bucket in tough conditions. Cub Cadet Yanmar buckets come with bolt-on teeth, so you can easily replace them as they wear, instead of having to replace an entire bucket. The digging depth is 92" and the boom stores compactly, resulting in an 81" transport height. And like the loader, the backhoe is QuickAttach, meaning it too can be removed in minutes without the use of tools.
The overall feel of the tractor shouted metal and everywhere you look that is what Cub Cadet Yanmar engineers have chosen to use. By itself, the Ex3200 weighs 2,500 lbs, but add in the loader, bucket, backhoe and subframe, and it's closer to 4,600 lbs. That's a lot of metal.
A 60" mid-mount mower is available, but I don't see many of these tractors being ordered with this option. Instead purchasers will most likely go with a RFM (rear finish mower) or brush hog, making the most of that PTO horsepower.
Every Cub Cadet Yanmar tractor comes with a residential/commercial 2-year/2,000 hour limited warranty (3-yr/2,000 hour on the engine and drivetrain).
The Cub Cadet Yanmar partnership was first announced in 2006 and since then has built a strong following. But that brings us to today. On August 24, 2011, it was announced Yanmar will no longer be manufacturing under the Cub Cadet Yanmar name, and that after September 1, Yanmar will begin distributing Yanmar compact utility tractors built at its Adairsville, Ga., facilities, directly to dealers. What does this mean? Well, Yanmar will certainly continue to support Cub Cadet Yanmar tractors in the field. The circumstance is no different than the relationship Yanmar enjoyed with John Deere for so many years. It might also mean there will be some smoking deals on Cub Cadet Yanmar labeled tractors in dealer stocks. If you were looking for a tractor of this size and horsepower, I wouldn't rule out a visit to your dealer—while he still has the brand.
Related Reading
Yanmar Modifies Compact Utility Tractor Partnership with MTD