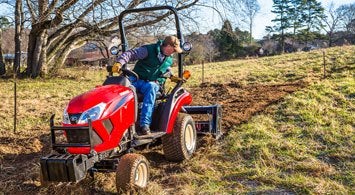 We first got some seat time behind the wheel of Yanmar's new "red" tractors during their Tractour product launch. In our June test of the 221, a 2 series tractor with 21 HP, we noted that by listening to customers and deleting certain features most felt unnecessary, a whole new balance of performance vs. price competitiveness had resulted. The 3 series 24 HP builds on that balance.

Beginning with a Yanmar 3-cylinder 3TNM80F diesel displacing 77.2 cubic inches and using indirect injection, the liquid-cooled powerplant delivers 23.9 gross and 18.1 power take off (PTO) horsepower at 3200 RPMs. Torque output is particularly impressive, with a rating of 45.7 ft. lbs. EPA Final Tier 4 (FT4) emission compliance comes through advanced technologies and not requiring the use of complex and expensive diesel particulate filtration (DPF).
Output from the engine is sent to the same basic hydrostatic transmission used in the 221 but with an additional gear range. Forward and reverse direction and speed is controlled by an intuitive, ergonomic side-by-side pedal arrangement that offers well modulated control over the 0-5.9 MPH forward and 0-4.1 MPH reverse (low) and 0-12.3 MPH forward and 0-8.5 MPH reverse (high) speed range.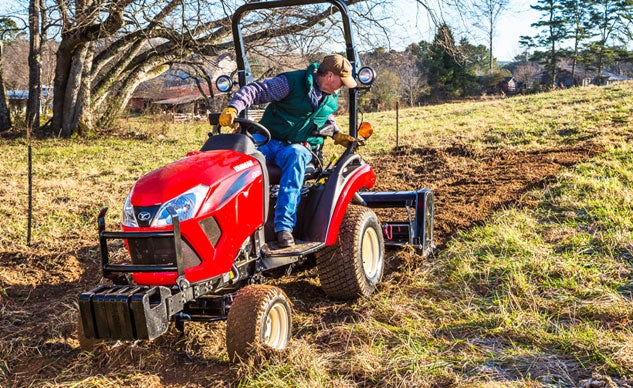 Hydraulics are through an open center system featuring dual pumps that flow 4.3 gpm to implement needs and 3.7 gpm to power steering requirements (8.0 gpm total). And while this is the same amount of hydraulic flow found on the 221, the 324 system operates at 538 psi higher (2429 vs. 1891), giving the three point hitch (3PH) a lift capacity of 1209 lbs. 24" behind lift point. This is 549 lbs. more lifting ability at the same point than on the 221. True position control is also standard, so an operator can return an implement to the same selectable height time after time.
As on the 221, the 324 features a heavy-duty frame, cast iron transmission, and cast iron front axle. Climb aboard the 324 and the operator is treated to an open platform with ergonomically placed color-coded controls. The floorboard is basically flat with only a small transmission hump running down the center and the loader joystick nicely incorporated into the right fender console. Cruise control is an option but the steering wheel is stationary. RIO, a reverse mowing option that in no way ensures the operator will look behind before reversing, is standard fare. Longtime readers know our stance on this intrusion, but understand in today's lawsuit-crazed society, RIO is here to stay.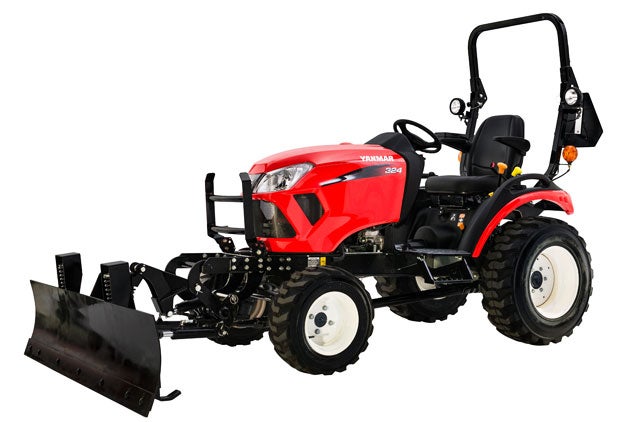 Starting the 3TNM80F is a near-smokeless affair, with the engine settling into a quiet idle we measured at 76-80 dBA. PTO RPM only pushed the reading up a few dBA to 85-90. Depressing the forward pedal in high-range and the 324 moved off with almost no perceptible vibration. Credit the full length frame and heavy-duty components. The cushy high-back seat with foldable armrests also deserves credit. Mid PTO RPM (2057) and rear PTO RPM (554) both come at an engine RPM of 3200. As on the 221, there is no differential lock, with the new "red" series tractors relying on switchable 2WD/4WD. Universal perception was that the 324 rode like a smaller tractor, but felt substantially larger and more planted than its smaller 221 sibling. Checking the stat sheets confirmed our seat-of-the-pants feel. The 324 is 1.6" longer (102.8"), 6.5" wider (53.8") and has a wheelbase that is 5.1" (63") longer than on the 221. Ground clearance is 8.9", the height of the 324 with ROPS up is 85.9" (70.4" folded) and the turn radius measures 8.53'.
Our test tractor was equipped with Yanmar's model YL210 curved boom front-end loader. Offering a max lift height of 79" and a lift capacity of 1199 lbs., the YL210 comes standard with a 53" bucket (6.0 c.f.) that is well-matched to the 324 size and capabilities. Breakout force is rated at 2090 lbs. and the dig depth 3.9". A full lift cycle takes 3.7 seconds, full lower 2.3 seconds, full curl 2.3 seconds and full dump 1.6 seconds with the REGEN circuit providing good control.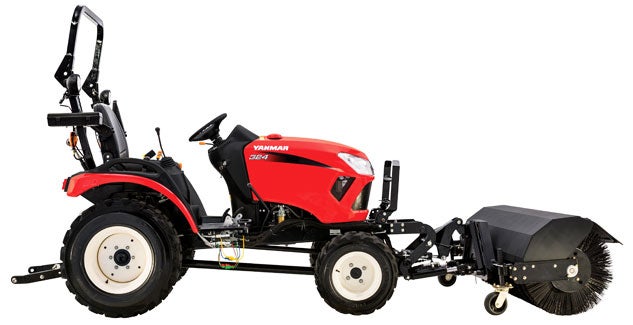 For those requiring a backhoe, Yanmar matches their model B65 to the 324. This set up offers a dig depth of 76.5", a 150-degree swing arc, and 104" of reach. Dig force at the bucket is 2036 lbs. and at the dipperstick, 1187 lbs. with the system able to operate at flows as low as 2 gpm meaning even a beginner can operate the B65 at idle to minimize accidental damage to objects nearby.
Our test tractor was not equipped with a mowing deck but Yanmar matches the 324 to their M60 3-blade mid-mount mower. Adjustability of the M60 is simple and covers a range of 1-4". Other Yanmar options include a front blade, front snowblower, front broom and pallet forks. Order model 324XHI and the tractor comes with 23×8.50-12 4PR front and 12-16.5 10PR rear R4 industrial tires. Check off 324XHT and the tractor comes with 23×8.50-12 4PR front and 33×12.5-16.5 4PR rear R3 turf tires. Yanmar warrants the 324 for 2-years/2000 hrs. bumper-to-bumper and extends the engine/drivetrain coverage to 5-years/200 hours.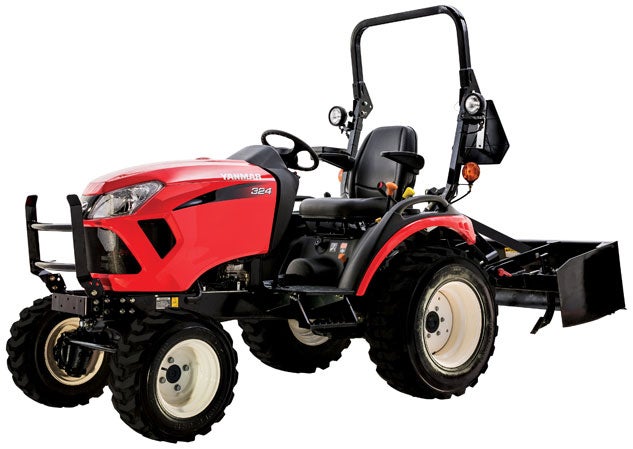 With a MSRP of $13,000, the 324 is a lot of tractor for the buck. With only small negatives (RIO, no way to separate mid and rear PTO operation, and no differential lock), the assembled in Adairsville, GA 324 should appeal to Agri-lifers (Yanmar is in the process of trademarking the term) – those with serious field use needs on properties from 1 to 10 acres. If you fall into this use category, check out the new "red" Yanmar 324, we think you'll also be impressed.