2018 John Deere 3 Family 3025E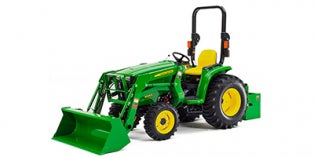 2018 John Deere 3 Family 3025E User Reviews






Great small lot tractor for the rest of us
By Tractor Jeff(Owner), Jul. 20, 2019
I recently bought my Deere 3025e with the box blade, loader, and 60" Frontier brush hog as a promotion in a package. Very competitive price. However, the best part of this tractor is usability. On paper the orange tractor beats green, but in the real world where you need someone with limited tr
...
Read Full Review





3025E an excellent ergonomic platform for brush cutting and grading
By Tractor Jeff(Owner), Jul. 16, 2019
So, I looked at the red, the orange and blue alternatives. I am using this tractor to mow 6 acres, maintain my gravel drive and help with the garden. The power steering is very responsive even with the bucket in motion and the bush hog running on the PTO. Got the tires filled Upgraded to th slip c
...
Read Full Review
1 - 2 of 2
Buyers Guides
Our Partners