2015 John Deere Sport Series S240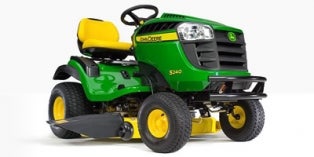 2015 John Deere Sport Series S240 User Reviews






Gotta love the S240
By Bluegrasser(Owner), Jan. 8, 2016
Got it in May/2015, 22 hours on 'er to date,
and couldn't be happier with the tractor.
Chews up tall grasses, weeds, and vines.
like a brush hog. I mow over 3 acres of grass in
East Central Florida, once a week in Summer, and
...
Read Full Review





Great new model S240 Sport
By Stephen Bollin(Owner), Jun. 21, 2015
I previously owned a D100 17 horse and wanted to upgrade. after doing some research I found some weaknesses on the 100 series that concerned me.The 300 series was much more than I needed for my lawn.When I found the S240 on the John Deere site it was perfect for me.The transmission is 30% stronger
...
Read Full Review
1 - 2 of 2
Buyers Guides
Our Partners