2013 Mahindra MAX™ Series 28XL 4WD HST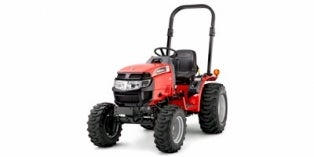 2013 Mahindra MAX™ Series 28XL 4WD HST User Reviews






Big boy sandbox toy!
By Phillip (Owner), Feb. 17, 2014
Purchased new app. 1 year ago, (R I ) FEL, BkHo , post digger ,small property so not many hrs and these hrs are not hard. Picked mahindra over other tractors for 1 cast iron build 2 some better hydrolic specs. 3 warranty ( have not needed dealer yet) few minor things popped up (1) fwd.- rev peda
...
Read Full Review





Big boy sand box toy
By Anything diesel(Owner), Feb. 15, 2014
Purchased new ( RI ) about a year ago, with FEL,bkho, was my choice because it was cast iron build ,some better specs , good warranty, dealer nearby (no need for them yet) tractor has low hrs not worked hard (HST) is great for FEL work even if you loose some power. Bkhoe hydrolics are a lit
...
Read Full Review
1 - 2 of 2
Buyers Guides
Our Partners