2016 Massey Ferguson 4700 Series 4707 Deluxe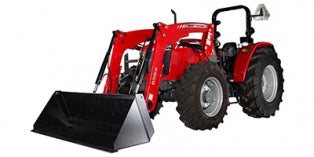 2016 Massey Ferguson 4700 Series 4707 Deluxe User Reviews






MF 4707 Deluxe Cab Outstanding Quality, Options, Power!!!
By Terry Sinclair(Owner), Oct. 15, 2017
My 2017 Massey Ferguson 4707 Deluxe Cab tractor with the 931X Loader comes standard with many high end options including dual rear remote hydraulics, 4WD, heat, a/c, dual seating and much more at a substantial savings and not found dollar for dollar in any competitor tractor. The MF4700 Series comes
...
Read Full Review





MF 4707 deluxe
By Shayne(Owner), Sep. 25, 2017
50 hrs on unit had 1 hr at purchase. So far I'm pleased with the 4707 great little loader tractor. Have mostly been bushoggin with it pulling a woods DS96 drag. could have went with the 10 ft model and still had plenty of power. It is a good looking tractor with a very wide stance which is great for
...
Read Full Review
1 - 2 of 2
Buyers Guides
Our Partners