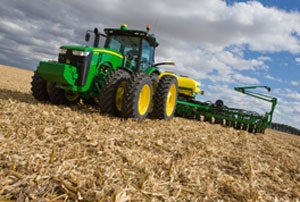 John Deere says its 8335R Tractor achieved industry-leading OECD test results from the Nebraska Tractor Test Lab, Lincoln, Neb.
"This is the first row-crop tractor ever tested in Nebraska that breaks the 300-rated PTO horsepower barrier," says Chad Hogan, division marketing manager, Waterloo Tractor Works. "This tractor delivers a record 306.6 PTO hp in the rated-engine-speed PTO test. This will not last long, however, as our largest model, the 8360R, is also undergoing official Nebraska OECD testing."
The 8335R delivers record-breaking power while maintaining industry-leading fluid efficiency. In the 75 percent of pull at max power drawbar test, the 8335R delivers 15.45 hp hrs/gal.
"That's better fuel efficiency than the 8320R it replaced and up to 28 percent more efficient than Tier 3 competitive tractors' official results," says Hogan.
The John Deere 8335R Tractor was also the first tractor at Nebraska that meets new Interim Tier 4 engine standards.
"These results confirm our investment in EGR engine technology to bring excellent power and performance to our new 8R Tractors," says Hogan. "Our single fluid approach to meeting IT4 emissions standards delivers a cleaner-burning engine with plenty of power and lower fluid costs than competitive models. Unlike SCR systems, customers do not need a second fluid, urea, when operating these tractors."