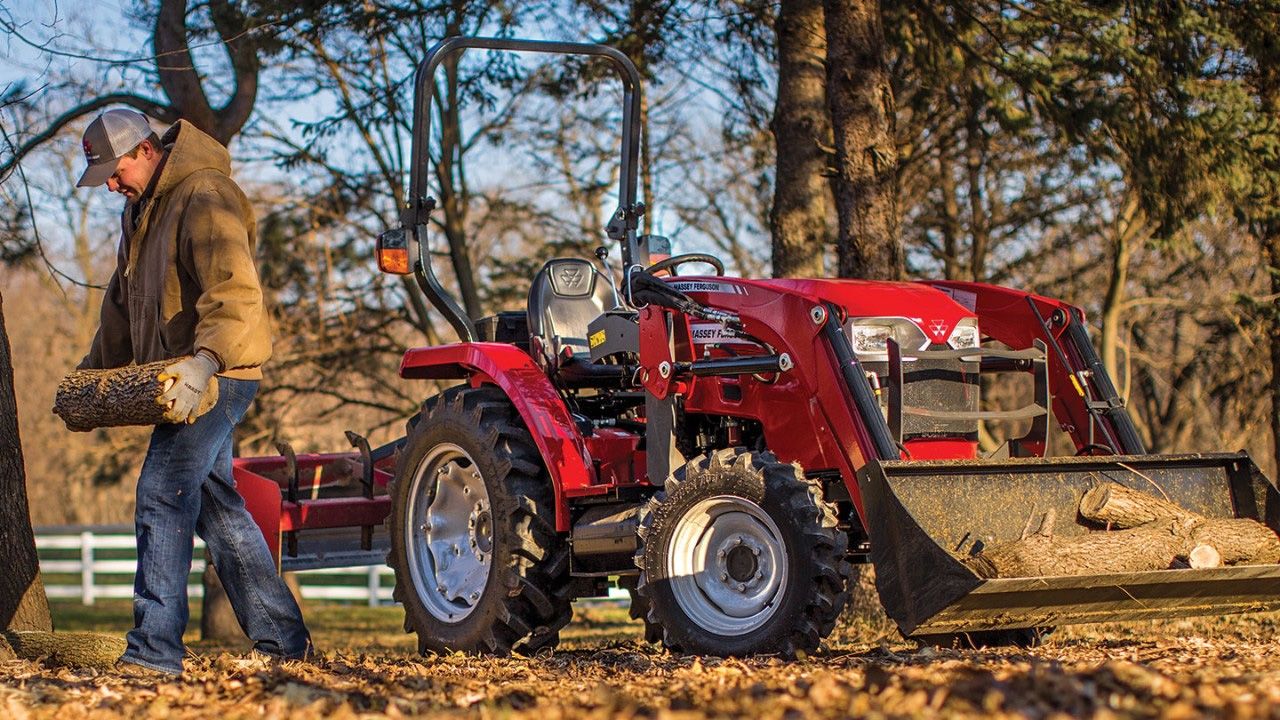 Rural life is always better when you have the best compact tractor in the shed. But, what is the best compact tractor? The answer depends entirely upon the intended use, as the compact tractor is among the most diverse in scope and scale. According to the American Society of Agricultural Engineers, a compact tractor typically weighs 4,000 pounds or less, has a three-point hitch and between 40 and 60 horsepower. Most compact tractors can lift over 2,000 pounds with the loader and are big enough to easily handle hay equipment. Something of a "Goldilocks Model," the best compact tractor is neither too big nor too small.
Mowing, road maintenance and snow removal are among the most popular uses these days, but harrowing, stump removal, trenching, pasture improvement and all kinds of fence work are also in the mix. Below is our list the best compact tractor choices out on the market today, and fans of the brands will notice that each of the major manufactures has a strong showing among one of the most popular pieces of agricultural equipment in America.
1. John Deere 4066M Heavy Duty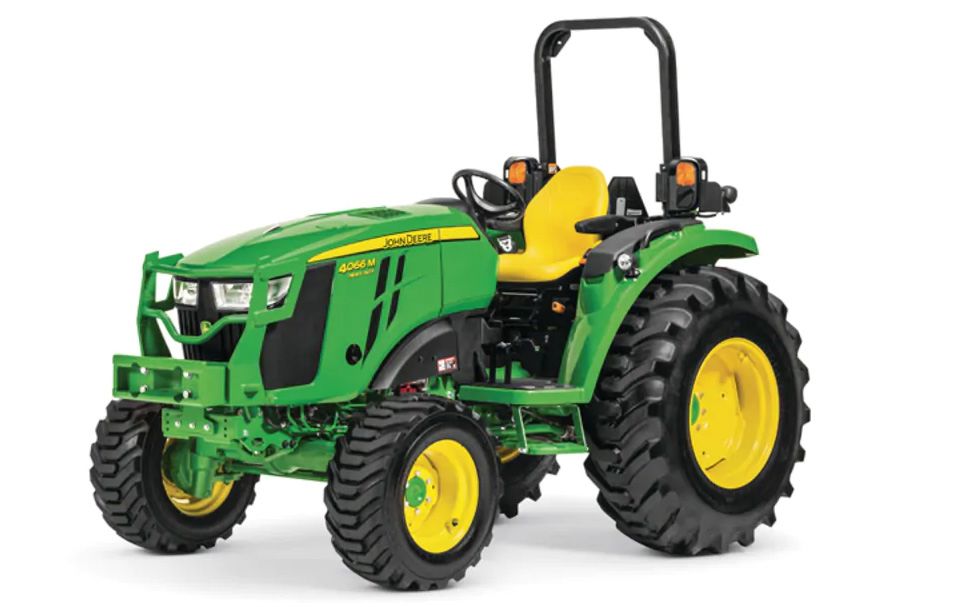 The With a turbocharged diesel engine, eHydrostatic Transmission and standard mid- and rear hydraulics, the John Deere 4066M Heavy Duty is among the best compact tractors out there today. With 65.9 horsepower in the engine and 52 horsepower in the PTO, the Big Green Machine has Category 1, Category 2 and three-point hitch options. Lift capacity of the 24-inch behind link arms is 2,500 pounds and the total open-cab unit weighs in at 4,255 pounds with a wheelbase of 73 inches. A key feature of the eHydro transmission is infinitely variable ground speeds in each range, which allows the operator better match speed to the job. No clutching makes for faster direction changes, and Twin Touch foot pedals provide quick and easy forward/reverse operation. Cruise control is standard across the models. Other features include wraparound-style wide-angle halogen headlights and fender-mounted working lights. Learn more here.
2. Compact Farmall 45C CVT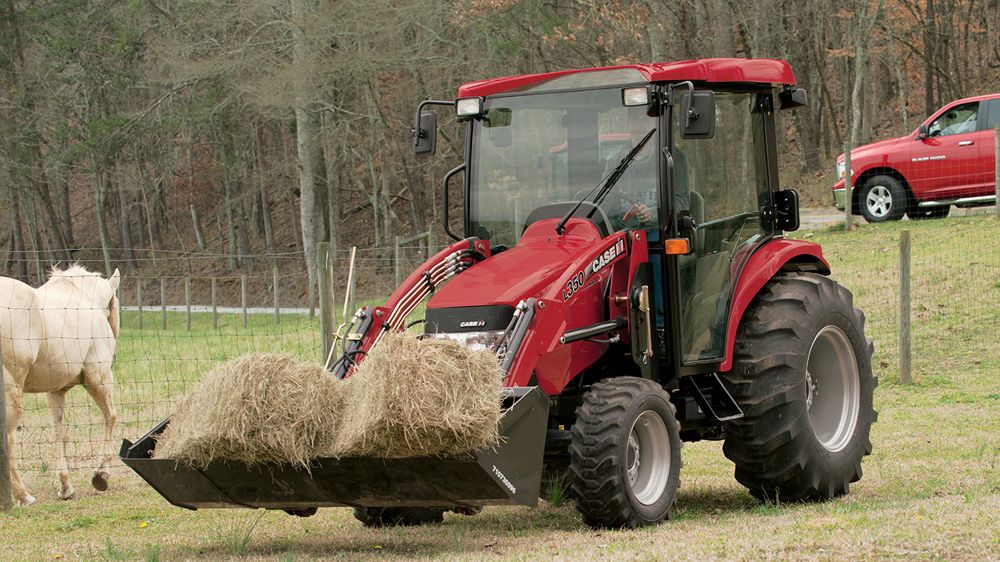 The Case IH family of compact tractors runs the gamut in terms of size and options, and shining amongst them is the versatile Compact Farmall 45C CVT. With a 45-horsepower engine and 36-horsepower PTO, Big Red features a CVT transmission and comes with or without an operator cab. Designed to work with the L350A as a compatible loader, lift capacity at the pivot pin is 2,000 pounds with 105 inches of lift height. Powered by a three cylinder engine with a 13-gallon fuel tank, design comes by way of Fiat Powertrain Technologies. The CVT transmission offers smooth, seamless speed changes through varying conditions with just a single, press-and-go pedal, cruise control for mowing applications and an automatic adjustment for delivery of desired speed and match load conditions. Total machine weight is 4,190 pounds without the cab and 4,920 pounds with. Learn more here.
3. Kubota L2501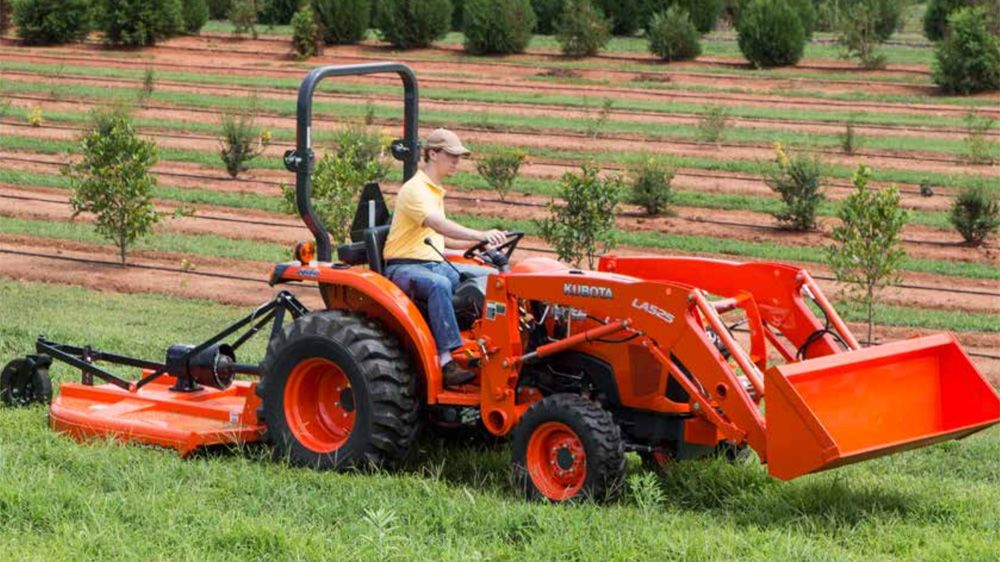 Big and nimble, the Kubota L2501 is among the best of the smaller compact tractors for generalized use.  With a 24.8 horsepower engine and 20.5 horsepower at the PTO, the 2,425-pound unit is the perfect size for someone looking for something a little lighter. The three-cylinder engine runs in conjunct with a 10-gallon fuel tank. The Kubota L2501 features a Category I 3-point hitch with 1,918 pounds of lift capacity at all point and 1,389 pounds at 24 inches behind the lift points. The two-wheel and four-wheel drive models feature a gear shift transmission system with eight forward and four reverse, while the HST four-wheel drive model offers a hydrostatic transmission and three-range speed. Overall length of the machine is 110.6 inches of orange, with 55.1 inches in width and 91.7 inches in height. Learn more here.
4. Massey Ferguson 1740E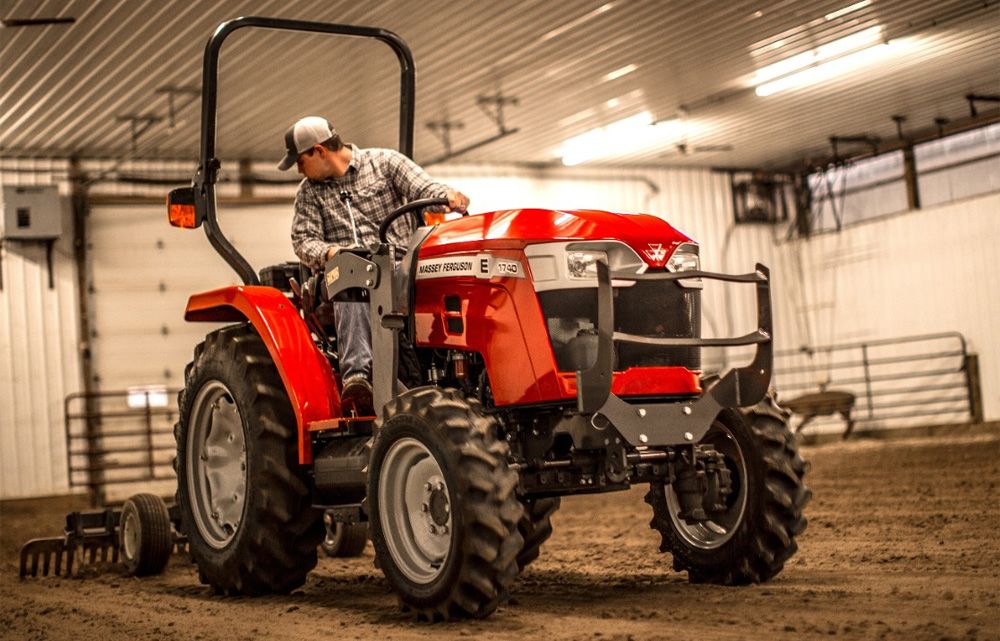 Don't be surprised if the phrase, "Massey Ferguson 1740E" comes up when asked to name the best compact utility tractor. Gross engine horsepower comes in at 38.5 with 32.7 at the PTO, driven by the Shibaura, 1.5 liter, three-cylinder, liquid cooled diesel engine. The Massey Ferguson 1740E is among the newer models sporting the 8×8 Synchro Shuttle or three-range HST transmission with open center hydraulics. The 8×8 Synchro Shuttle offers quicker directional changes with just the push of a clutch and pull of a lever. This makes this particular unit great for heavy ground-engaging work, as third and fourth gears are synchronized eliminating the need to stop to shift. Designed to work on big and small operations alike, three-point hitch lift capacity at 24 inches behind the pins is 1,598 pounds. Loader options include either the pin-type or skid steer coupler, 60-inch bucket, the 72 inch bucket, and 38 inch pallet forks. Learn more here.
5. New Holland Boomer 55 Cab (T4B)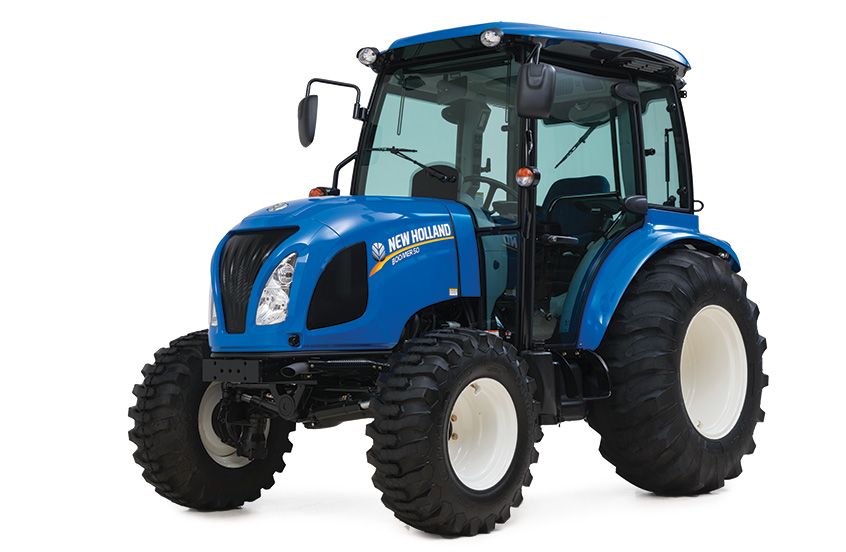 Big Blue continues coming through with its Boomer series of tractors, and the Boomer 55 Cab is among the farmers' favorites. With 55 horsepower and a rated speed rpm of 2,600, the three-cylinder engine has an emissions level of T4B Final running off a 12.4-gallon fuel tank. An independent electro-hydraulic engagement PTO brings 46.7 horsepower to any job you need completed. This model offers some choice in terms of transmission with a 16×16 gear option, or the three range hydrostatic/dual pedal. The New Holland Boomer 55 Cab also has a synchro style gear/shuttle system with wet, multi-disc brakes. Three-point lift capacity at ball ends is 2,756 pounds with 2,116 pounds at 24 inches. Among the bigger units within the compact tractor group, the New Holland Boomer 55 Cab has a 73.2-inch wheelbase and is 128.1 inches of blue and white end to end and 69.1 inches wide. Height to top of cab is 94 inches, and the unit weighs in at 4,194 pounds. Learn more here.
The best compact tractor is the one that fits your needs, and as one of the more diverse groupings of tractors there exists a wide range of sizes and shapes. As always, knowledge is power, and the best compact tractor brings that by the bucket load.