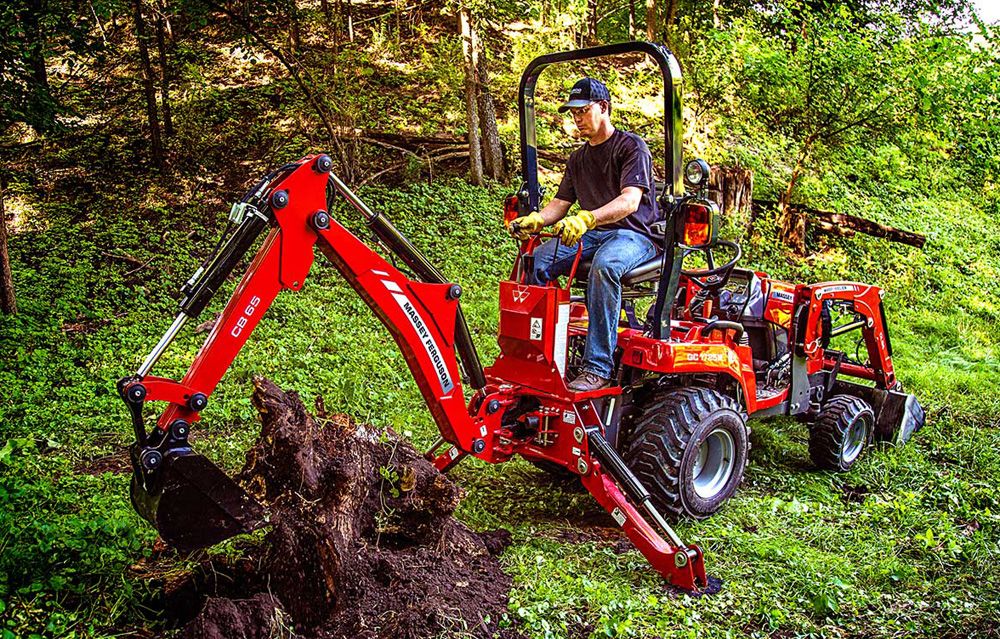 Whether managing 5,000 acres or five, Americans understand the value of sub compact tractors. Loosely categorized as having two- to three-cylinder diesel engines with 15 to 25 horsepower, as opposed to compact tractors with three- to four-cylinder engines up to 45 horsepower, the sub compact tractor is a popular for good reason. All the versatility of a larger tractor on a smaller frame, these offer a three-point hitch and four-wheel drive and can carry weight greater than their own while pushing and pulling several times more. Most folks see them as valuable for mowing, as they don't leave near the tracks that a larger, heavier machine would. But professional gardeners and landscapers have also found them perfect for hauling material, as well as sprayers and aerators.
Here are five of the best sub compact tractors for sale on the market today, whether you drive them off the lot or order direct.
1. John Deere 1025R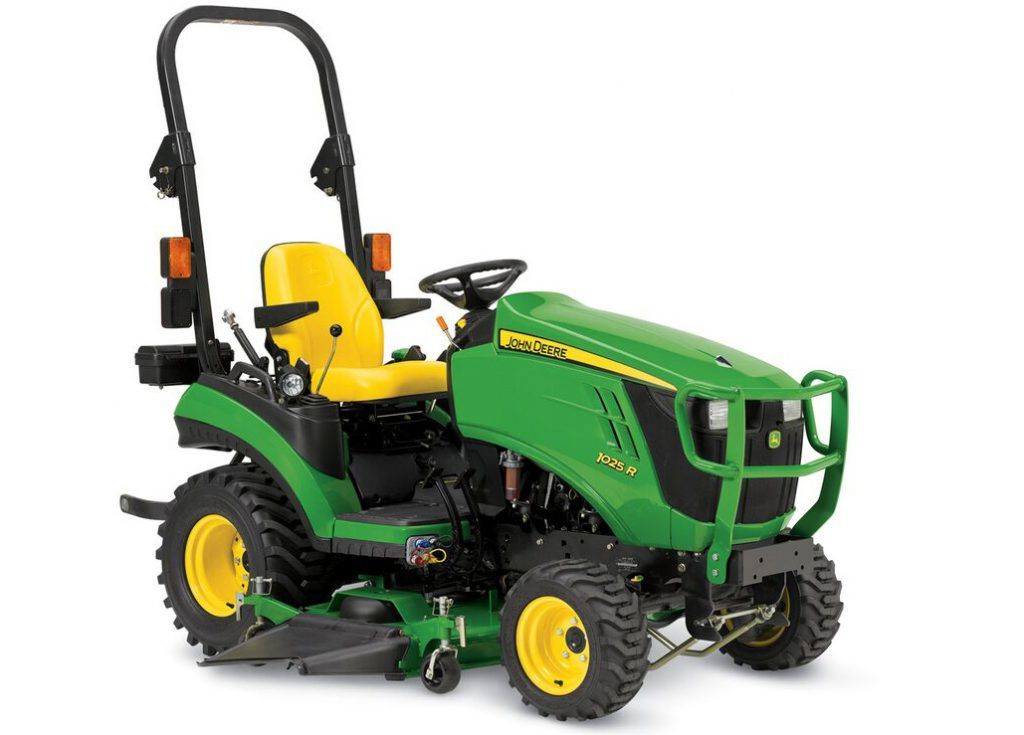 Nothing runs like a Deere, as the old saying goes. And with a powerful Tier 4-compliant diesel engine, the John Deere 1025R sports 23.9 horsepower and a rated speed of 3,200 RPM, with 17.2 horsepower and 12.8 kW in the Power Take-Off. The three-cylinder engine rates a compression ratio of 23:1:1. Operators of this John Deere sub compact tractor will be interested in the 758-pound lift capacity contained in the 24-inch behind-link arms, as well as the 57- inch wheelbase and four-wheel drive and power steering. Comfort is also a factor here with a Premium Operator Station equipped with ergonomic seat, armrests and fender lights. With a starting retail price of $15,066, shoppers get a number of dealer financing packages, or shop around the Internet for used subcompact tractors. A multi-purpose sub compact tractor, those interested in lawn care would note the new Auto-Connect mid-mower deck that can be installed or removed in under five minutes.
2. Kubota BX1880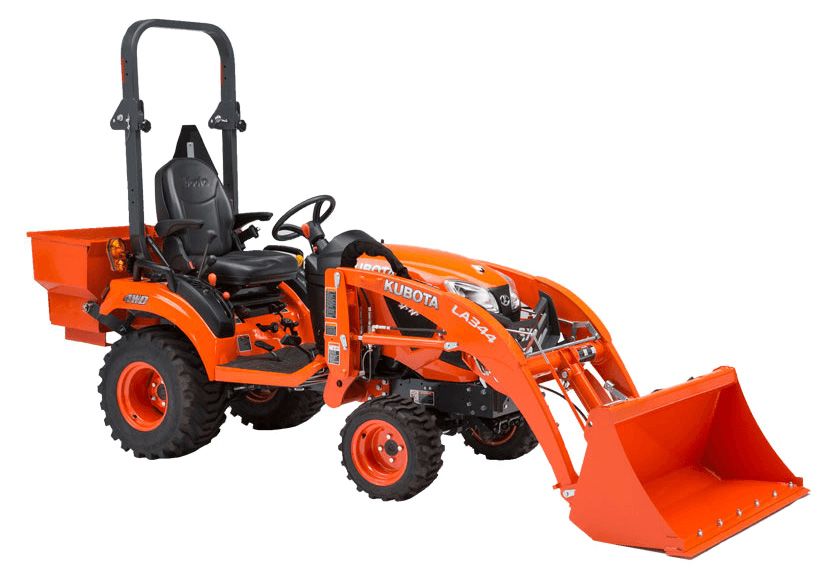 Consistently rated as part of one of the top selling sub compact tractors in the US, the BX1880 features the Kubota D722, three-cylinder diesel engine with a gross horsepower of 16.6 and 13.7 at the Power Take-Off. With a HST, High-Low gear shift and two forwards and two reverses, the four-wheel drive Kubota BX1880 has a three-point hitch and 680-pound lift capacity with 24-inch behind pins. This Kubota sub compact tractor also brings comfort to the ride with a flat operating station, tilt steering and a deluxe seat with armrest. And of course, Kubota is as famous for its implements, and a full line-up is easily attached to this unit, from front loaders and rotary tillers to mowers and post hole diggers.
3. Mahindra eMax 20S HST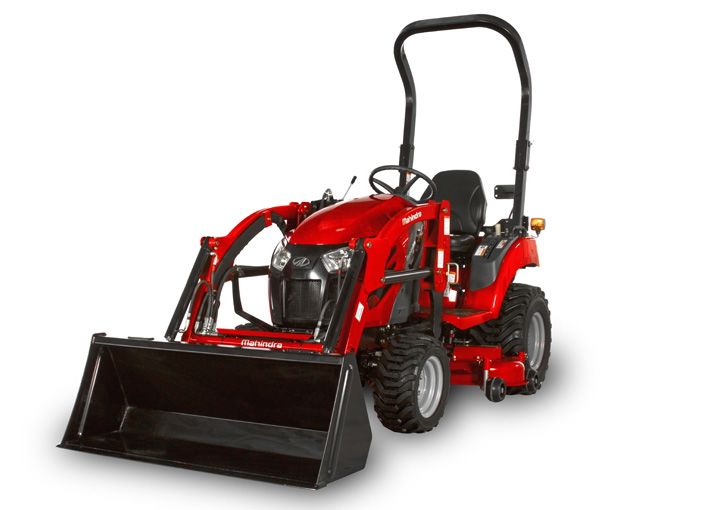 Another top sub compact tractor out on the market is the Mahindra eMax 20S HST. With 19.4 horsepower, the four-stroke diesel engine sports three cylinders and HST 2-range transmission and 14.2 horsepower on the Power Take-Off. A 53.4-inch wheelbase and 94.2-inch length bring in a total weight of 1,499 pounds and minimum ground clearance of 8.3 inches. With an MSRP of $11,070, the Mahindra eMax 20S HST is listed at $14,850 with loader included. With a larger displacement engine, the Mahindra model boasts lower operating RPMs and better fuel efficiency. A heavy-duty three-point hitch makes the unit accessible for a number implements customized for Mahindra eMax series. Operator comfort is taken into consideration with extra cushioning and integrated armrests.
4. New Holland Workmaster 25S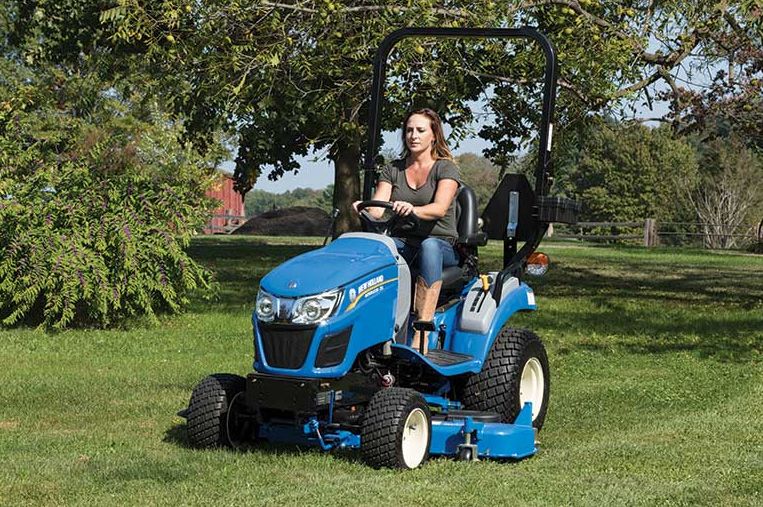 Small but mighty, the blue and white New Holland Workmaster 25S packs a punch with only three cylinders, gross horsepower at 24.7, a rated speed of 3,000 RPM and a displacement 77.3 cubic inches. The Power Take-Off of 17.2 matches up with its speed RPM of 540. All this brings a maximum forward speed of 9.1 miles per hour and wet, multi-disc braking system. Again, small but mighty, the New Holland Workmaster 25S brings a 3-point lift capacity of 728 pounds at 24 inches, at a machine weight of 1,444 pounds, 56.1-inch wheelbase and 97.4-inch length. Designed for farms and operations of any size, the unit is built for work with the matching 100LC Loader, 160GMS Mower and 905GBL Backhoe.
5. Massey Ferguson GC1725M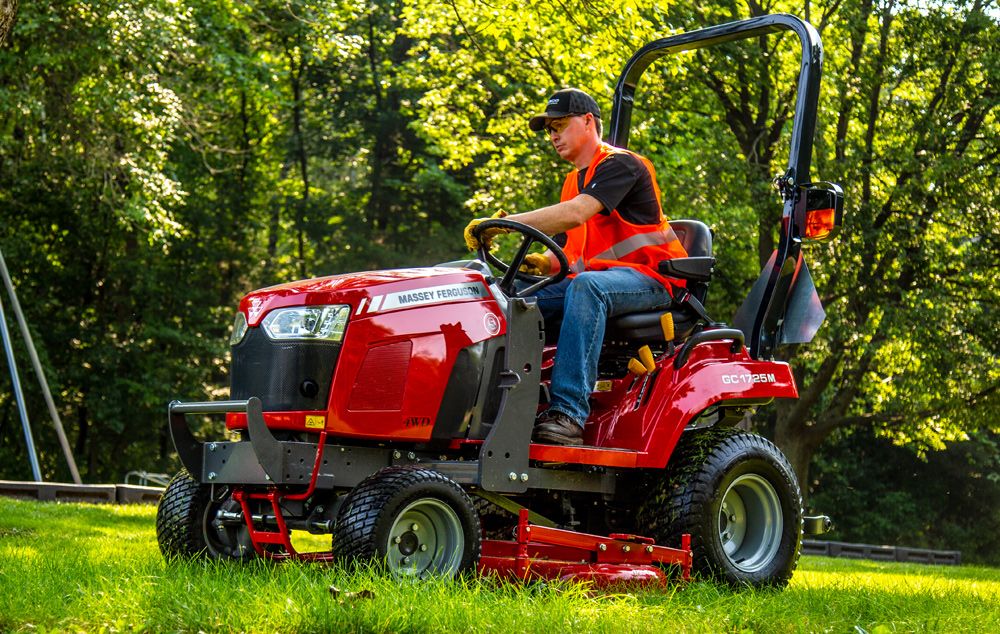 Perfect for landowners, farmers or outdoors enthusiasts alike, the Massey Ferguson GC1725M features a 24-horsepower engine at 3,000 RPM with 18.5 at the Power Take-Off. Outfitted for a backhoe package, the unit offers 661-pound rear lift capacity at 24 inches behind the pins and a max loader capacity of 870 pounds. With a strong engine and PTO combination, the Massey Ferguson GC1725M brings reduced vibration and noise, as well as more efficient fuel consumption. An improvement on past models in terms of comfort, the unit features a wide-open, clutter-free platform allowing the operator to move on and off the tractor with more ease. This includes an ergonomically designed seat for any sized driver. It's one of the best sub compact tractors available today.
As with all farm equipment, pricing on used sub compact tractors can vary widely, particularly as time moves on and newer models come out. Whether John Deere, Kubota, New Holland, Mahindra, and Massey Ferguson, one of these small but might tractors are worth a look for any sized operation. Check the Tractor.com classifieds to find used sub compact tractors for sale right now.
Sub-Compact Tractor Attachments
Another element of sub compact tractors that makes them so appealing is the wide array of attachments available for this size a machine. For those horses and goats, the value of a sub compact tractor is made manifest every time they load a bale of hay, or perhaps just move boxes of fencing material.
Titan Attachments 42-in Pallet Fork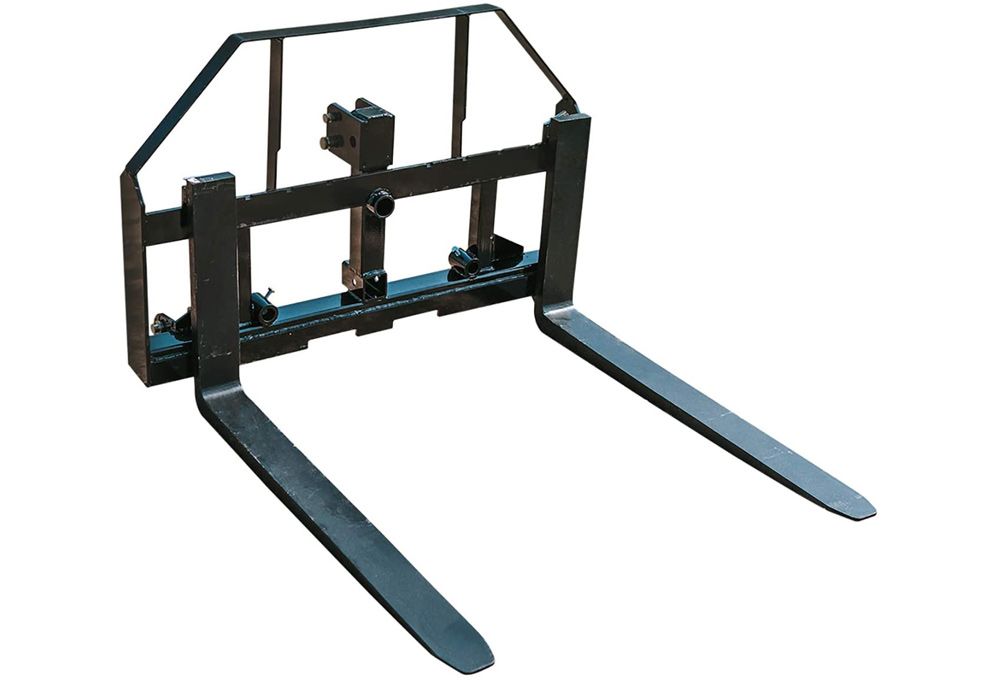 A good 42-inch pallet frame attachment with rack is really a must. This Titan model works for any of the tractors utilizing a Category I or II 3-point hitch. Kubota, New Holland, John Deere, and Ford can all work with this model. Durable, powder coated steel and a welded rack all support a whopping 4,000 pond capacity, which is more than stable for the loads being carried with a sub compact tractor. With a rack frame height of 29.5 inches and width of 45.75, the rack frame weight is 146 pounds, meaning it can be moved with relative ease about the for alignment.
Check Price
Titan Rotary Tiller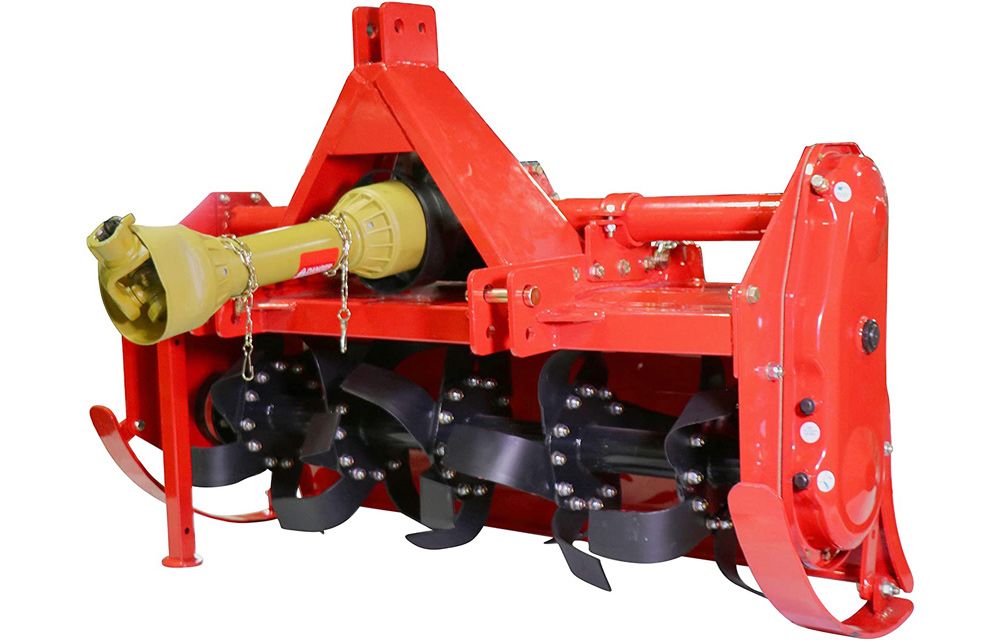 And for many people, the whole point of a sub compact tractor is its ability work large garden areas with something like a Titan 48-inch Heavy Duty Rotary Tiller. Great for commercial plots, or even a large personal garden, the Category I hitch, 3-point hitch, PTO-driven unit can work up to 8 inches deep into the ground. Equipped with a heavy-duty gear box, and left- and right-handed L-shaped tines, the tiller has five adjustable height settings. Designed to provide a 48-inch cutting width, the machine's overall dimensions are 59.5 x 27 x 41 inches. The 643-pound unit requires a tractor with between 18-40 HP, which would be perfect for the New Holland Workmaster 25S with 24.7 HP, or the Massey Ferguson GC1725M with an HP of 24.
Check Price
Titan Rear Blade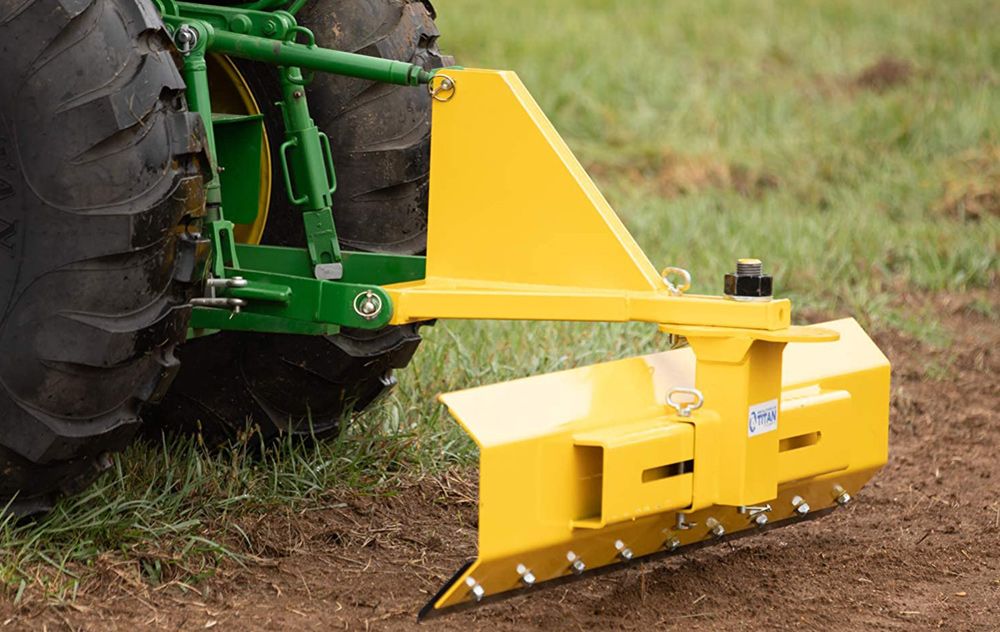 Another big plus for sub compact tractor fans is the ability to grade and scrape, or plow snow. A 7-foot rear blade is designed to do just this () from behind the tractor. Designed to offer five forward and seven reverse angle settings, this unit fits Category I 3-point hitches, with top and lower lift pins. The 84-inch 3-point rear blade is manufactured using high-grade steel and measures 84 inches wide by 11.25 inches high, with .25-inch in thickness. The blade itself weighs 385 pounds and is tough enough for snow, dirt, or gravel. This piece would fit well with the Mahindra eMax 20S HST, or the Kubota BX1880.
Check Price
What are the Cheapest Sub Compact Tractors?
As a general rule of thumb, used models are considerably less expensive than newer models. To that extent, any brand of tractor can be found at nearly every price point. What a buyer needs to check for when shopping used sub compact tractors is not just body, tires, and overall appearance, but the maintenance log and supporting documentation. Ask for past service records and be sure to check on the warranty status. Test out the engine compartment, the PTO, hydraulics, and all of the equipment contained within the cab. Ask questions in terms of work hours on the engine, and as with anything else, be sure to take the unit for a test run.
What Size Sub Compact Tractor Do I Need?
Mechanical horsepower is defined as the power output of an engine, or the force need to move 33,000 pounds one foot in a minute, or 550 pounds one foot in a second. So when comparing the Kubota BX1880's 16.6 HP to the Massey Ferguson GC1723EB's 22.5 HP, consider how heavy a load one will be hauling. What makes sub compact tractors such hot items is they can haul just about anything the average homeowner needs, and do a fine job with commercial construction or landscaping. Another big factor to consider when sizing a sub compact tractor is the machine's actual weight. Different manufacturers may place the same size engine in very differently sized tractors, and this will factor into their work capacity. Irrespective of horsepower, consider a rule of thumb that a load should not exceed 1.5 times the weight of the pulling vehicle itself. But, a larger engine does provide greater fuel efficiency and a smoother haul when fitted into a machine appropriately sized for the job at hand. If shopping for a sub compact tractor to haul mulch, yard waste, and perform mowing, then the smaller engines are most likely more than sufficient. But if the tractor is to be used to haul wagons full of grain, particularly through fields, check both the horsepower and tractor weight against potential loads.
What Can a Compact Tractor Do that a Sub Compact Tractor Cannot?
Generally speaking, sub compact tractors are two- to three-cylinder machines with 15 to 25 HP, with compact tractors coming in at three- to four-cylinder units up to 45 HP. Consider a compact tractor such as the John Deere 4066M Heavy Duty, which weighs 4,255 pounds, has a 65.9 HP, and has a lift capacity of 2,500 pounds at the 24-inch behind link arms. Compare this to the John Deere 1025R, which sports a 23.9 HP engine and can lift 681 pounds behind the link arms while the machine weighs on 1,556 pounds. Bigger, faster, and capable of hauling heavier loads, the compact tractor can do more work.
Recent Updates
August 27, 2021: Added the Massey-Ferguson GC1725M to the list. Added some sub-compact tractor accessories.
We are committed to finding, researching, and recommending the best products. We earn commissions from purchases you make using the retail links in our product reviews. Learn more about how this works.