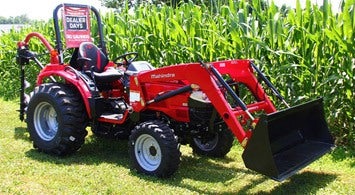 It's no surprise the Mahindra 1500 series has been one of the brand's most popular. With a bigger frame size than eMax and Max tractors, choice of hydrostatic or shuttle gear transmissions, available factory cab, EPA Final Tier 4 (FT4) compliance without the need for a diesel particulate filter (DPF), and competitive pricing, it's a combination that for many purchasers hits all the important points. At the National Dealer Meeting (NDM) held late last fall in Indianapolis, Indiana, Tractor.com was told the three 1500 series models (1526, 1533, and 1538) would be replaced with three new models (1626, 1635, and 1640) all available for order spring 2018 with deliveries taking place mid-year.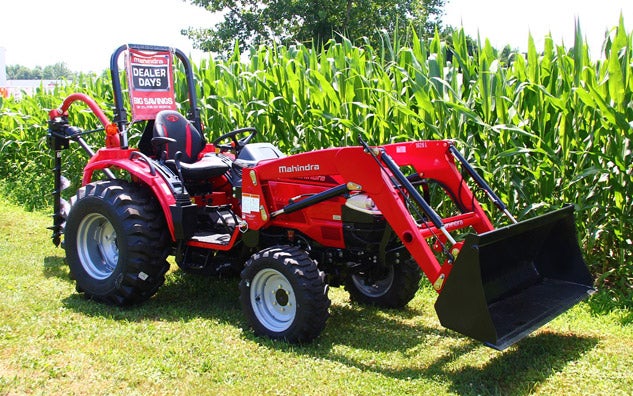 When the good folks at Ellington Agway let us know a 1626 had arrived and was available for review, we didn't waste any time heading to Ellington, Conn. But first some specifications.
As mentioned above, the Mahindra 1626 is EPA FT4 compliant without the need for a DPF, using mechanical injection and a mechanical governor which also helps in high altitude conditions.
COMPARISON: Read our review of the 2018 Kubota Grand L3560
Hydraulics run through an open center system flowing 3.3 gpm to the power steering circuit and 7.5 gpm to implement demand (10.8 gpm total), giving the three-point hitch (3PH) a lift capacity of 2646 lbs. Hitch control is by position, so an operator can consistently return an implement to a preset height. Lower link ends are fixed with outboard pin adjustable stabilizers to cinch up sway slack.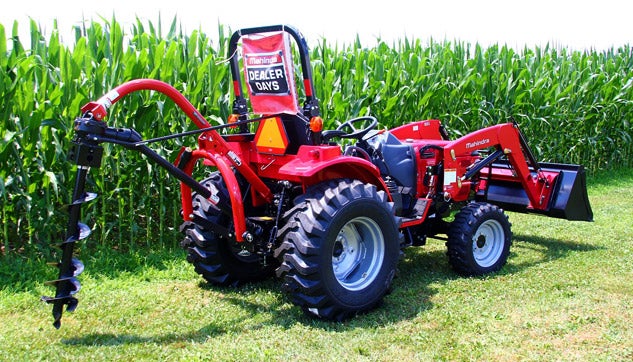 Our test tractor was a hydrostatic model with three ranges and controlled by a treadle pedal, which in this case has the majority of the linkage between the front and heel pedals below deck to free up floorboard space. We found modulation control and operator effort quite good, though the arrangement makes it difficult for those preferring to reverse by slipping their toe under the forward pedal and lifting rather than using the heel pedal. A minor nit and one that a purchaser is sure to forget quickly. For those looking for a gear transmission, Mahindra offers an 8F x 8R shuttle set up which utilizes constant mech on the gear shift and synchro mech on the reversing shuttle. A left hand turn signal-like stalk is used to control direction changes which requires the clutch to be depressed.
The 1626L loader our test tractor was equipped with is rated to lift 1560 lbs. to a max height of 84". Dig depth is 4.5" and breakout force 2795 lbs. A skid-steer compatible quick attach system is standard. Of note, the 60" bucket sides are now flared to the cutting edge. We're told this is a result of customers and dealers asking for more bucket capacity, though only time will tell if the added fabrication complexity has advantages over just adding width.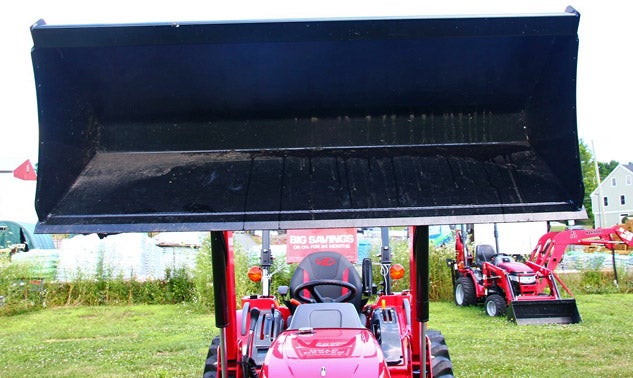 Climbing up into the operator cockpit (there are steps on both sides) and into the new mComfort, seat which really looks good, is brand consistent and truly comfortable with plenty of cushioned support. From an operator perspective, you seem to sit a tad taller than on the 1500 series, perhaps due to the new seat, and giving an overall impression of greater visibility.
COMPARISON: Read our review of the 2018 Kioti CK4010SE Cab
New to this series is the incorporation of the loader joystick into the right fender vs. the loader stanchion of the previous series. This is a much nicer and more ergonomic location with the added benefit of positioning the loader valve right below so there is no cabling to potentially get hung up on something in the field.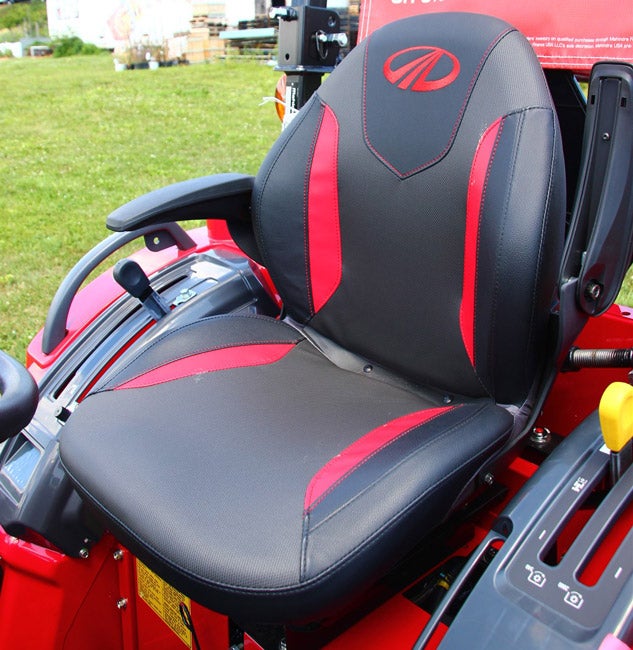 For added comfort and utility, there are cup holders on both fenders, a tool box to store hitch pins etc., a tilt wheel, cruise control, and a backlit dash. Firing up the Mitsubishi powerplant, we measured a quiet 78 dBA at idle, 80 dBA at the 540 PTO mark (2376 rpm) and 82 dBA at the 2000 PTO mark (2525 rpm).
Opening the metal hood exposes a typically neat Mitsubishi installation. There is a large 2-stage canister-style air filter in front, easily accessible radiator screen, a large group 58 battery, and a transmission cooler. For additional access, the side panels and nose can all be removed. The nose is worthy of mentioning, with its new aggressive look, black, red, and silver color scheme, and focused high-intensity halogen lights.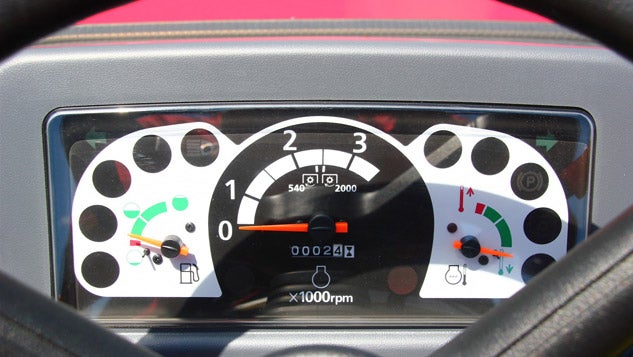 Though our test tractor was outfitted with a Worksaver PHD500 post hole digger, the 1626 can be optioned with a backhoe. The 1626B is a subframe style backhoe with 86" dig depth, 114" reach, 145-degree swing arc, 2440 lbs of breakout force at the bucket, and 1510 lbs of breakout force at the dipperstick. Of note, tractors equipped with this backhoe are not compatible with a mid-mount mower due to the subframe structure.
COMPARISON: Read our review of the John Deere 3033R TLB
So how does it all work? Quite well. As mentioned above, the engine is quiet, perky with plenty of power. The tractor running on 27×8.5-15 Carlisle front and 15×19.5 Titan rear R4 (Industrial) tires felt planted and stable — even with the bucket raised. Loader cycling functioned quite well, even at idle with hydraulic support for multiple motions at the same time, i.e. raise/curl, lower/dump.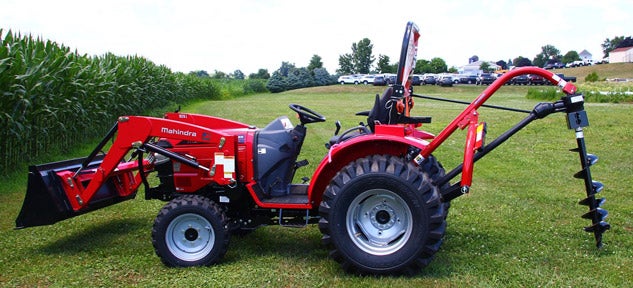 The 2459-pound Mahindra 1626 (tractor only) measures 121.3" long by 63" wide and 81.5" to the top of the upright ROPS. With a tractor-loader MSRP under $25,000, a seven-year powertrain warranty, 0% financing to 84 months, and other incentives available, the 1626 is a viable alternative to the Kubota L2501, John Deere 3025E, and Kioti CK2510/2610 Mahindra counts as competition.
For a potential purchaser looking for a tractor with a larger frame size than a subcompact, more lift capacity, and more premium features, the Mahindra 1626 would be well worth checking out. For those in the vicinity of Ellington, Conn., Ellington Agway would be a good place to start.