2011 John Deere 1026R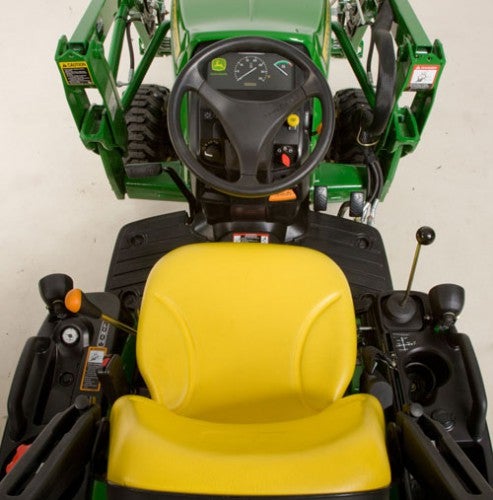 Engine Temperature Gauge
To us this is a no-brainer, but up until the new 1000 Series tractors, either an outrageously expensive item or an industry oversight. We'll leave that discussion to others while we praise John Deere for including it here.
Comfort Features
"Tilt steering, adjustable suspension seat with armrests, cruise control, toolbox and 12V outlet for my iPad, now we're talking," says Ed. "I'm paying as much for a SCUT tractor as a small car. The comfort features shouldn't be unavailable or optional. Deere has done what the industry should have done all along with the 1026R and it might just sway me green when it comes time to upgrade."
Attachments
MMMs, Backhoes (backward compatible so one can be added at a future date), Box Blades, Disk Harrows, iMatch AutoHitches, Landscape Rakes, Loaders, Manure Spreaders, Material Collection Systems, Overseeders, Broadcast Spreaders, Posthole Diggers, Power Rakes, Rear Blades, Rear Grooming Mowers, Rotary Brooms, Rotary Cutters, Tillers, Front and Rear Snowblowers, Sprayers, Tedders, and Woodchippers. While this long list copied from the Deere 1000 Series brochure isn't necessarily new, just the vast number of attachments offered for this series tractor is worthy of mention and the final reason the 1026R is our 2011 TOTY.