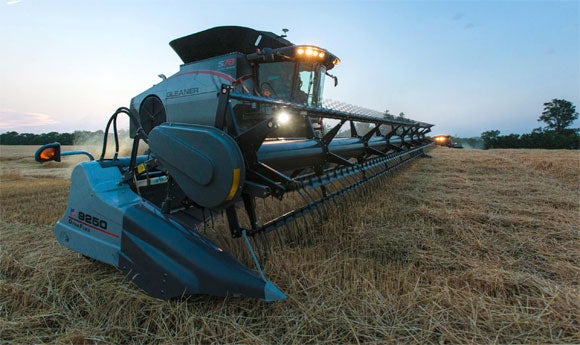 Gleaner has introduced the GleanerCare uptime assurance program for all Gleaner S8 Super Series combines.
"GleanerCare is an optional program that provides maximum uptime assurance during harvest to farmers who purchase a Gleaner S8 Super Series combine from a GleanerCare dealer," AGCO says in a release.
GleanerCare provides farmers:
• 24/7 access to dealer GleanerCare advocates
• Dealer service diagnosis and parts assessment within 12 hours
• Repair completion within 24 hours of issue diagnosis*
• Free loaner provided if GleanerCare-covered combine not repaired within 24 hours of diagnosis*
According to AGCO, the goal of the GleanerCare program is to provide peace of mind to farmers who purchase Gleaner S8 Super Series combines, including the first Class 8 transverse rotary combine, which was introduced in the fall of 2013.
"We have been making high-quality combines for a long time, and we're proud to stand behind them," says Kevin Bien, Gleaner brand marketing manager at AGCO. "We built the GleanerCare program with the farmer in mind. Farmers today need to harvest more acres in a tighter time frame, so uptime is more important than ever. With GleanerCare, we are committed to providing farmers with rapid response to worst-case scenarios and getting them back in the field faster."
GleanerCare advocates support each GleanerCare farmer's interests around the clock. These advocates have 24-hour access to Gleaner technical support and parts inventories to help them resolve issues quickly. To expedite issue diagnosis, Gleaner technicians can access and evaluate S8 Series combines remotely through AgCommand telemetry. GleanerCare farmers will have the assurance that their combine will be fixed, no matter the time of day.
GleanerCare farmers gain not only access to dealers and timely diagnosis, but a promise GleanerCare dealers will stock at least 75 percent of recommended S8 Series parts. If a needed part is not in stock, the GleanerCare parts team will locate it at the nearest dealership or AGCO parts distribution center, and arrange expedited delivery at no charge to the farmer. GleanerCare farmers also receive a Parts-on-Demand starter kit with AGCO parts for common maintenance items.
A two-year inspection program is included with the GleanerCare package. Inspections and services are performed and recorded on each S8 Series combine with a GleanerCare certified decal. If the farmer chooses to sell a combine with GleanerCare, coverage is transferred with the combine.
"We've been developing and testing the GleanerCare service for two years. We've invested in people and technology to provide the highest uptime assurance in the business. It's our commitment to the success of your operation and your peace of mind," said Bien.
GleanerCare is available from any GleanerCare dealer for $1,500. For more information about Gleaner combines and the GleanerCare uptime assurance program, visit www.GleanerCombines.com.