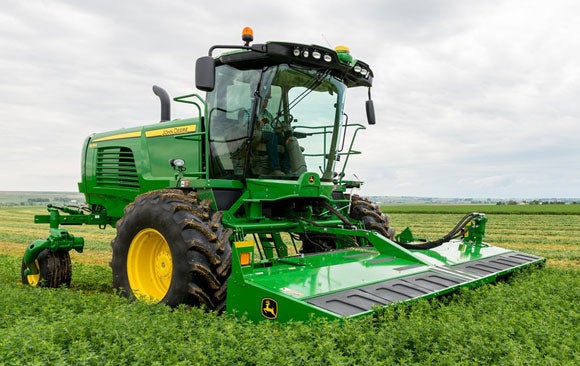 John Deere's new 2015 W260 Self-Propelled Windrower and 500R Platform feature increased horsepower and advanced cutting technology.
"The combination of the W260 Windrower and 500R Platform results in improved cut quality and consistent windrow formation to minimize dry-down time and deliver high-quality hay and forage," says James Petersen, senior marketing representative, John Deere Ottumwa Works. "When harvesting a forage crop where time is money, operators can cut up to 100 extra acres a day because of the increased cutting speed and reduced overlaps."
More power means more productivity. The John Deere Final Tier IV, 260-horsepower 6.8L engine reduces fuel consumption because of improved low-end torque and the ability to deliver more power at a lower engine rpm.
2015 John Deere Tractor Lineup Unveiled
"This engine offers numerous benefits in the field, such as increased power for windrow merger application; lower operating engine speeds; and less slowing of ground speed in areas where the crop is down or on hilly terrain," John Deere says in a release.
The W260 offers improved steering performance with integrated AutoTrac, and the independent platform float feature improves cut quality on uneven terrain. In addition, fingertip control of all machine settings and functions are handled through the CommandARM with GreenStar 3 CommandCenter or 2630 display.
Styling changes, including the addition of gull-wing doors, makes service and maintenance easier, and Deere says moving the air intake above the machine reduces chaff buildup and extends service intervals. Remote diagnostics and performance data can be accessed with the JDLink telematics solution.
Other aspects were designed with the operator in mind. These features include a 30 percent larger cab with 37 percent more glass surface area; a tinted rear window to reduce glare; and HD lighting for improved illumination during night operation.
"Forage growers spend long days in the field during some of the hottest and most humid times of the year," says Petersen. "Although performance always comes first, we added as many features as we could to increase operator comfort. More operator comfort means less fatigue and more productive time in the field.
"At the end of the day, improved power, technology and comfort add up to more ground covered, faster dry-down and higher quality forage, as well as lower operating cost and increased profit potential for customers."