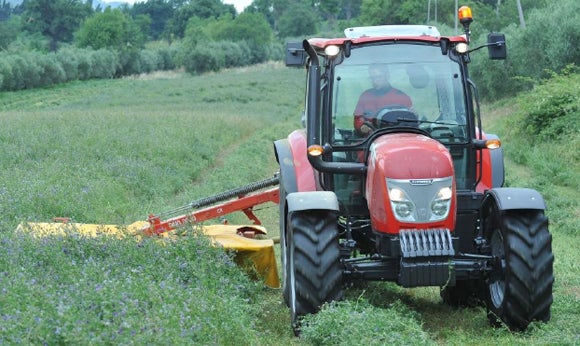 McCormick North America unveiled three new models of the X4 tractor family during the 2015 National Farm Machinery Show in Louisville, Ky. These three new models (X4.20, X4.30, and X4.40) expand the X4 tractor family to a total of six members.
Ranging from 64 to 79 maximum engine horsepower, these three lower horsepower machines allow McCormick to enter into and compete in the small utility class segment of the market place.
The new X4 models use a Deutz 2.9 liter, four-cylinder diesel engine that complies with the EPS's stringent Tier 4i emissions requirements. These engines do not use a diesel particulate filter, and do not require additional fluids during operation. For the life of the tractor, simply put in fuel, and drive.
A 12×12 transmission converts the engine's power into productivity. Built in-house by McCormick, the new X4 models offer customers a choice of a mechanical synchronized shuttle or a robust hydraulic power shuttle to match the needs of the job at hand. Even a creeper is available for specialty applications that require full engine power and low ground speed.
Setting it apart from much of the competition is a solid, cast steel 4WD front axle with outboard planetary final drives. Engaged via simple push button, the 4WD capability provides additional traction in the field for tough pulling performance. When braking, the 4WD feature engages automatically to transfer stopping power to all four wheels.
The new X4 models include an open center hydraulic system to power implements and attachments. A dedicated pump provides up to 12.9 gpm of flow to the rear remote valves and three-point hitch. An ASABE Category 2 rear hitch has a lifting capacity of up to 7,495 lbs, and operates mechanically with position and draft control.
To increase versatility, the new X4 models have both 540 and 1000 rpm PTO speeds as standard equipment. McCormick boasts shaft change is quick and easy, allowing these machines to power a wide range of implements.
Visit www.mccormickna.com for more information.