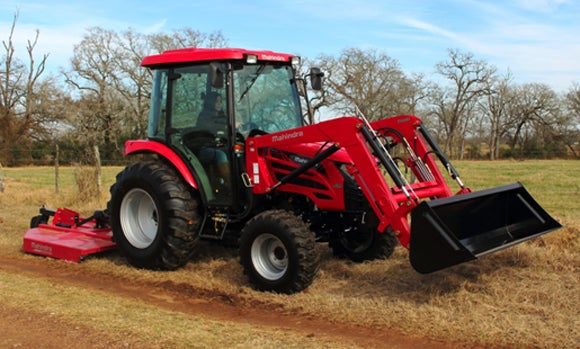 Mahindra has given its 2500 series tractors a significant update. All 2500 series tractors now feature Mahindra's exclusive mCRD technology to achieve Tier IV compliance.
The 2555, 55-horsepower 2555 is available in four configurations and is the most versatile tractor in this model series, which ranges from 40-65 horsepower. According to Mahindra, 2500 series tractors are ideal for moving hay bales, tilling, and managing livestock and produce operations.
"We are dedicated to creating a great customer experience for Mahindra users. Customer satisfaction and loyalty are key elements in our rapid growth. We will continue to build on our accomplishments and invest in the development of products and services that will serve our customers' needs," says Cleo Franklin, Mahindra USA's vice president of marketing and strategic planning.
"The simple-to-operate Mahindra 2555 is an exceptional work horse that delivers amazing power," says Mac Payne, director of dealer and product development. "It offers a comfortable, custom fit for the operator with features such as a fully adjustable seat with adjustable suspension, tilt steering and a flat operator's platform with a floor mat and two-sided entry. The two-door cab version includes standard air conditioning, heat and radio for best-in-class operator comfort. "
Mahindra says its mCRD engine means less noise and maintenance, lower cost and more reliability. The 2555 model is available with either a cab or open station option along with a choice of 12 x 12 synchronized shuttle or three range, twin-pedal, hydrostatic transmission. The 2540 (40 horsepower) is available in an open station with shuttle transmission and the 2565 (65 horsepower) is available with a cab and shuttle transmission.
Highlights of the 2500 Series
• Claimed 9 ½% more built-in weight than the closest competitor, for better stability, traction and safer operation
• Wet sleeve, heavy duty, rebuildable engine like high horsepower row crop tractors
• Loader lifts 37% more weight, 4% higher with 16% more lift capacity
• Enhanced operator comfort with and adjustable seat to fit the operator, mechanical seat suspension, two-sided entry, flat operator platform, rubber floor mat, and tilt steering wheel with power steering
• Option of ag, industrial or turf tires allowing customization for use
• Large selection of implements, including a loader capable of largest-in-class loads and the highest-in-class lift capacity, factory installed backhoe with class-leading dig force, rotary cutters, box blades, tillers and more
• Two-lever bucket removal for quick and easy attachment changes
"Mahindra's mCRD (Mahindra Common Rail Diesel) sets the standard for Tier IV compliance with its ease of use, fuel efficiency and low maintenance," says Omkar Nabar, product development, Mahindra USA. "Our turnkey solution does not require the time, cost or unexpected down time that occurs with a high-maintenance Diesel Particulate Filter (DPF) engine providing Mahindra customers' with greater reliability."