2011 Case IH Overview
Farmall tractor line expands
By Howard J Elmer, Mar 24, 2011
Case IH operates in 160 countries globally and is a major player in Ag and construction equipment. So, why would we include it in this roundup? It's not a brand name you see on too many garden tractors – or how about none. Still this global agricultural equipment manufacturer has long designed and distributed equipment to all areas of land management; and in 2003 it resurrected a storied name in tractors - Farmall.
This Farmall name is today used to define a new line of compact tractors that are aimed at providing a range of uses with simplicity as its guiding principle.
"We're bringing back the Farmall name because these new tractors carry the spirit of their famous predecessors," says Jim Irwin, vice president of the Case IH North American agricultural business. "Our new line of DX Series compact tractors epitomized the versatility and contemporary design that made the original Farmall tractors famous."
The Farmall tractor, first introduced in 1923, revolutionized agriculture with a design that could navigate between rows, while allowing clearance over crops like wheat, corn and sorghum. Case IH signature red paint was first introduced in 1937 on Farmall tractors to promote safety because so many were on the roads. In fact, more than five million Farmall tractors were built, and many are still in operation today.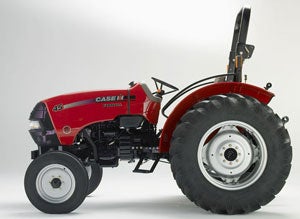 That is the history behind the name, but for buyers today it's more important to realize that Case stands behind the Farmall brand and that means an extensive dealer and parts network across the continent.
"The new Case IH DX Series Farmall tractors will take up the workhorse tradition of their illustrious forebears, with designs that are tailor-made to meet the needs of homeowners, contractors, landscapers, farmers and other customers who demand flexibility, utility, simplicity and comfort," says Irwin.
From a design point-of-view it can't hurt that the Case engineers are also involved in some very heavy-duty designs. Just this year Case added some high-horsepower models to its Steiger line of tractors. These new monsters make up to 660 peak engine horsepower, a new high in the industry. These tractors combine horsepower with higher PTO and hydraulic power all coming from a 12.9L diesel engine. To match the torque produced by this powerful system the Steiger 600 tractors are built with tough frames using welded half-inch thick steel. They are also equipped with heavy 5.5-inch axles and 18-bolt hubs. Now you won't be cutting grass with one of these anytime soon.
However some of the necessary toughness that goes into a Steiger trickles down to the Farmall series – two of which are very confident, competent estate tractors. At least that is what Case is saying.
"Like the Farmalls that came before them, the new Case IH DX Series Farmall is destined to provide generations of tough service, and a heritage of power, comfort, versatility and value."
These two entry-level tractors are the Farmall 31, which makes 26.5 hp, and the Farmall 35, which makes up to 28.9 hp. These tractors are built with Case three-cylinder diesels (1.5L and 1.7L respectively) that have a max working rpm of 2600. They each have a wheelbase of 63 inches and an overall length of 112.4 inches. The tractors weigh in at 2,544 lb with the ROPS included.
An open deck and step-through design offers plenty of leg-room on either unit and they both come with an adjustable, contoured seat, tilting and telescoping steering wheel and optional armrests make using the fender-mounted controls easy.
The smallest Farmall can be ordered with a manual transmission which is a 9x3 gear setup. Otherwise both are available with an automatic Hydrostatic shifter that has pushbutton cruise control. These tractors also come with a simple one-piece flip-up hood that lifts on gas struts to give you fast, no-tools access to the battery and radiator. This access simplifies radiator clean out and makes simple service and maintenance work easy.
These are important purchase considerations but of course the point of any tractor is the work it can do, and to that end the each Farmall has two PTOs; a mid-PTO and a traditional rear-PTO. These will run a variety of Farmall dealer offered accessories as well as aftermarket attachments.
These include:

• Side & Rear discharge mowers
• Rear mount finishing mowers
• Front mount rotary brooms
• Rotary tillers
• Front mount blades
• Front & Rear mount snowblowers
• Backhoe
• Rotary cutters
• Box blades
• Landscape rakes
• Disk Harrow
• Rear 3 point mounted blades
Farmalls' 3-point hitch is rated to lift 1,635 lb and an optional loader for either tractor (model L340) has a max lift capacity of 1,250 lb.
Since its introduction in 2003 the Farmall line has enjoyed steady sales and good reviews – facts that have encouraged Case IH to expand the line just this year to include three new models in the 50hp and up range.
Buyers Guides
Our Partners