2012 Yanmar Sx3100 HST Review
Mid-frame tractor with large-frame power
By Geof Fowler, Photography by Yanmar, Sep 20, 2012
When Yanmar marketing asked us to review its Sx3100 we said why not; it's a mid-frame size tractor with power nearing that of a large-frame tractor. That's the foundation for a machine homeowners with some acreage, farmers, landscapers and contractors wishing to do some serious work can get excited about.
Even if you've never tested a Yanmar tractor, you've probably used Yanmar-powered products before. Open the engine compartment of just about any sailboat, diesel generator, commercial pump or construction machine and there is a good chance you will find a reliable, efficient and environmentally friendly Yanmar powerplant. That shouldn't be a surprise considering that the 100-year-old manufacturer counts the small horizontal water-cooled diesel among its many inventions.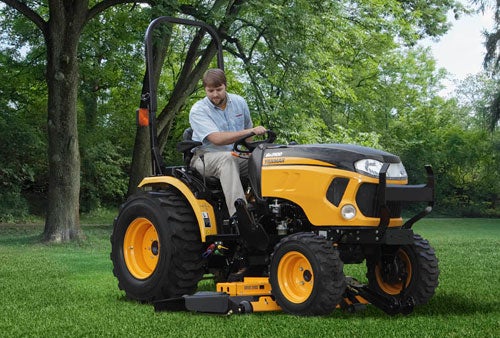 Yanmar first began manufacturing complete tractors in 1937 for the Japanese market. As Yanmar grew, so did the reputation of its machines which were popular for their simplicity with farmers around the world. But it wasn't until 1979 that Yanmar entered the North American marketplace and began to steadily develop a faithful following. Still, mass appeal was elusive against popular brands such as John Deere, Massey Ferguson, New Holland and Kubota – though Yanmar continued to manufacture compact tractors for John Deere. In 2006 Yanmar entered into an agreement with Cub Cadet to supply compact tractors branded as Cub Cadet Yanmar. That relationship continued until 2011 when Yanmar decided the timing was right to be in control of its own destiny and take charge of the full spectrum of engineering, manufacturing, sales, distribution and service.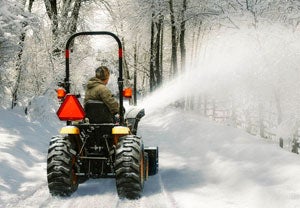 Powering the Sx3100 is a Yanmar 3TNV88 1.6L three-cylinder diesel that makes 31.2 gross horsepower at 2500 rpm. The naturally aspirated engine utilizes direct injection and liquid cooling to achieve the right balance of economy, power with deep torque reserve (63 foot/lb.) and cleaner emissions. Output at the power take off (PTO) is 23.5 horsepower, which is accomplished at 2500 rpm. Rear 540 rpm and mid 2100 rpm PTOs are independent and are standard. The Sx3100 sends engine power to a two-range hydrostatic transmission controlled by a side-by-side pedal arrangement that delivers well modulated control over the infinitely variable 0-14.8 mph forward/reverse speed range (high) and 0-5.1 mph forward/reverse speed (low). Hydraulics are open center with a tandem pump sending 4.8 gpm to implement needs and 5.3 gpm to the power steering (10.1 gpm total). This gives the Category I three-point hitch (3PH) a lift capacity of 1209 lbs at the industry standard of 24" behind. Position control is standard.
Climb up (there are no steps) onto the operator's platform and settle back into the comfortable high-back suspension seat with armrests, and you might think this is a familiar setting. It was especially so for us as we had reviewed the John Deere 2720 in August. Remembering that Yanmar has built and continues to build compact tractors for John Deere, the first thought is that the familiarity is generic, but looking at the specifications, the Sx3100 and the 2720 appear to be close cousins, perhaps even twins. That made us think we should look to find the differences. Read on to learn more.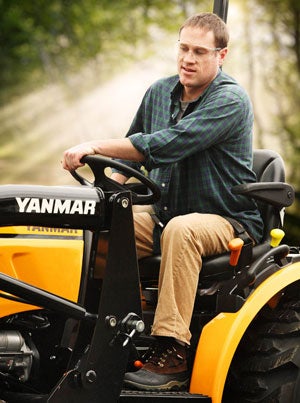 The operator platform on the Sx3100 is an uncluttered design with color-coded levers and switches that are all ergonomically-placed. Between the seat and left fender is the hydro range selector, clearly marked with L – N – H. Below that is the lever for 2WD/4WD selection and on the rubber-isolated floor is the pedal for differential lock engagement. Behind the hydro range selector is a lever to select rear, mid or rear and mid PTO. On the right fender is the 3PH position control lever which has adjustable stops and is graduated. The standard selective control joystick (SCV) is also nicely integrated into the right fenderwell and grab handles are located on both sides.
Split brakes to assist in making tight turns (or getting unstuck) are located on the left floorboard and the abovementioned hydro pedals are on the right. A transmission tunnel interrupts the flat floorboard, though the transmission dip stick is easily accessible. A parking brake and cruise control are standard and are located on the front cowl below the steering wheel, which does not tilt.
The gauge panel is dominated by a large tachometer with a clear indicator for PTO rpm. To the right is a fuel gauge. The rest of the warnings and informational notifications are by LED lights. A one-piece hood (fiberglass, though the fenders are metal) slopes nicely and complements the forward view. The fuel fill cap (7.1-gallon tank) is conveniently located on the hood, but is a small mouth design so it could be a bit difficult for some to access.
Fire up the Sx3100 and the operator is treated to a throaty rap-rap-rap indicating that plenty of power is at the ready. Our test tractor was outfitted with the CL200 curved boom loader rated to lift 964 lbs to 85" and the DS60 60" drive-over mid-mount mower deck. Anxious to give both a workout, we headed off to the north forty.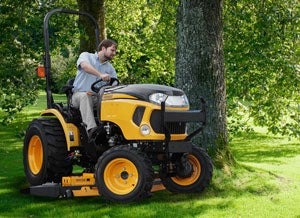 The CL200 was equipped with a 61" bucket (a 53" is available) and seemed well-matched to the Sx3100. Driving into a pile of topsoil made all the heavier by the previous day's rain, the Sx3100 had enough grunt to fill the bucket in high-range but liked it a lot better in low. Considering the top speed in low is 5.1 mph, it was probably the right range – still fast enough to be productive and powerful enough to not tax the driveline. The 61" bucket has a rated capacity of 7.1 cubic foot of material. We measured the dump clearance at 65", so this combination will clear most pickup truck and/or trailer beds. The CL200 is a quick attach/detach design which allows simple changeover in minutes without tools.
The DS60 mower deck is a fabricated design using 10-gauge steel. The discharge is to the right side and it uses 21" blades (three) and anti-scalp wheels (five) to deliver a cut that is adjustable from 1" to 5.5". The blade tip speed is rated at 18,500 ft./min. which approaches that of a commercial z-track. Accordingly, we found the cut quite good and the discharge material to be finely shredded.
Though our test tractor was not so equipped, Yanmar offers a curved boom subframe-mount backhoe. The CB65 can dig to a depth of 82", has a transport height of 71" and a digging force of 2,433 lbs. It also adds 970 lbs. to the tractor, which already tips the scales at 2030 lbs (less loader). Dimensionally, the Sx3100 is 109" long and 51.6" wide. The 23 x 8.5-12 R4 front and 14-17.5 R4 rear tires (turfs available) ride on a 65.2" wheelbase, while ground clearance is 10.6".
Maintenance is simplified on the Sx3100, with the oil-fill tube and dipstick accessible from the right side without having to open the hood. An industrial-quality fuel filter is found on the same side, along with a large water/sediment separator.
So what were those differences we noticed? The first thing that jumped out was the extra set of downward facing headlights located on the front sides of the hood. Anyone snowblowing in the dark or using a loader at night will surely appreciate this addition (competitors be on notice). The side-by-side pedals were also more conveniently-placed than on the 2720 we tested and would be our preference. Yanmar also ups the ante with a longer warranty (five-year/2500 hr. powertrain and two-year/2000 hr. bumper-to-bumper) and is currently offering the first maintenance free (a $300-400 value). Yanmar also offers a 30-day money back guarantee.
Since we have yet to find the perfect tractor, we do have a wish list for the Sx3100. A three-range hydro is always nice. That and a tilt wheel and telescoping rear lower 3PH links round out the short list.
With an MSRP just north of $18,000, the Sx3100 is a solid alternative to the John Deere 2720 which at the time of this publication is no longer listed on Deere's website. Perhaps that is the lead up to the new 2R series rumored to be coming out. Meanwhile, if you are in the market for a mid-frame tractor with lots of grunt and attitude, check out the Sx3100.

Related Reading
2012 Yanmar Lx4100 HST Review
2012 Yanmar Ex2900 Review
2011 Cub Cadet Yanmar Ex3200 TLB Review
2012 John Deere 2720 HST Review
Buyers Guides
Our Partners