2014 John Deere 4052R Open Station Review
This middle child impresses
By Geof Fowler, Photography by Geof Fowler, Apr 25, 2014
Our first exposure to the all-new 4R tractors was in March at the John Deere Ride & Drive in Orlando, Fla. And though we were allowed a fair amount of seat time, it was spread across many models and even competitor machines over just a day, and so we were looking forward to conducting a more extensive test of just a single model. When a 4052R became available, we jumped at the opportunity.
The 4R Series consists of three models, the 44 HP 4044R, the 52 HP 4052R and the 66 HP 4066R. All engines are manufactured by Yanmar and are EPA Final Tier 4 (FT4) compliant. In the case of the 4052R, the powerplant used is a 2.1L turbo diesel that makes 51.5 gross and 39.9 power take off (PTO) horsepower at 2600 RPM. Employing common rail fuel system (CRS), high pressure direct injection, and a diesel particulate filter (DPF) aftertreatment system, exhaust gasses are directed through the hood at low speed and when the DPF system is in a regenerative mode. At all other times the exhaust is routed through a downward outlet, keeping heat away from the operator. A field-installed vertical exhaust pipe is optional, but it must be removed to open or close the hood.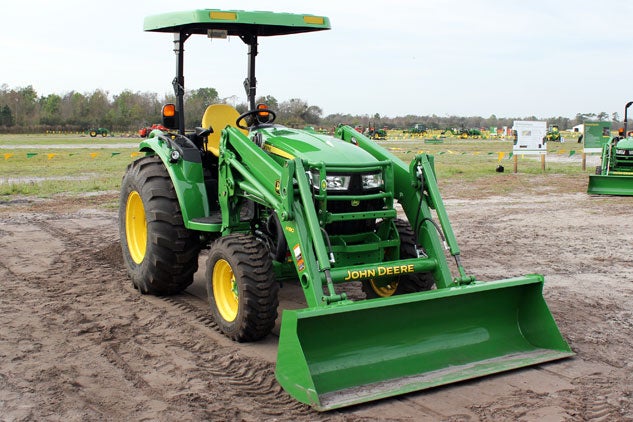 Output from the engine is sent to a 12F/12R PowrReverser or the eHydro hydrostatic transmission our test tractor was outfitted with. Purchasers who opt for the PowrReverser get the sturdiness of a gear transmission and the ability to make clutchless directional changes, but lose out on some of the electronic niceties (more on this later) that come with eHydro transmissions. Both transmission choices have three speed ranges so you know the right balance of speed and power is always available.
COMPARISON: Read our review of the 2014 Kubota L3800 HST
Hydraulics run through an open center dual gear pump system that operates at 2500 psi and flows 10.2 gpm to implement requirements and 5.7 gpm to power steering needs (15.9 gpm total). This gives the Cat 1 three-point hitch (3PH) a lift capacity of 2500 lbs at the industry standard of 24" behind center. Interesting that John Deere now publishes the lift capacity at link ends, no doubt aimed at those competitors who have been known to take poetic license with the more liberal measuring location. For 4R tractors, the more inboard lift capacity works out to 3130 lbs. Position control is standard so an operation can count on the ability to return an implement at an exact preset-able position. Combined with rate-of-drop control, telescopic lower links, outboard telescopic stabilizers, HitchAssist (which allows the operator to creep the tractor forward/reverse while standing behind), and auxiliary 3PH control, the task of attaching/detaching an implement becomes a much easier proposition and less of a wrestling match.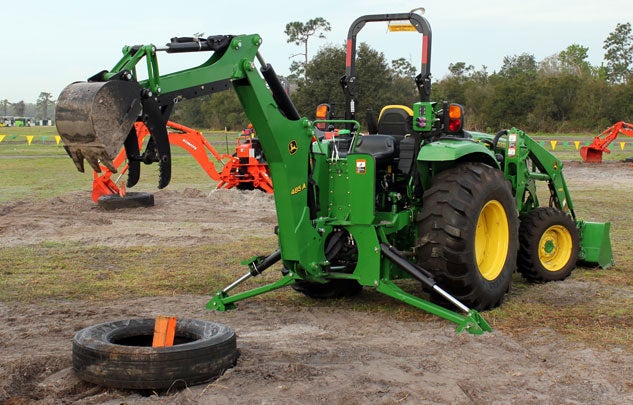 Climb up the left steps to a flat platform and into the deluxe and standard scissor suspension seat with armrests that swivel 15 degrees left and right, and the operator is treated to a clean, uncluttered layout that is ergonomically thought through. Large grab handles are located on both fenders with a toolbox on the left and a cup holder to the right. The center console houses the steering wheel, which tilts for operator comfort, and an automotive-style gauge cluster with an analog tachometer and fuel and temp gauges. Digital readouts include a speedometer, hour meter, PTO hour meter, and regenerative system tracking. LED indicators for glow plugs, air filter restriction, alternator, 4WD engagement, oil pressure, PTO engagement, parking brake, turn signal/warning lights, and cruise control status complete the standard package.
Color coded levers are used with the gear range selector, 2WD/4WD, parking brake, and differential lock all found on the left side, and 3PH position control, PTO engagement knob, joystick, cruise control and electronics pod all found on the right.
COMPARISON: Read our review of the 2014 New Holland Workmaster 40
It's the electronics, though, that make 4R eHydro tractors a joy to operate. Located within the right fender pod are membrane touch buttons for eThrottle, which when engaged increases engine throttle in correlation to hydro pedal position; LoadMatch, which keeps the engine from stalling during heavy load applications; SpeedMatch, which sets maximum travel speed and is great for rotary tilling or spraying applications; Cruise with automotive-style set/decrease/increase control; and MotionMatch, which adjusts accelerate and de-accelerate sensitivity and distances.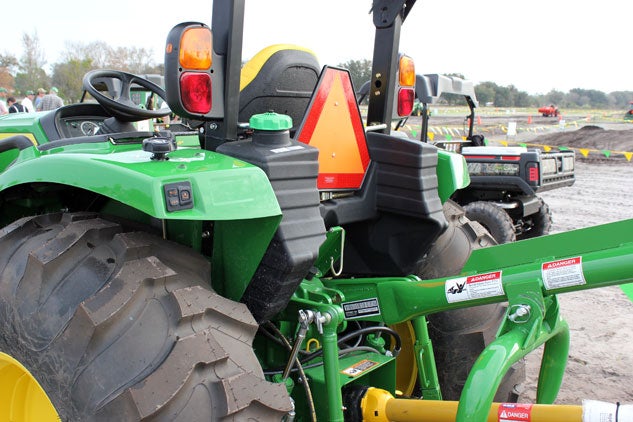 Our test tractor was equipped with the optional field-installed 540/540E PTO kit, which drops the engine RPM to 1750 while still maintaining 540 RPM at the PTO. Perfect for running implements such as balers or cutters where full PTO HP isn't required, 540E can achieve as much as 30% fuel savings.
We were especially excited about the addition of rear 3PH control. The abovementioned auxiliary hitch control is located on the left fender (cab tractors get a rotary knob located between the rear fenders), making simple work of raising or lowering the hitch. This is a feature sure to save time and aggravation.
Fire up the powerplant and the 2.1L engine is smoke-free and idles at a quiet 74-76 dBA. The tractor can be started with hydro pedals depressed, but cannot move until the pedals are first returned to neutral. Other safeties include an operator presence system, rollover protection system (ROPS) which folds for barn access, and a key switch interlock. The operator interface John Deere uses on hydrostatic transmission tractors is among the best in the business and not surprisingly it's rare to hear a complaint about the side-by-side pedal position.
COMPARISON: Read our review of the 2014 John Deere 3R Series
Our test tractor was equipped with the H180 loader, which is a quick-attach model with a built in park stand. Standard bucket size is 73" and comes with convenient chain loops so a purchaser doesn't later have to have these welded on. A skid-steer carrier is another option as well as a self leveling feature. Lift capacity is 2481 lbs to a max height of 111". We measured full dump clearance at 87" with a dig depth of 4". Hydraulic response was quite good as expected with 10.2 gpm flowing through the implement, though we wish John Deere could combine its excellent REGEN function, which makes for faster dumping while avoiding cylinder cavitation with the ability to 100% curl/dump/raise/lower at the same time. Full raise time was 4.0 seconds, full lower 3.3 seconds, full dump 3.6 seconds, and full curl 2.6 seconds.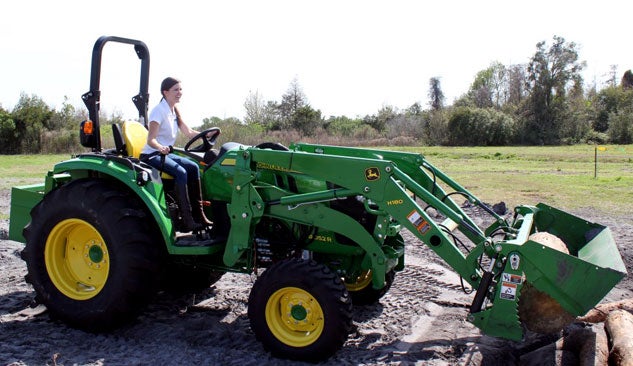 Tractor stability was excellent, perhaps a tribute to the 5.5" spacers at each rear wheel (a $418 option that gives 11" total of additional stance). 4WD could be engaged on-the-go and turning response was also quite good, owed in part to the 62-degree axle radius which equated to an 8.6' turn with brakes applied. Hitch assist was fun to activate: the operator engages the parking brake, selects A range, drops throttle to idle, makes sure PTO is off, and activates the HitchAssist switch located between the seat and left fender. When the flashers activate, the operator can leave the seat. From the rear of the tractor, the operator presses the enable switch located on the left fender along with the desired direction. The tractor creeps into the desired position. Sweet!
Other options that are available are a downforce kit for the 3PH (great for tasks such as post hole digging), additional selective control valves (SCV) with a total of five possible, a six-way diverter that is switch selectable and allows the joystick control over three rear outlets, and the model 485A backhoe that comes with a creep to reposition feature.
With an MSRP (tractor only) of $33,604 (PowrReverser equipped tractors get $1250 knocked off the MSRP), 24 month or 2000 hr bumper-to-bumper warranty with extended powertrain coverage to 36 months or 2000 hrs, and incentives that include 0% 60 months plus $500 off with the purchase of two or more implements, the 4052R might just be that perfect deluxe 50+ HP tractor.
Buyers Guides
Our Partners