2014 Kubota L3800 HST Review
Exceptional performance and a great value, if you act now
By Geof Fowler, Photography by Kubota and Geof Fowler, Mar 21, 2014
The Kubota L Series has a well-deserved reputation for delivering exceptional performance at a competitive price while not sacrificing many of the niceties one might expect. The 31.9-horsepower L3200, 37.4-horsepower L3800 and the 46.3-horsepower L4600 comprise the three-tractor series, which first became available in 2011.
All models are available with mechanical shuttle shift 8F/4R gear transmissions that feature an in-line shift pattern for quick directional changes or hydrostatic (HST) transmissions, as our test tractor was so equipped. HST transmissions have three ranges, making it easy to find the right balance of power and travel speed for the task at hand and also come with overrunning clutches for drivetrain protection and safety – a testament to the heavy-duty use these tractors are expected to see.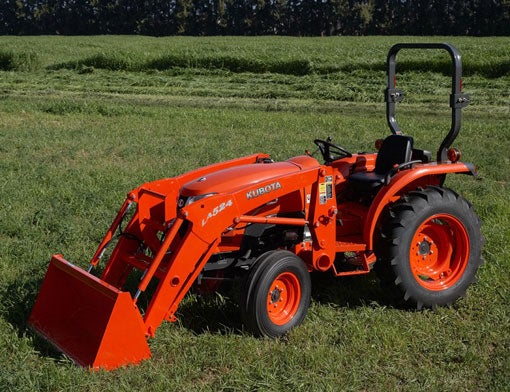 The L3800 shares chassis size with the L3200 (the L4600 is slightly larger) and receives power by a 111.4 ci indirectly injected three-cylinder diesel that makes 30.3 power take off (PTO) horsepower at 2700 RPM (gear transmission tractors are rated at 31.5 PTO horsepower). 540 rear PTO RPM is reached at an engine RPM of just 2580. The PTO engage/disengage button is conveniently located between the seat and right fender, while the PTO select lever is located just rearward and for ease of entry/exit conveniently out of the way. A stationary PTO feature allows the use of implements such as pumps.
COMPARISON: Read our review of the 2014 John Deere 3R Series
Hydraulics run through a tandem pump that outputs 10.1 gpm, with 6.3 gpm available for implement use and 3.8 gpm for power steering needs. This gives the Cat 1 three-point hitch (3PH) a lift capacity of 1,435 lbs measured at 24" behind the lift point. Lower lift arms come standard with outboard turnbuckle stabilizers. There is an option for telescopic stabilizers, but telescopic lower link arms are not available.
Climb up into the platform using the single step located on the left side and into the suspension mid-back seat and the operator is treated to an uncluttered and well-laid out arrangement of control levers, pedals and switches. There is a transmission hump in the floor center, but it is minimal and doesn't compromise legroom.
COMPARISON: Read our review of the 2014 New Holland Workmaster 40
Directional travel and speed are controlled by a treadle pedal. Though it is not as ergonomic to some as a side-by-side pedal arrangement, the treadle pedal offers excellent modulation over the 0-14.1 mph forward and 0-12.7 mph reverse travel speeds. The pedal is also a molded unit vs. the all-aluminum casting now used on some Kubota models and easier to use for those that prefer to reverse by slipping their toe under the pedal and lifting up rather than using their heel to push down. Our only nit is the positioning of the split brakes above the treadle pedal – a position that at a bare minimum makes their use an exercise in gymnastics. Figure a way to use the corresponding brake pedal to aid in a turn and a turn radius of 8.2' can be achieved. Cruise control is an option on hydrostatic tractors, but power steering, 4WD, differential lock, wet disc brakes, and a cup holder located on the right fender, along with a foldable rollover protection system (ROPS), round out the list of standard operator niceties.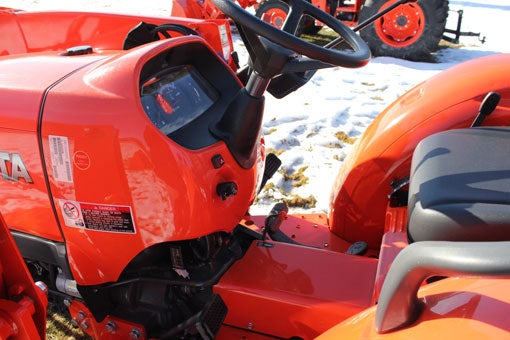 Our test tractor was equipped with Kubota's model LA524 loader, which is a quick attach/detach curved boom design that matches the L3800 hood contour. Able to lift 1,130 lbs to a max height of 94.3", and with a dump clearance of 76.2", the LA524 puts most pickup truck and trailer beds well within range. And though the joystick control isn't integrated into the fender console and is instead mounted on the right side loader stanchion, the long arm never felt far away. Dig depth is 6.9" and breakout force is 2,462 lbs. Driving the L3800 out to the back forty, the first thing our testers commented on was that Kubota gets hydraulics. The ability to lift/curl, dump/lower without one function taking away from the other truly makes for seamless, effortless operation. As expected with 6.3 gpm flowing to the LA524, we found response snappy and measured full raise at 3.5 seconds, full lower at 2.3 seconds, full dump at 1.7 seconds, and full curl at 2.2 seconds.
Our test tractor was not equipped with a backhoe, but Kubota offers a model BH77 (the previous generation L series only came with a Woods-manufactured backhoe) that can dig to a depth of 92.5" with a 124.3" reach and a swing arc of 180 degrees. Dig force at the bucket cylinder is 3,421 lbs and at the dipperstick is 2,190 lbs. And as an operator using the LA524 loader could manipulate multiple hydraulic cylinders at the same time, one using the BH77 can have the backhoe bucket, arm and boom working at the same time – a necessity for flat bottom trenching. Options include a variety of bucket sizes as well as a mechanical thumb.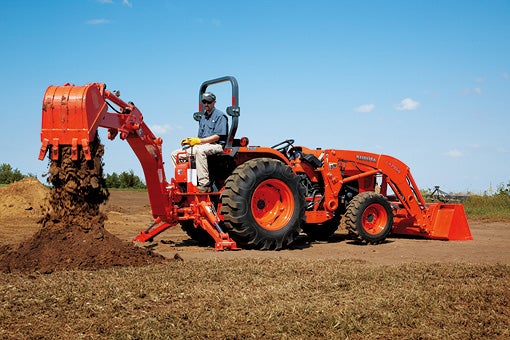 Other deluxe features we observed were the one-piece metal hood (no side panels) that opens high on a gas strut that will surely make maintenance easier include the front location of the coolant overflow tank next to the battery, molded tool box behind the seat (not on backhoe equipped tractors), and bright halogen headlamps. The 10-gallon fuel tank also deserves mention as it 2.6-3.6 gallons more than the New Holland Workmaster 40 or John Deere 3038E that Kubota mentions in its website comparison guide.
COMPARISON: Read our review of the 2014 Mahindra Max 25 HST Tractor-Loader-Backhoe
The L3800 comes standard with 7.2-16 front/11.2-24 R1 Ag tires, but 25x8.50-14 front/13.6-16 rear R3 turf and 27x8.50-15 front/15-19.5 rear R4 industrial options are available. The L3800 measures 106.3" long by 55.1" wide and is 91.7" tall to the top of the ROPS. Riding on a 63.3" wheelbase and with 13.4 inches of ground clearance, the 2,668-pound L3800 will soon be replaced by a L3901 Final Tier 4 (FT4) model that we saw at the NFMS in Louisville.
For those in the market for a tractor of this size and class and who aren't enamored with the added cost and complexity of Tier 4 engines, the current series offers good, solid value. Right now and through March, Kubota is offering instant $1000 rebates on L-series tractors. Combined with the cost savings of not having FT4 power, this could be really good time to make that purchase. But you had better act fast. These tractors are popular and are sure to quickly disappear from dealer stocks.
Buyers Guides
Our Partners