2014 Mahindra Max 25 HST Tractor-Loader-Backhoe Review
A 25 HP subcompact that doesn't know it's a subcompact
By Geof Fowler, Photography by Geof Fowler & Mahindra, Feb 06, 2014
When Mahindra introduced the Max lineup back in 2012, press releases called these tractors game changers. And why not? Combining a heavy duty full-length chassis with larger tires and powerful hydraulics that resulted in loader and three-point hitch (3PH) lift capacities far greater than previously available in this class of tractor certainly grabbed the attention of the competition. Foul cried other manufacturers. These weren't subcompacts (SCUTs) but compact utility tractors (CUTs) in disguise. Consumers didn't care about the semantics. Sales numbers soared.
We first tested an early Max 22 in Feb. of 2012 and then the larger Max 28 XL 3 months later. While we liked the package size of the Max 22, we appreciated the added power of the Max 28, and wondered how the Max 22-sized Max 25 might fare with the same larger displacement powerplant used on the Max 28. This week we had a chance to find out and can report that our findings are positive. But first, let's dig into the technicalities.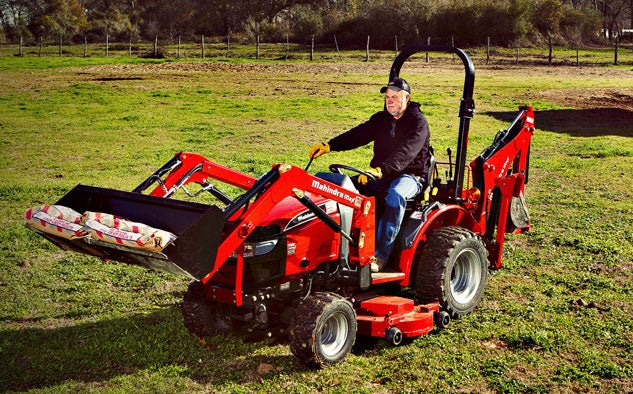 Max 25 dimensions are identical to the Max 22 with the length being 104.1" and the width 50.7". Inserted into the heavy duty cast iron chassis is the larger 80.4 ci Mitsubishi powerplant of the the Max 28, with the exception that the operating rpm has been dialed down by 100 to 2500. Output is 25.5 gross horsepower with a power take off (PTO) rating of 20. 540 rpm at the rear PTO is reached at an economical 2376 rpm engine speed. A mid PTO is standard and reaches rated 2000 rpm at a little higher but less than the competition engine speed of 2556 rpm.
COMPARISON: Read our review of the 2012 Mahindra Max 28 XL HST
Output from the diesel mill is sent via shaft to a two-range hydrostatic transmission controlled by a treadle pedal. While this isn't our preferred setup, the system offers well modulated control over the 0-9.6 mph forward and 0-4.9 mph reverse speed ranges. The treadle positioning is such that it accommodates those who prefer to use their toe to travel forward and their heel to reverse as well as those who prefer to slip their toe underneath and lift up to reverse.
Hydraulics are open center, full live with 2.7 gpm going to power steering needs and 4.6 gpm going to implement requirements (7.3 gpm total). Position control is standard, so that an implement can be returned to the same operator selectable position time after time. 3PH lift capacity is a un-SCUT-like 1400 lbs.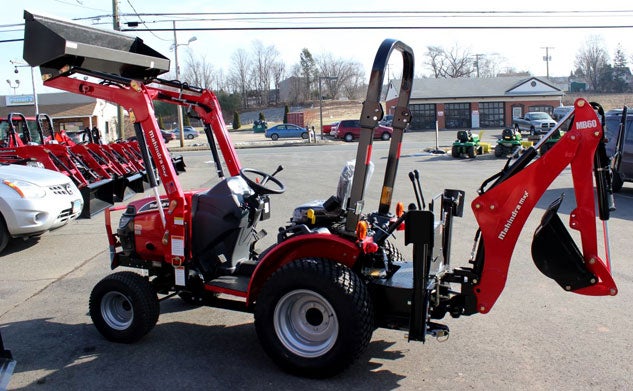 Our test tractor was made available by the good folks at Ellington Agway Power Equipment in Ellington, CT. We found Hugh Jeffries (Hugh-SS/16 on our sister site, mytractorforum.com) especially accommodating as he walked us through the range of Max 25 features – and especially with the MB60A backhoe which we had not previously used. With all the friendliness, knowledge and inventory, it's no surprise Ellington Agway sells more than 50 Mahindra tractors each year.
With key in hand, the Mitsubishi powerplant (cold) fired right up with nary a whiff of smoke. Our test unit carried an EPA Tier 3 compliance rating, though as newer models get into the pipeline, those will meet Tier 4 requirements. After giving everything a few minutes to warm up, we measured a dBA reading of 70 at idle. And even that doesn't tell the entire story as Ellington Agway is right on busy state highway 83 and road noise is plentiful. At full PTO rpm, the measurement read a steady 90 dBA. Figure the Tier 4 tractors to run a couple of dBA quieter. We also found hydraulic function at idle quite useable, which would be great for a beginner learning to use a loader and/or backhoe. Crank up the rpm and the hydraulic responsiveness gets downright impressive.
COMPARISON: Read our review of the 2014 John Deere 3R Series
Our test tractor was equipped with the model ML202 loader and 50" (5.3 c.f.) non skid-steer bucket. Cycle times ran 4.3 seconds to raise, 3.5 seconds to lower, 2.8 seconds to dump and 2.5 seconds to curl. Lift capacity of the ML202 is 900 lbs (class leading) to a max lift height of 75" with a dump clearance of 60". Dig depth is 4" and max breakout force is 2000 lbs. The loader can be removed in a few minutes without tools with a stand stored in a frame cross tube. The loader (and backhoe) are backward and mid-mount mower (MMM) compatible, meaning they can be added at any time and used when the MMM is attached.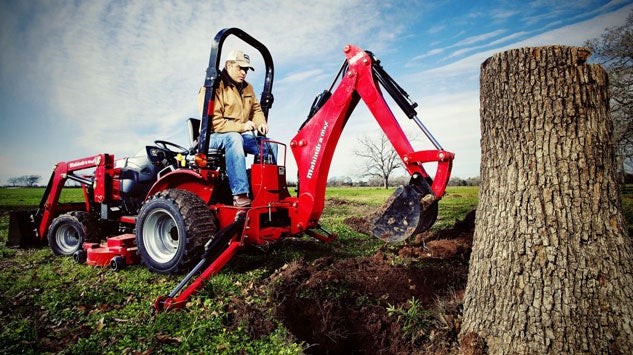 The MB60A backhoe is rated to dig to a depth of 80" so foundations aren't going to be part of its forte, but stump removal, smaller trenches and ditches will all be well within its capabilities. Reach measured 98" and the swing arc 140 degrees. Dig force is rated at 2050 lbs, the same as the system hydraulic PSI pressure. The seat swivels easily in three fluid steps. First you unlock the front, sliding the seat rearward. Secondly, you lock the rear. And finally, you depress a knob to rotate the seat into position. Operator position offers plenty of room but the space is a little cramped to climb into. Oh well, we really didn't expect the Max 25 to be an mPower 85.
Other niceties sure to be appreciated on the 1,693-pound (tractor only) Max 25 are the steel fenders and hood, semi-flat platform with rubber matting, folding rollover protection system (ROPS), and highly readable – even in sunlight – gauge package (backlit).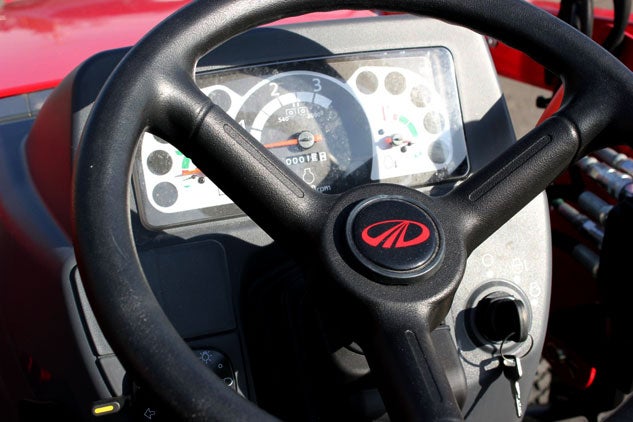 Things we'd like to see changed? Not much. We generally prefer side-by-side hydrostatic pedals to treadle designs, but hear Mahindra will soon be shipping a new series of eMax subcompacts that will have this style of pedal. Perhaps this will carry over to the Max 22, 25, 28 and soon-to-arrive Max 24 – the later which we'll be interested to see where it fits in with the lineup and the reasons a buyer might gravitate to one over the other. And finally, it's our opinion that positioning the split brake pedals above the treadle isn't the most useable of a location; though with a clutch pedal required for the PTO, the left side wouldn't be much better. Potential purchasers shouldn't consider either a show stopper, though, as the layout is quite ergonomically friendly and quickly becomes second nature.
COMPARISON: Read our review of the 2013 Kubota B2650 HST Cab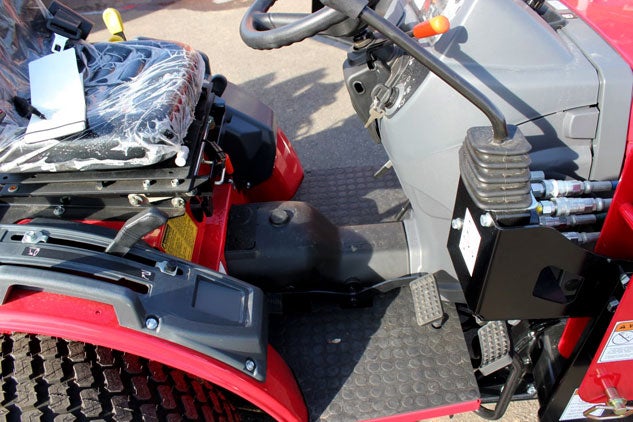 Our test tractor was equipped with 20x8-10 front and 29x12.5-15 rear turf tires, but R1 Ag and R4 Industrial options are available. Tractor-only, the Max 25 retails for $13,480. In our as-tested TLB form, the MSRP is a competitive $22,850. With financing options of 0% up to 72 months, 4.25% for up to 84 months and cash back possibilities up to $2000, the Max 25 may just be that perfect subcompact that doesn't know it's a subcompact.
If you're in the market for a tractor of this class and size, the Max 25 should be on your test drive list. And if you're in the vicinity of Ellington, CT, we can't think of nicer dealer to work with than Ellington Agway. Stop in and ask for Hugh.
Buyers Guides
Our Partners