2013 Kubota B2650 HST Cab Review
New 26-horsepower B-Series tractor is rich with amenities
By Geof Fowler, Photography by Kubota, Jun 21, 2013
When Kubota introduced the B3000 series tractors, it did so with a "take notice" to the competition. Three-range hydrostatic transmissions, four-cylinder diesels (some models), offset mid-PTOs for ease of mid-mower attachment, powerful hydraulics with high-capacity three-point hitch (3PH) lift capability and position control along with other niceties became standard in tractors the competition had you going up at least one model size to get. Already with a class leading lineup, you might wonder what other improvements could possibly be added. Read on to learn more.
At the Louisville Farm Machinery Show in February we were treated to a glimpse, along with enthusiastic technical overviews from design team members relating to the changes incorporated into the BX70, ZG100 Kommander, M60, Grand L60, KX018, KX040, U35 and B50 series machines. We at Tractor.com, having already reviewed the BX2370 and ZG100 Kommander, look forward to familiarizing ourselves with these new products as they hit dealer stocks. This week's subject of review gets us one step closer to that objective.
RESEARCH: Read our review of the Kubota BX2370 HST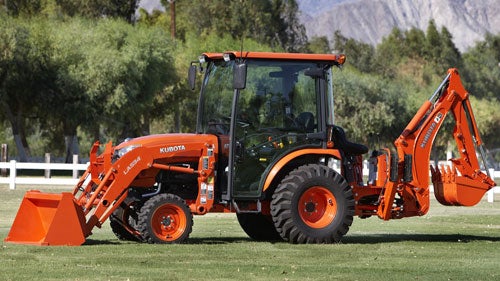 Until now, the Kubota B-Series was comprised of six models: B2320, B2620, B2920, B3000 Cab, B3200 and the B3300 SU. With the addition of the all-new B2650 Cab and B3350 Cab models, "take notice" has surely been ratcheted up a notch or two. The B2650 begins with Kubota's D1305-E4-D26-Q four-cylinder diesel which falls under the E-TVCS series designation, with the E standing for Emissions, the T for Three, the V for Vortex, the C for Combustion and the S for System. These powerplants achieve EPA Tier IV emissions compliance, though in slightly different ways; the soon-to-be-released B3350 does so via a Diesel Particulate Filter (DPF) and the tested B2650 powerplant skirting under Tier IV requirements without that need. Displacing 77.0 ci (1.26L), and rated to deliver 26 gross horsepower at a relatively low 2500 rpm, the E-TVCS combined with the only transmission available (hydrostatic) along with the cab weight, A/C and windprint, still manages to deliver 19.5 HP at the power take off (PTO).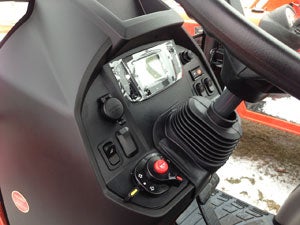 Sticking to the success format of the B3000 Series, the transmission has three gear ranges (arranged in a straight-line L – M – N – H pattern and actuated by a lever located on the left arm console). Infinite speed control is by Kubota's treadle pedal, positioned in the same right foot location, but now sealed from the out-of-cab elements by a new mechanism. Forward speed range is 0-11.8 mph with reverse ranging from 0-8.9 mph. Modulation is quite good with the C-shaped pedal giving the operator choice between a traditional heel/toe actuation or, as our testers prefer, by pushing down with the toe to go forward or slipping the toe underneath the front pedal and lifting up to reverse.
Hydraulics run through an open center dual pump arrangement flowing 8.7 gpm and giving the B2650 a Cat I 3PH lift capacity of 1,676 lbs at the industry standard of 24" (2,139 lbs at lift point). PTO engagement is independent and both the rear 540 rpm and mid 2500 rpm PTO are standard. Lower link arms telescope for easy implement hook up and lock in place with easy to adjust inboard telescopic stabilizers. A rear drawbar is standard and control over the 3PH is by position so the implement may easily be raised or lowered to an operator selectable position time after time. Differential lock and selectable 2WD/4WH round out the performance features. A single rear remote is optional.
COMPETITION: Read our review of the Kioti CK27 HST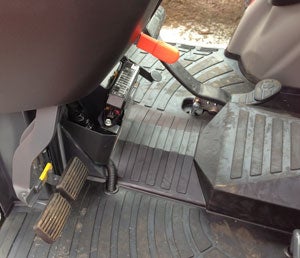 Climb into the 43" wide by 62.9" tall cab (measured from the platform floorboard to the cab top) and the improvements over the B3000 Cab models begin to jump out. First, the doors swing wide for easy access and the cabin glass at both footwells now extends down to the platform, giving the operator a better view of front tire traction and implement engagement. View all around is unobstructed, improved by the new integrated four-post cab with rounded glass that affords a better fit around the tractor configuration. We were told to expect better airflow with the rounding and can report our testers unanimously agreed. Split brake pedals are now located on the left side – hooray Kubota! – so tighter turns while applying power with the treadle is finally possible. And those pedals are suspended from the center console cowl, aiding (as does the sealed treadle) in keeping dust outside the cabin.
Other improvements include the joystick nicely integrating into the right arm console, just in front of the position control lever, cruise control, storage tray and optional rear remote. Improvements extend to the left side controls for the PTO selector, PTO engagement, cup holder, storage tray and transmission range selector. The new dashboard loses all ties with 20th century analog technology and goes completely digital with the LCD panel getting a bar graph for fuel level on the left, a bar graph for engine temperature just inboard and a large readout to the right for engine rpm. PTO engagement and engine hours are also monitored above and below the rpm readout respectively. A 12V outlet resides to the left center of the dash and is within easy distance of the front storage tray, which is perfect for charging an iPhone or MP3 player. Switches for remaining tractor functions have a nice automotive (or even, dare we say, aeronautical) feel.
The high-back deluxe seat received universal praise and comes with armrests that fold up when needed and is easily adjustable for fore and aft travel. No operator weight adjustment is built in or even optional, but we can overlook this at the price point and available space Kubota had to work with. Front and rear wiper with washers are standard (the filler tank is located outside the cab and at the rear of the tractor for easy filling and visual level check) and the rear defroster is run through wires imbedded in the window glass and is another blur toward automotive technology we take for granted. The rear window also swings open a few inches for a little fresh air or to talk to someone outside. The cab headliner contains a myriad of vents, speakers, lights and controls for the heat and A/C. If you were expecting a tilt wheel or coat hanger, those would also be standard equipment on the B2650.
COMPETITION: Read our review of the TYM T293 HST Cab
Our test tractor was equipped with Kubota's curve boom LA534 loader, which nicely matches the new aggressive styling of the 1-piece hood (complete with an offset fuel filler cap for easier fueling) and gives the B2650 the ability to lift up to 1,146 lbs to a height of 84.6". Dump clearance measures 67.4" so most pickup truck beds or utility trailers are well within the D2650s capabilities. Breakout force is rated at 2,321 lbs. And the grille guard, bucket level indicator and two-coupler quick attach bucket system are all standard. Our tractor came with the light-duty material bucket (60"), but other sizes are available including options for plows, blades, spears and pallet forks. For those requiring a grapple, Kubota offers a third function valve option, giving joystick fingertip control over those functions.
We had a chance to get the B2650 dirty (a little) and found the loader performance quite responsive and well-balanced. The 60" bucket was a good match for loads of gravel, though we'd recommend prospective owners to pay attention to ballast. But that brings us to the one negative, albeit a slight one. The 103.9" long x 53.7" wide x 84.6" tall B2650 weighing 2,293 lbs (tractor/cab alone) plus the weight of the loader and yours truly plus running the A/C, driving 12.4-16 R1 Ag tires (7-12 fronts) did buffet in the wind a bit. Having a three-range transmission helped; however, our testers all wondered how the similarly sized B3350 with seven more HP would fare. When B3350s hit dealer stocks we plan to get an answer to that question.
COMPETITION: Read our review of the John Deere 2720 HST
If you are looking for a small chassis cab tractor with excellent sealing from the elements and noise, four-cylinder EPA Tier IV compliance without DPF, excellent visibility, aggressive styling, plenty of capability and with a three-range hydrostatic transmission – yet don't have too lofty expectations of what 26 HP can be expected to do – check out the B2650. We think you'll be impressed.
Buyers Guides
Our Partners