2013 Kioti CK27 HST Review
A fully featured compact utility tractor
By Geof Fowler, Photography by Kioti, Jun 16, 2013
Back in January
we reviewed Kioti's CK35 HST
, curious if the same degree of oomph carried over from the smaller chassis CK20S that impressed us so in July of 2012. Driving a larger, heavier chassis and turning taller tires is certainly a power hungry recipe, but we came away impressed at how the CK35 was up to the task. We did wonder, though, how the smaller diesels in the CK27 and CK30 might fare. We recently got our hands on a CK27 to get an answer to one of those questions.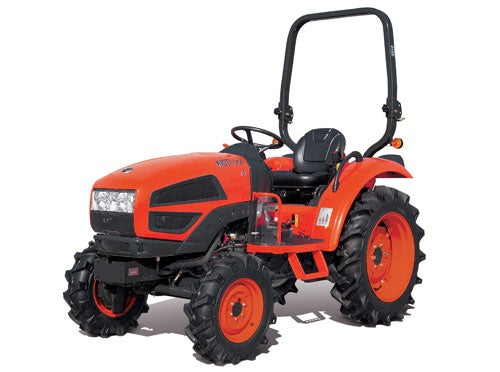 The CK27 HST is powered by a Daedong 3A139LWH naturally aspirated 1.4L three-cylinder diesel powerplant that makes 28 gross horsepower at 2600 RPM. As with the engine powering the CK35, EPA, CARB and EEC emission requirements are met without having to go to exhaust aftertreatments (in 2015 full Tier IV requirements kick in and some form of aftertreatment will be necessary). Operating at 2600 RPM, high output, low fuel consumption, and good durability are achieved by this set up. Rated power take off (PTO) horsepower is 20.5, so the CK27 is capable of powering any properly sized implement, including a rotary cutter.
VIEW: Read our review of the Kioti CK35 HST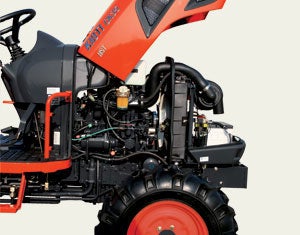 Power from the 1.4L mill is outputted to the ground just one way: through a three-range hydrostatic unit. Prospective owners looking for a manual transmission will have to go up one model in the CK lineup to the CK30. No matter, with three gear ranges, we never seemed to come across a circumstance where we couldn't find the right gearing for the task at hand. Kioti gives the CK27 the same treadle pedal used in the CK35. It's a "C" shaped pedal positioned below the suspended split brakes and designed to be used in a traditional fashion: toe/heel, or if the operator should chose, by pressing down with his/her toe to go forward or slipping their toe under the front portion of the pedal and lifting up to reverse. Either way, we found the system delivered well modulated control over the infinite 0-13.7 MPH forward and 0-9.15MPH reverse speed range.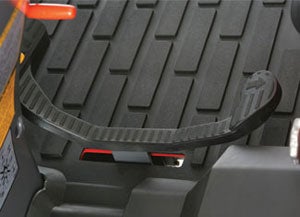 Hydraulics are from a tandem pump flowing 12.7 gpm, giving the Cat I three-point hitch (3PH) a lift capacity of 1,764 lbs at the industry standard of 24". Position control is standard, allowing an implement to be raised/lowered to an exact operator selectable position time after time. A rear 540 RPM PTO is standard equipment, but Kioti offers an optional rear selectable 540/1000 RPM kit as well as an optional 2000 RPM mid PTO for driving implements such as a mid-mount mower or front snowblower. And 3PH lower link arms telescope for ease of attachment.
Climb into the comfortable medium-height deluxe seat and the operator is treated to a spacious, flat platform. As mentioned above, the right side split brake pedals are suspended, as is the clutch pedal located on the left side. This placement adds to the cockpit spaciousness and makes hosing off the elements after a hard day in the field even easier. Unlike the DS series tractors where the loader joystick is part of the loader upright stanchion, the CK27 joystick is incorporated into the cowl between the right fender and the operator seat bringing much improved ergonomics.
COMPETITION: Read our review of the John Deere 1025R FILB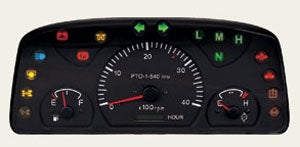 Gauges are easily readable in direct sunlight or while illuminated at night. Center stage in the dash cluster is a large electronic tachometer with analog gauges for fuel and coolant temperature left and right respectively. LED lights for oil pressure, glow plug, alternator, parking brake, hi-beam, flashers and turn signals wrap the top and sides. A digital hour meter for gauging maintenance intervals is also standard equipment. And a retractable seatbelt along with the folding rollover protective system (ROPS) hoop is standard safety equipment.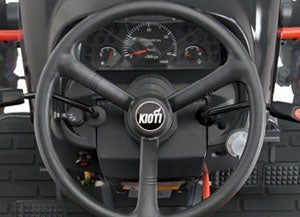 Operators will appreciate the cupholder integrated into the right fender just below the generous handrail placed for ease of egress. There is also a wrap around Plexiglas panel that is part of the optional compact kab package that will help keep mud from challenging field conditions off the operator's feet. Cruise control, a tilt wheel, power steering, 4WD, differential lock and self adjusting wet disc brakes complete the package.
Our test tractor was equipped with Kioti's KL130 loader, which is a curved boom, quick-attach design. Rated to lift 1,155 lbs to a height of 92.5", the 60" wide 7.06 cubic feet (9.53 cubic feet heaped) bucket is skid steer compatible, so attachments such as pallet forks are readily available. We measured full dump clearance at 73.6" so the CK27/KL130 will clear all but the very jacked-up pickup truck beds. Dig depth is 5.31" and breakout force rated at 2,046 lbs. We confirmed full raise at 3.9 seconds, full lower at 2.8 seconds, full dump at 2.7 seconds and full curl at 2.4 seconds and gave the hydraulics a "responsive" designation.
COMPETITION: Read our review of the TYM T233 HST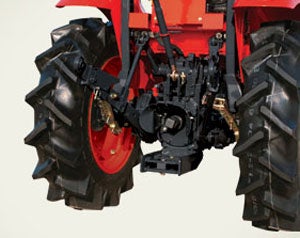 For users requiring a backhoe, the Kioti KB2475 subframe unit is well matched to the CK series capabilities. With bucket widths ranging from 9" to 36", 89.7" dig depth, 125.1" reach, 180-degree swing, 2,817 lbs of dig force, this will be a popular option with landscapers, farmers, and homeowners with real estate to maintain. As mentioned above, a front-mount snowblower is also available. The SB66 model features hydraulic raise/lower along with chute rotation control, a 15" diameter main rotor, a 702 RPM secondary fan, and to give you an idea of heavy-dutiness, weighs 1,079 lbs.
So how does it all work and does the CK27 suffer from any lack of power compared to its larger brother, the 34 HP CK35? The answers, in short, are well and maybe. We found the CK27 up to any task we could create. Hydraulics are the same as on the CK30 and CK35 and with the three-range hydro, a gear to get the job was always available. Where the added power of the CK30 or CK35 might come into play would be if a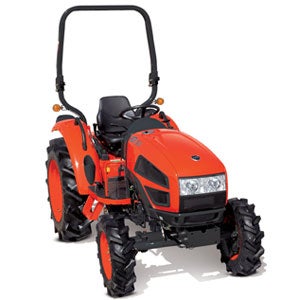 60" or 72" rotary cutter was being considered. Even then, we suspect the CK27 would be up to the task, as long as one kept in mind during challenging conditions such as tall, wet grass, a smaller swath or even two cuts might be necessary. And even then, mowing more frequently might be prudent – though an owner might find more seat time not that bad of a thing.
The CK27 measures 122.2" long, 54.6" wide and is 96.8" to the top of the ROPS when in the up position. Our test tractor was equipped with 7x14 front and 11.2x24 rear Ag (R1) tires (R3 Turf and R4 Industrial options are available) and weighed in at 3,117 lbs. (tractor only). Wheelbase measured 66.1" with the ground clearance at 13.82". With brakes applied, the turning radius is 9.5'.
Kioti warrants the CK27 for non-commercial users for 48 months. Currently smoking incentives are being offered that can get you that loader for free. As well, 0% financing, and cash back are all possibilities depending on the model and incentive chosen. But if a CK27 is a possibility, don't hesitate as incentives run out June 30, 2013 – with that date being the delivered to customer date.
Buyers Guides
Our Partners