2013 TYM T233 HST Review
Impressive power in a compact package
By Geof Fowler, Photography by TYM and Geof Fowler, Jan 11, 2013
TYM seems to be a relatively new brand to many, especially here in the northeast. Our first experience with this brand was back in November when we reviewed the T293 Cab model. During that review, a slightly smaller T233 caught our eye and we wondered how it would fare. This week we had the opportunity to find out.
The T233 is the smallest tractor TYM manufactures and is built around a Mitsubish SL3 68.7 ci three-cylinder diesel powerplant. Rated to deliver 23 gross horsepower at 2700 rpm, the smallish SL3 still allocates 17.4 of those horses for power take off (PTO) needs. The only transmission available is a two-range hydrostatic unit controlled by an ergonomic side-by-side pedal arrangement that is generally preferred by our testers over treadle designs. The setup used on the T233 offers well modulated control over the infinitely variable 0-10.5 mph forward and slightly lesser reverse speed ranges. An independent rear 540 rpm PTO comes standard, but those needing a mid 2000 rpm PTO will have to opt for a dealer installed option. Telescopic ends are not offered and stabilizers are turnbuckles, the latter mounted outboard of the lower lift arms.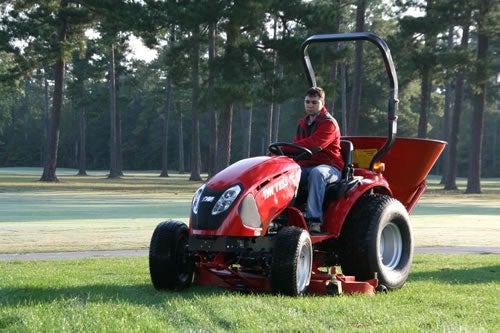 Brakes on the T233 are wet discs with split pedals properly mounted on the left side of the platform. This arrangement allows the operator to control forward or reverse speed with their right foot while at the same time steering the tractor with their left – a capability especially appreciated if running a heavy implement at the rear where there is not enough weight on the front tires to steer or if stuck in wet, muddy conditions. Turning radius is also improved using brakes (98.5" vs. 105.5" steering alone). On the subject of steering, the T233 dual gear pump setup routes 2.6 gpm to those needs. We found responsiveness even at idle impressive – more what you would expect from a tractor with much higher gpm flow. And in combination with 50# of designed turn angle, makes for one nimble tractor. The second side of the dual gear pump allocates 5.0 gpm to implement needs (7.6 gpm total), which gives the Cat I three-point hitch (3PH) a lift capacity of 1102 lbs at the industry standard of 24" behind link ends. Position control is standard so the implement can be lowered to the exact operator selectable position time after time.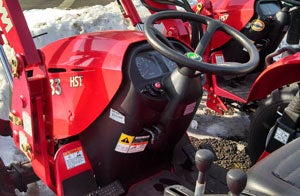 Climb up onto the operator platform and into the mid-back suspension seat (no weight adjustment) and you will find the controls well marked. The layout, though, has a somewhat dated appearance (plastic sleeves over the levers and straight vertical shafts), but everything is right where you want it. On the left fender are controls for 2WD/4WD, PTO engagement and transmission range with a cup holder molded in. The loader joystick, hand throttle and 3PH position control are all located on the right fender. Just rearward of those controls is a convenient hitch pin tray.
The dash is the most modern appearing part of the cockpit design and gets a large tachometer with PTO rpm clearly marked. To the right are fuel and temperature gauges. Other warnings are by idiot lights and the hour meter is LCD digital. Cruise control is standard. On all the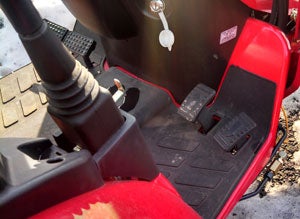 TYM tractors we've seen, including the T233, there is a cap that can seal the ignition switch from the elements when the key isn't inserted. We're not sure if the switch design is prone to allowing water to seep in, but those in high humidity environments will appreciate this feature. The steering wheel is fixed, though the angle was thought to be quite acceptable by our range of testers. Differential lock is actuated by the operators left heel with a generous diameter pedal top.
The roll over protection system (ROPS) folds to clear low doorways or trees and combines with the automotive-style retractable seat belt and full set of flashers to complete the safety package.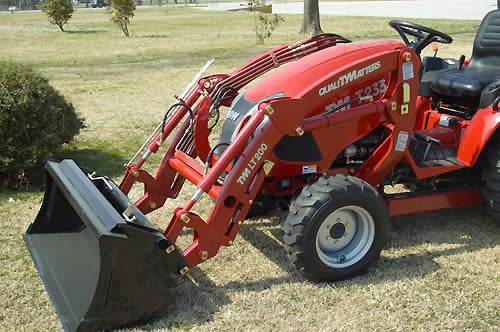 Our test tractor was equipped with the TYM LT200 front end loader (FEL). Rated to lift 1108 lbs to a lift height of 87.2", the LT200 comes standard with a 50"/5.2-cubic-foot bucket that is skid steer compatible, opening up a wide range of available attachments. Just make sure you size the attachment to tractor size accordingly. We measured full dump clearance at 65.9" so it would take a really tall pickup or trailer to present a problem. Responsiveness is crisp with a raise time of 3.5 seconds, lower 2.0 seconds, curl 1.9 seconds and dump 3.3 seconds. Relief pressure is set at 1991 psi. Our testers all agreed the sloping fiberglass hood and curved boom gave the operator an excellent forward view.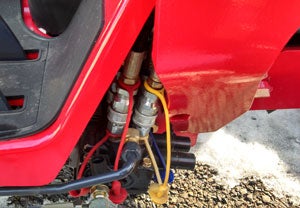 The LT200 is a quick attach/detach design with folding stands built in. The one area that we thought could be improved is the location of hydraulic couplers, which are positioned behind the loader stanchion and likely to cause a few bloody knuckles hooking up or detaching the connections. Stability was excellent, even with a full bucket load. Later we learned that the rear tires were loaded with a beet juice derivative to add weight. As mentioned earlier, the power steering effort and control is excellent – and even so with a full bucket. One thing we were concerned with when compared to the higher horsepower T293 was power, but the lighter T233 turning smaller diameter tires was up to every challenge we could pick. We can't imagine many T233 purchasers will be unhappy with the amount of power.
Other things to like? The location of the 6.6 gallon fuel tank behind the seat and at a lower height than if located on the hood; quad headlamps; protected location of the fender flashers; rear remote option suitable for a backhoe or top-n-tilt hydraulic cylinder; and optional factory installed cab.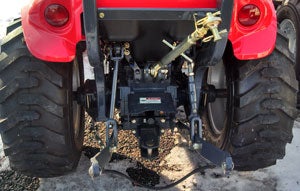 The T233 measures 107.8" long by 52.8" wide and 97.2" to the top of the ROPS. Ground clearance is 7.71" and the wheelbase is 58.3" riding on 23x8.5-12 front R4 industrial and 12-16.5 rear tires. TYM tractors come with a five-year warranty (first year tractor and implements bumper-to-bumper, second through third year tractor bumper-to-bumper, fourth year driveline parts and labor, and fifth year driveline parts). With incentives ranging from 0% down for 60 months to 5.9% for 84 months and cash discounts, the T233 just might be the perfect choice for someone needing a tractor for turf care, nursery, or small to mid-sized property maintenance.
If you are in the market for a machine of this size and class, we think the TYM T233 is worth checking out. We certainly came away impressed.
Related Reading
2012 TYM T293 HST Cab Review
2012 Bobcat CT235 HST Review
2012 Kioti DS4510HS Review
Buyers Guides
Our Partners