2012 TYM T293 HST Cab Review
A well designed and capable cab tractor from a less familiar manufacturer
By Geof Fowler, Photography by Geof Fowler, Nov 30, 2012
What do you get when you combine a well-engineered 29-horsepower tractor with hydrostatic power and a cab? A good answer might be the TYM T293.
While TYM may be a new brand to Tractor.com readers, the South Korean manufacturer has been designing, building and distributing high quality agriculture equipment for more than 58 years.
Founded in 1951 to supply the movie and trade business, Tong Yang Moolsan (TYM) is a diversified company that manufactures a wide range of products from stainless flatware to filters to farm machinery. Along that storied history are milestones such as the establishment of an Agricultural R&D Institute in 1993, ISO 9002 certification in 1995, ISO 9001 in 2001, ISO 14001 in 2002 and the creation of TYM-USA in 2004. TYM tractors entered North American markets in 1999 branded for the Mahindra 10 Series. TYM did the same for the Millennium and Scorpion but since 2001 have been sold under the TYM name. Distribution and support come from two centers located in Wilson, NC and Redmond, Ore. With that history in mind, we decided an sub-30 horsepower cab tractor model would be a good place to start and the T293 perfectly fit the bill.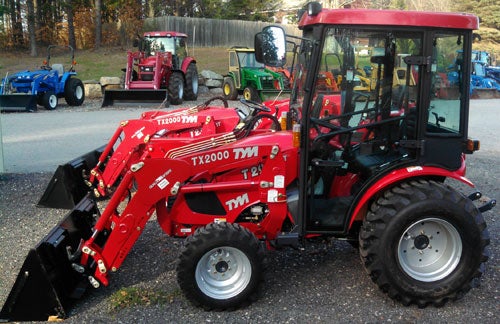 The T293 is TYM's largest tractor under that 30-horsepower class and is powered by a Mitsubishi S3L2 three-cylinder powerplant utilizing indirect fuel injection to produce 29 gross and 21.8 power take off (PTO) horsepower. The 80.4 ci displacement engine funnels power to a two-range hydrostatic transmission and is controlled by a twin side-by-side pedal arrangement that our testers always prefer. Along with the right side placement of the hydro pedals, TYM places the twin, split brake pedals on the left floorboard. This allows an operator to employ brakes and power at the same time, reducing the turning radius from 102.8" to 96.2" and allowing tactics such as helping wiggle the T293 out of a muddy mess. 540 rpm rear PTO speed is reached at an engine speed of 2800 rpm, and if so optionally equipped, mid-2000 rpm as well. PTO/PTOs are electric/hydraulic controlled and fully independent. Cruise control is standard.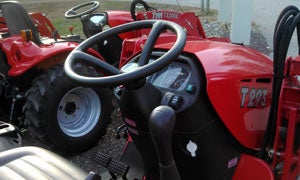 T293 hydraulics are handled through a dual gear pump system that flows 5.2 gpm to implement needs and 2.6 gpm to the power steering (7.8 gpm total). Control over the three-point hitch (3PH) is by position so the operator can return the implement to the same selectable setting time after time. Lift capacity is rated at 1,102 lbs at the industry standard of 24" and 1,534 lbs at link ends. Hydraulic fluid capacity is 9.5 gallons, which surprised us as it nearly equals the 9.6-gallon capacity of the 66-horsepower John Deere 4720 we tested last week.
Inside the cab, the controls are well marked and the layout ergonomic, though everything is a little tight befitting the size machine we are dealing with. An interior lamp, front washer/wiper, opening rear window and heater are all standard, but air conditioning is not an option. Both doors open and close with automotive precision and the glass is extensive, offering the operator a near 360-degree view. There are some slight gaps where the hydro and brake pedal brackets go through the floor. We'd rate the fit better than an aftermarket cab, but not up to the fit of the cabs Kubota uses in its B3000 or John Deere in its 3x20 and 4x20 tractors.
| | |
| --- | --- |
| | |
Our test tractor was equipped with a TYM LT250 front end loader (FEL) and 50" skid-steer compatible bucket. With a rated max lift height of 87.2" and capacity to the same height of 1,108 lbs, we found the combination perfectly matched to the T293. Response was quite good with a raise time of 3.5 seconds, lower 2.0 seconds, curl 1.9 seconds, and dump 3.3 seconds. TYM sets the relief valve at 1,991 psi – enough to allow 1,416 lbs of breakout force. Dig depth is 4" and the LT250 will clear 65.9" with the bucket in full dump position. That should clear just about any pickup truck bed and almost any trailer you might use. We especially liked the labeling on the loader arms: qualiTYMatters.
Though our test tractor was not so equipped, a backhoe is available. Purchasers who opt for the model BT200 unit (787 lbs, less bucket) will get the ability to dig to a 76.3" depth. Reach is 113.1" with a dig force of 2,846 lbs. A variety of buckets ranging from 9" to 36" (muck) are available.
The T293 cab tractor weighs some 220 lbs more than an open station model, bringing the weight to 2200 lbs. Add the loader and bucket, loaded tires (recommended) and the T293 becomes a substantial package. TYM outfits the T293 with 25x8.5-14 R4 (Industrial) front tires and 14x17.5 rear (turf and Ag combos are available). Combined with a wheelbase of 58.3" and a 56.3" width, we saw little turf damage even from tight turns during our admittedly limited test time. Overall length is 107.8" and the minimum ground clearance is 9.8".
For those not inclined to craning their neck rearward, a three-blade, 60" mid-mount mower (MMM) is offered. Rear mounted rotary cutters to 72" cut width are also available and don't require the optional mid-PTO. In the field, the T293 performed well. Stability was confidence inspiring and low range on the hydro provided plenty of grunt. High range scooted right along at speeds up to 11.8 mph, so moving from one field to the next or to another task won't take long. Measuring the sound levels we came across an interesting anomaly: at idle the T293 is louder than when at PTO speed. We're not sure if the engine on our test tractor was adjusted properly, but dBA readings hovered around 101 at idle. Push the throttle up a few hundred rpms and things quieted down. At PTO speed the readings ranged from 76 to 79 dBA.
TYM dealerships, perhaps limited in certain sections of North America, are on the increase. In our area, three long-time dealers have taken on the line in just the past few months. TYM warrants each tractor for five years. With creative financing of up to 84 months and dealer incentives (loader free for cash is one of the current deals), if you are in the market for a sub-30 horsepower cab tractor, we think the T293 is well worth checking out.
Related Reading
2012 John Deere 4720 HSTC Review
2012 John Deere 3720 HST Cab Tractor Review
2012 Kubota B3030 HSD Review
2012 Mahindra 3616 HST Cab and Open Station Review
2012 Massey Ferguson 1643 Cab Review
2011 New Holland Boomer 3045 Cab Tractor Review
Buyers Guides
Our Partners