2011 New Holland Boomer 3045 Cab Tractor Review
CVT and quiet cab highlight 45-horsepower tractor
By Geof Fowler, Photography by New Holland, Oct 28, 2011
What's powerful, blue, and on a chilly fall morning, toasty warm inside? After my latest test drive, the New Holland Boomer 3045 Cab Tractor fast comes to mind.
Replacing the T2300 series tractors, the new 3040, 3045 and 3050 cab models (40, 45 and 50 horsepower respectively) now come with continually variable transmissions (CVT) that give infinite speed control over each of the three ranges. You can still order these tractors with hydrostatic transmissions, but then you'll have to do without that wonderful, quiet cab I became so appreciative of.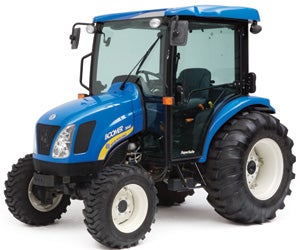 Powered by a 135.2 cu. in. naturally aspirated 4-cylinder diesel that makes its rated ponies at a subdued 2600 rpm's, the 3045 has plenty of grunt to overcome the added cab weight and air conditioning drain.
As mentioned earlier, the 3045 comes with a CVT transmission. This technology, just starting to show up in today's automobiles, offers exactly the right gearing for the task ahead, while maximizing fuel efficiency. Forward and reverse are selected by a stalk lever located on the left side of the steering column, which operates much as a power reverser style transmission does. The orange foot pedal located on the right floorboard transmits power at a level selected by the operator's foot position. Each of the three ranges are selected by an electronic toggle switch that makes for a set up that's hard to imagine being any easier to operate. And when the circumstance arises where an implement like a tiller requires a certain PTO (power take off) rpm, there is a traditional throttle. Differential lock is actuated by a lever convenient to the operator's left heel. Simple. Ergonomic. Efficient.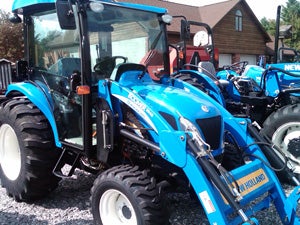 The SuperSuite cab is deluxe all the way. With 60 cubic feet of space, it has dual large doors, lots of glass, including a high-visibility roof panel (say integrated sunroof) that makes it possible to see the loader bucket through the entire range of operation. Climate controlled right down to the easily accessed filter system in the outside headliner, exceptionally quiet and with great visibility, the cab is factory pre-wired for a radio/CD and is sure to be a favorite place from which to brush hog that August field or snowblow during that February storm. Accordingly, New Holland doesn't skimp on mirrors or lighting; the latter which include 4 halogen lights in front (2 forward facing and 2 angled to the sides), 2 front mounted cab work lights, 2 rear mounted cab work lights, taillights and flasher/warning lights.
New Holland builds the 3045 with servicing in mind. Engine checkpoints are on the right side. If full engine access is needed, the hinged hood raises and lowers on gas struts. The transmission fluid dipstick is easily accessible from the back of the tractor, and if you need to top off hydraulic fluid levels, a filler cap is found there as well. The 13-gallon fuel tank has a wide mouth for easy filling and the opaque wiper/washer tank takes only a glance to determine if washer fluid is needed.
| | |
| --- | --- |
| | |
The 250TL curved boom loader, matching the sloping hood shape, affords the operator a view of the bucket that is second to none and makes the tractor seem smaller than it really is. Rated to lift 1,940 lbs. to a 106.8" height, the loader frame is built to accept skid-steer attachments, such as buckets, grapples and pallet forks. New Holland calls the system Quick-Mount, and it certainly comes off and on without tools and in minutes, but I'll bet few of these loaders will be taken off by their owners. But for those that do, perhaps to run that available 914A 84" mid mount mower with maximum maneuverability and visibility, the extra-wide stanchions the loader arms fit into accept less than a perfectly straight alignment – a feature sure to be appreciated. The Easy Spin cam locks at the top of those stanchions are also worthy of mention; they too allow for off-alignment installation, but also for varying degrees of tightening ability. Anyone who has operated the competitions loaders that after a few hundred hours of hard loader work clink and clank at every bump and turn will appreciate the ability to tighten away the play.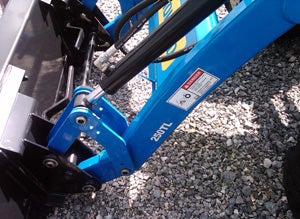 Though the tractor we tested was not so equipped, New Holland offers a SuperSteer front axle with Sensitrak Auto FWD that gives the 3045 the tightest turnaround of any tractor on the market. Sensitrak according to the manufacturer, with its ability to automatically slip in and out of 4-wheel drive, delivers better fuel efficiency, increased pulling power and less turf damage.
The 3045 comes with a category 1 three point hitch (3PH) that is rated to lift 2800 lbs. Attaching heavy implements to a 3PH can be a strain on the back, but New Holland outfits the 3045 with telescoping link ends and a pin tightening system many think is easier to use than the competition turnbuckles. The PTO is independent and runs at an industry standard 540 rpm.
With power steering, tilt and telescoping wheel, flip down sun visor, opening rear window, cup and cell phone holder, steps on both sides (with a small toolbox behind the left step), suspension seat with weight adjustability, its hard to imagine a more coddled place to play – I mean work – for long hours on end.
Related Reading
2011 New Holland T1510 Review
2010 New Holland Boomer 8N Review
2012 Mahindra 5010 HST Cab Review
Buyers Guides
Our Partners