2012 Mahindra 3616 HST Cab and Open Station Review
A competitively priced 36-horsepower tractor
By Geof Fowler, Photography by Mahindra, Aug 31, 2012
Back in July we were planning on reviewing the Mahindra 3616 but marketing asked if we would
check out the 4010
. We said we would, but only if we could try out a 3616 too. Mahindra drove a hard bargain and came up with a dealer who not only provided the 4010 but a 3616 HST open station tractor and a 3616 HST cab version as an added bonus. Sigh, sometimes our job is nothing but fun.
The Mahindra 16 series (and 35) are made in Japan by Mitsubishi to Mahindra specifications. The 3616 we tested begins with 1.7L (101.4 c.i.) 3-cylinder indirect injection diesel that makes 36.2 gross horsepower at 2600 rpm. Full 540 rpm rear power take off (PTO) horsepower is reached at an engine speed of 2376 rpm while the optional 2000 rpm mid PTO rating is achieved at an engine speed of 2525 rpm. PTO horsepower is rated at 29 for both cab and open station tractors which is a bit of a surprise with the cab tractor also driving a power robbing air conditioner.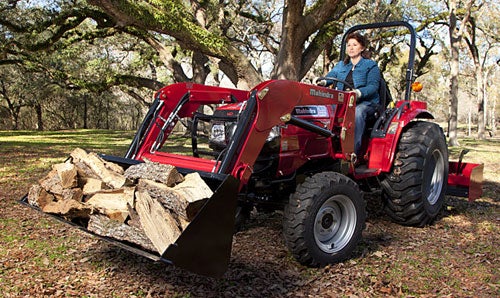 Power from the Mitsubishi diesel is directed through a three-range hydrostatic transmission that gets an under-the-floorboard toe/heel pedal arrangement. While not our preferred setup or as nice as the side-by-side pedals on the 4010, we found the toe/heel arrangement worked fine and delivered well modulated control over the full forward/reverse speed ranges (0-14.8 mph forward/0-7.4 mph reverse). A clutch pedal on the left engages/disengages the PTO and is used to change gear ranges. There is no auto disengage feature as on the 4010 where the PTO automatically disengages when the three-point hitch (3PH) is lifted.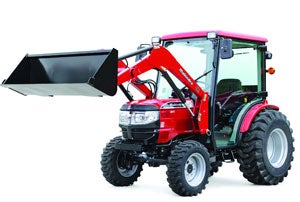 Hydraulics are from an open center system that sends 7.7 gpm to the power steering system and 3.4 gpm to the implement (11.1 gpm total) and implement as well. 3PH capacity is rated at 2,646 lbs. Position control is standard, which means returning an implement to an exact position is simple and repeatable. Lower arm stabilizers are located on the outside and telescope, though the arms themselves do not. A single rear hydraulic spool is an option.
Climbing up onto the tractor – a task made easy from either side with grab handles and cleated steps – and you immediately appreciate the open floorboard arrangement. With the abovementioned hydro pedal treadle positioned under the floorboard, much room is saved. Settling into the deluxe suspension seat which has a water drain and folds forward for storage, the operator gets plenty of fore/aft travel but no weight compensating adjustability.
Controls are Spartan but everything needed is there, all with intuitive placement and easily recognized coloring. On the left fender is the lever for selecting the L – M – H gear ranges and the lever(s) engaging/disengaging the rear PTO (and mid if so optioned). Levers for differential lock and 2WD/4WD are located by the left heel and right next to the transmission dipstick. On the right fender is the 3PH position control lever along with the joystick which isn't exactly incorporated into the fender as with some manufacturers but is still quite ergonomically placed. The right floorboard contains the hydro pedals and above the split brakes, which are not nearly as useable as the left side mounted pedals on the 4010. The dashboard is equally nice with an easy-to-read tachometer, temperature and fuel gauges. Idiot lights cover warnings and informational functions. Cruise control is standard as is the tilt steering wheel.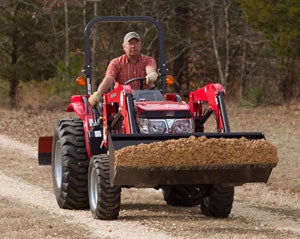 While the open station tractor was a hoot to drive, our testers kept gravitating to the cab version. Weighing 461 lbs more (open station 2566 lbs/cab 3027 lbs), each 3616 HST cab tractor comes with a rollover protection system (ROPS) rated cab that includes climate controlled heat and air conditioning, front and rear washer/wipers, and comes radio ready. The rear window swings out for ventilation and for better visibility over 3PH operations and both doors swing wide for easy access. We didn't get to test either tractor at night time, but the cab tractor seemed to have lights at every conceivable viewpoint. Outward visibility was excellent and sound suppression good enough to recommend that optional radio/CD be checked off on an owner-to-be order form.
Both test tractors were outfitted with loaders: the cab tractor with the ML116 loader which did not come with parking stands, and the open station tractor with the ML115 loader which did have parking stands built in. Both are rated to lift 1650 lbs. to a maximum height of 99" and came with 60" wide buckets which are skid-steer compatible. Hydraulic response time, though slower than on the 4010, was quite acceptable with a full raise time of 3.9 seconds, lower time of 2.4 seconds, and dump and curl times of 2.6 seconds.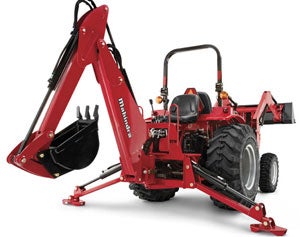 Our test machines were not equipped with backhoes, but a model 3715 is available as an option and can dig to a 94" depth. Other implement options include front snowblowers, 5' and 6' rotary cutters, mid-mount mowers, disk harrows, rakes, spears, poles, blades, potato plows and pallet forks.
Front tires are 28 x 8.5-15 and 43 x 16-20 and Mahindra gives purchasers a no-cost option of turf (R3), Ag (R1) and industrial (R4) tires. We suspect most purchasers will go with the R4 option as this is the best compromise between wet traction and yet is still friendly to turf. The 3616 measures 121.3" long x 59.8" wide and has a turning radius of 8.2 feet. Mahindra lists the Kubota L3800, New Holland Boomer 35 and John Deere 3038E as comparable competition on its website.
Other features a prospective purchaser might appreciate in clued a steel hood, downswept exhaust, 7.1-gallon fuel tank (hood-located), and a five-year warranty. Those in the hunt for a cab tractor will enjoy cab variant – and especially the comfort and climate it controls. With an open station tractor-only MSRP at $18,630 and a cab tractor-only MSRP of $25,500, these are competitively priced machines. Currently Mahindra is running a Red Tag Sale with incentives such as 0/0/0 financing and up to $400 in rebates when implements are bundled, so further savings is a dealer visit away. If you're in the market for a 36-horsepower tractor (our vote would be for the cab version), add the 3616 to your test list – we think you'll be pleased you did.
Related Reading
2012 John Deere 3038E Review
2011 New Holland Boomer 3045 Cab Tractor Review
2012 New Holland Boomer 40 Review
2012 Kubota Grand L4240 HST Tractor Review
Buyers Guides
Our Partners