2012 New Holland Boomer 40 Review
New Holland shakes things up with a new lineup
By Geof Fowler, Photography by New Holland, Jan 27, 2012
New Holland compact utility tractors (CUT) have long been manufactured by Shibaura, the Japanese heavy industry giant whose tractors have carved out a reputation for performance, value and reliability. LG Tractor, a result of a joint venture between Hyundai and Yanmar, has been building tractors ever since 1975. Toss in a Fiat association in 2005, then LG-Fiat, and now LS New Holland, and you can get quite confused. What isn't confusing is that the New Boomer compact tractors from New Holland and made by LS make for a powerful lineup. With that in mind, we set out to test the Boomer 40.
The newly redesigned Boomer compact utility tractor lineup consists of four tractors ranging from 28 to 47 horsepower. The Boomer 30 and 35 models (28 and 38 horsepower respectively) come with 66" wheelbases and 119" overall lengths and weigh 3121 and 3200 lbs. The Boomer 40 we tested and its bigger brother the Boomer 50 get 69" wheelbases and are a bit longer at 121". The Boomer 40 weighs 3725 lbs and the Boomer 50 3800 lbs. You get the idea. These are big, beefy tractors.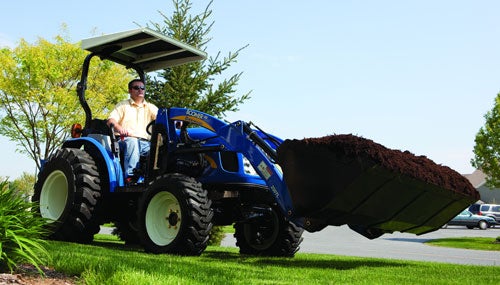 The Boomer design begins with a sloping hood that looks great and gives the operator superior visibility. The rubber-isolated operator's platform, accessible by a ladder step, is open for easy access and the controls are intuitive and color coded. The gauge package was analog where you want it with backlit indicators for functions such as the glow plugs – we found it quite readable in even full sunlight. The seat has a weight adjustment that is easy to dial in and comfortable and also offers front-to-back adjustment (more on this later). We especially liked the headlight package that does more than just aim forward, although you'll probably still want to add more lights to the ROPS. Cruise control is standard.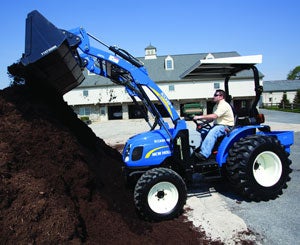 The Boomer 40 comes with a 153 cubic-inch, four-cylinder, naturally aspirated diesel engine that is rated at 41 gross and 32 PTO horsepower (gear transmission models are rated at 34 PTO horsepower). With 4-cylinders, it's no surprise that the Boomer 40 (all models come with four-cylinder powerplants) is a smooth-running gem with deep power reserves. Fueled by standard diesel or B2 biodiesel (meeting ASTM 6751 standards, these engines are Tier III emissions compliant. Power is sent to the ground via a three-range hydrostatic transmission that allows the operator to match his or her ground speed needs to field conditions. The dual pump Hydrostat makes 13.7 total gpm and allocates 5.5 gpm to power steering needs. With 8.2 gpm left for implement use, the Boomer 40 is able to deliver position controlled 3PH lift capability rated at 2756 lbs. Impressive. Options include two open center rear remotes and a draft-sensing top link. The drawbar is two-position unit and can swing.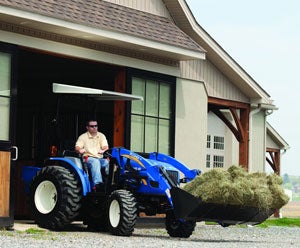 Our Boomer was equipped with the optional 250TL loader which is rated to lift 1940 lbs. to max height (106.8"), and for a loader of its size could fully raise in 4.1 seconds, lower in 2.0 seconds and go from a full curl to dump in 3.8 seconds. The 250TL boom arms are curved to match the sloped hood and our testers universally rated visibility of the bucket edge as exceptional.
Boomer 40 purchasers requiring a backhoe have two choices: the 920GH which can dig to a depth of 89.9" and the 930GH which can dig to 102". Both are curved boom backhoes that match the styling of the hood and loader and at the same time offer exceptional visibility. As well, both are easy on and off which can be accomplished in minutes and without tools.
A mid PTO is offered as an option, but we'll bet not many of these tractors will be so equipped, instead relying on rear rotary cutters or rear finish mowers and rear mount snowblowers. And in mentioning attachments, New Holland has a full line in addition to the two referenced above.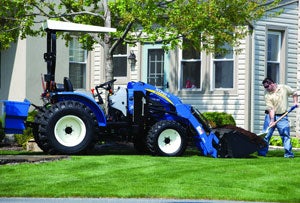 It's clear the Boomer 40 was constructed with ease of maintenance in mind. Users need not raise the hood, which is supported by gas struts, to check fluid levels.
So, what would our "wish" list for the Boomer 40 include? Telescoping links on the 3PH for one, but more leg room was mentioned by our tallest tester. Though the Boomer brochure highlights that there is "plenty of legroom to stretch out," our 6'-2" tester felt otherwise, spending a lot of time jacking up the seat adjustment to try to gain a few inches. Other than that, the Boomer 40 is one sweet tractor that is sure to give you lots of hours of productive enjoyment. If you are in the market for a tractor of this size, we highly recommend you check out the New, New Holland Boomer 40.
Related Reading
2011 New Holland Boomer 3045 Cab Tractor Review
2012 Massey Ferguson 1529 4WD Review
2012 Bobcat CT440 Review
Buyers Guides
Our Partners