2012 Kubota Grand L4240 HST Tractor Review
This compact utility tractor is a smooth operator
By Geof Fowler, Photography by Kubota, Mar 23, 2012
The Kubota Grand L40 Series tractors are infused with all the quality and performance DNA Kubota stands for, but read on to learn about the features that make them truly Grand.
The Grand L40 series ranges from the L3240 with 34 gross and 25 power take off (PTO) horsepower to the L5740 with 59 gross and 50 PTO horsepower (HST variants). We chose the middle of range L4240 to review, which comes with a Kubota 134.1 cu. in. naturally aspirated 4-cylinder diesel engine making 44 gross and 35 PTO horsepower. The engines in this series (E-TVCS) get Kubota's Three Vortex Combustion System which delivers exceptional power and efficiency at the same time complying with EPA Interim Tier IV standards.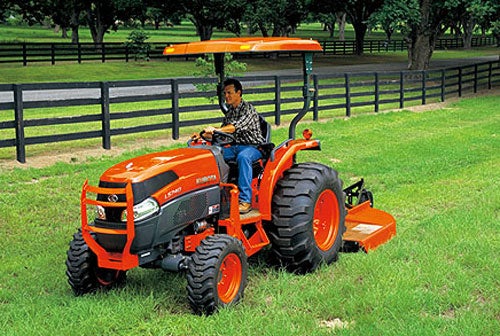 The L4240 is available with three transmission choices: a standard 8 x 8 Fully Synchronized Main and Shuttle Transmission (FST), a 12-gear clutchless Glide Shift Transmission (GST), and the Hydrostatic Plus Transmission (HST Plus) that our test tractor was equipped with. HST Plus takes an already well-modulated system and adds a hydraulic servo that decreases the pedal pressure and reduces operator effort. In addition to the 3-range hydro, HST Plus adds another High and Low function within each range, making for a total of six speeds. Kubota calls this its Hydro Dual Speed control (H-DS) and we were impressed at the simplicity of pressing the steering column control and changing speed effortlessly and while moving. Nice. Combined with the Auto Throttle Advance, another big tractor feature that automatically increases engine speed to keep up with demand, this is one simple tractor to operate and that says Grand in every way. But that isn't all by any stretch.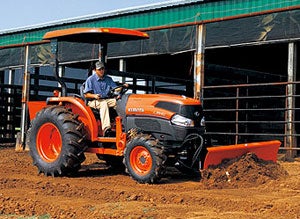 The L4240 also comes with an adjustable HST Response Control that allows the operator to vary the hydro responsiveness to the task at hand. Dial in that quick forward/reverse responsiveness needed for loader work or soften things up to protect your turf while mowing. Think we can stop there? Not so. Kubota gives the operator 3 HST modes that range from full operator control to letting the computer have all the fun. Mode 1 is the fully manual mode where computer control of Stall Guard and Auto H-DS are disabled. Select Mode 2 and Stall Guard prevents stalling during high load tasks such as loader work or rotary cutting in extreme conditions. Mode 3 gives the computer control over Stall Guard and H-DS. We found Mode 3 fantastic when conditions varied greatly, such as when towing a heavy load up and down slopes. There the computer control of the HST kept the L4240 at the optimum engine speed for maximum productivity and fuel efficiency.
While the operator is treated to all the productive niceties described above, the IntelliPanel digital instrument panel makes sure he is kept in constant touch with critical systems. Standard indicators include ground speed, PTO rpm, turn signals, lights, brake and HST modes. Warning indicators include low fuel, check battery, oil and temperature alerts as well as scheduled maintenance intervals.
Along with the IntelliPanel instrumentation, Kubota has laid out the controls in automotive fashion so that everything falls exactly where the operator instinctively feels it would. Position control over the three-point hitch (3PH) is standard as well as a deluxe high back reclining seat with arm rests that is weight sensitive and swivels 12 degrees in each direction. The platform is open and rubber isolated and features a wide step-through deck that is accessible from either side. Tilt steering is standard.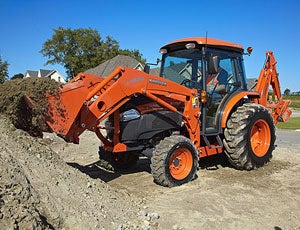 Total hydraulic flow on the L4240 is an impressive 14.7 gallons per minute of which 4.9 gpm is directed to the power steering and 9.8 gpm to the implement. This translates to easy, effortless steering in even the most challenging situations as well as 3PH lift capacity that is rated at 2,760 lbs. at the industry standard 24" behind lift point. The lower link ends telescope for added attachment ease.
Our test tractor was equipped with the LA854 loader which is rated to lift 2,489 lbs to its 112.3" full lift height and we especially liked the way Kubota has incorporated the joystick control into the tractor fenderwell. With 9.8 gpm available, it's not surprising the loader felt responsive, but what was surprising was how responsive control was even at idle. A 72" square back bucket is standard, although heavy duty round back and light duty material buckets are optional. The LA854 is a quick attach/detach design and includes a built-in stand.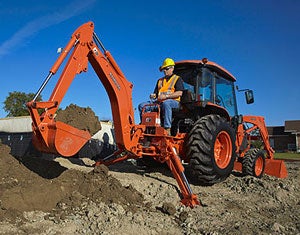 Kubota matches the L4240 to the BH92 backhoe, which features a 109.8" digging depth. A long list of implements ranging from a mid-mount mower (MMM) to box blades, tillers and front blades and blowers are also offered. The L4240 tops the scales at 3,671 lbs and has an overall length of 121.5" set over a 74.6" wheelbase, so you get the idea, this is one substantial tractor. Our test tractor wasn't equipped with a mid-mount PTO, but we were assured this is an option on all Grand L tractors.
So what did our testers think when the day was over? Universally, they were sad to see the L4240 test end. One is seriously considering the L4240 for his next acquisition and all are looking forward to our next Kubota review.
If you are in the market for a tractor of this class, make sure you check out the L4240. We think you'll fast understand why this series gets the Grand designation. We certainly did.
Related Reading
2012 Kubota BX 1860 Review
2011 Kubota B2620 Review
Buyers Guides
Our Partners