2012 Kioti DS4510HS Review
A value-priced tractor with minimal sacrifices
By Geof Fowler, Photography by Kioti, Oct 19, 2012
Value tractors, while not a new industry segment, are seeing a revival of sorts due in part to the current world economic situation. Synonymous with no frills, a value tractor gives a solid set of features at an eye-catching price but there are usually one or two sacrifices a purchaser has to give up on. John Deere has its 3005 which is a time-tested design, but comes only in gear transmission form. Its 3032E and 3038E tractors lack quick attach loaders and niceties of the 3x20 tractors such as deluxe seats and three-range transmissions. Yanmar, Mahindra and Kubota all have similar models offering a lot of tractor for the buck, but with similar sacrifices: gear drive, dated design, lack of position control over the three-point hitch (3PH), etc. But after testing the Kioti DS4510HS, we came away impressed with how minimal the sacrifices were.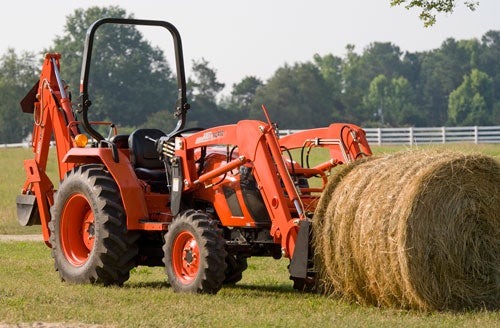 The Kioti DS Series is comprised of three tractors, the DS3510, the DS4110 and the DS4510. All are available in gear transmission configurations, but only the DS4110 and the DS4510 are available with shuttle shift transmissions. Tractors with the aforementioned shuttle shift transmission get the HS suffix added to their nomenclature. The DS4510HS we tested gets parent Daedong's 4A220LWM four-cylinder liquid-cooled diesel that meets/exceeds EPA Interim Tier 4 requirements – meaning lowered emissions while still delivering deep power reserves and durability. Gross horsepower of the 134.1 ci powerplant is rated at 45 with 35.1 going to the power take off (PTO) at a relatively low 2600 rpm. A glow plug allows cold starts to 0°F, but colder climate purchasers will want to opt for the optional engine heater. Engine rpm can be controlled by hand or foot.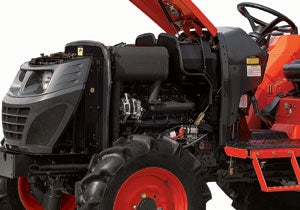 The transmission in the DS4510HS is fully synchronized and comes with eight forward and eight reverse gears. Shifting between forward and reverse is accomplished with the left side steering wheel column turn signal stalk and doesn't require clutching. This is an excellent combination for loader work, offering the durability of a gear transmission and the clutchless convenience of a hydrostat. Forward travel speeds range from 1.09 to 15 MPH and reverse 1.01 to 13.83 MPH. Brakes are wet disc for long life with no adjusting. Differential lock is standard.
Hydraulics are powered by a tandem gear pump flowing 10 gpm to the implement and 3.18 gpm to the hydrostatic power steering (13.18 gpm total). Category-I 3PH lift capacity is 2,425 lbs. at the industry standard of 24" behind and control is by position with adjustable detents so the implement can be raised and lowered and returned to the same position each time. The rear 540 rpm PTO (there is no mid-PTO option) is electro-hydraulic and fully independent. Actuation is by a simple flip of a switch with an operator presence system for safety. An optional rear remote is available for a backhoe or a top and tilt upper 3PH link.
The operator platform is accessed by a single, cleated step and as you would expect of a tractor of this size is wide open and spacious. The mid-back seat is comfortable, with fore and aft adjustment but with no operator weight adjustability. The seatbelt doesn't retract but the rollover protection system (ROPS) can be folded to clear low doors, trees etc. The instrument cluster comes with a large tachometer with PTO rpm clearly marked, gauges for fuel, temperature, and engine hours. The lighting package comes with halogen headlamps, turn and warning flashers and a horn. A seven-pin rear electrical connector for towing a trailer is optional. The steering wheel is stationary but positioned comfortably and in good proximity to the joystick that is mounted on the right loader stanchion. The hood is a modern slant design that offers better forward visibility. Split brakes offer a turning radius of 9.8' when applied.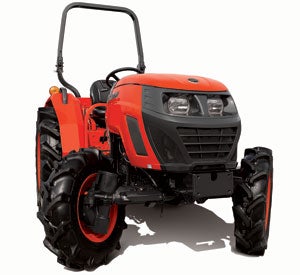 Our test tractor was equipped with the KL402 front end loader (FEL) which is a quick attach/detach design rated to lift 2,761 lbs. to the max lift height of 107.8". The 66" wide quick attach bucket seemed well-matched to the tractor and is skid-steer compatible, so a wide pool of rental (or neighbor owned) attachments is available. The KL402 in the full dump position clears 79.9", so almost any pickup truck bed or trailer is within its capability. Kioti rates the breakout force at 3,727 lbs. (at pin) and the dig depth at 6.7". With 10 gpm flowing at 2,556 psi and at the rated engine RPM of 2600, ground to full raise time is 4.5 seconds, lower 4.7 seconds, dump 1.5 seconds and curl 2.1 seconds. Drop the rpm to 1500 and raise and lower time are noticeably slower, though dump and curl are barely so.
Though our test tractor was not so equipped, prospective backhoe purchasers can order the DS4510HS – a subframe-mount backhoe that is easily attached and removed using only locking pins and the quick-connect hydraulic couplers. Given the model number KB2485, it allows the DS4510HS to dig to a 94.4" depth with a 136.1" reach. Bucket dig force is rated at 3,748 lbs. 9", 12", 16", 18", 24" and 36" buckets are available. A KB2485 less bucket adds 1091 lbs. to the tractor weight.
Our test tractor came with the KMR03-84" rear discharge rotary cutter. Weighing 785 lbs. due in part to its heavy 3/16" (7 gauge) deck, the mower rides on 5" x 13" air gauge wheels and can be adjusted for cut heights from 1-1/2" to 4-1/2". KMR series decks come with three-year gearbox warranties. We found the rotary cutter well-matched to the tractor power output, but if we were going to use it in heavy brush conditions, we might opt for the 72" model.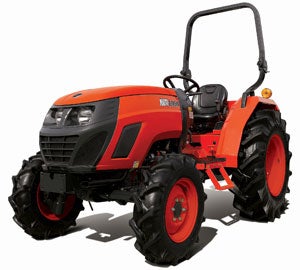 Prospective owners will appreciate the serviceability engineered into each DS4510HS. From the right side an owner can service the fuel filter, fuel injectors, engine oil filter, add engine oil and change/check the two-stage air filter. With the hood down, engine oil level can be checked.
The DS4510HS measures 124.7" long by 62" wide and to the top of the ROPS measures 99" high. Ground clearance is 13.7" and the tractor alone weighs 3,538 lbs. Our test tractor was equipped with 10-16.5 six-ply industrial (front) and 14.9-24 six-ply (rear) tires. Ag and turn options are available.
Kioti gives the DS4510HS a 24-month bumper-to-bumper warranty with the driveline getting 48-month coverage. If you're in the "value" market for a tractor of this size and class – or if you aren't as concerned about price as you are features – check out the DS4210HS. We think you'll be as impressed as we were.
Related Reading
2012 Kioti CK20S HST Review
2013 Kioti RX6010PC Cab Tractor Review
2012 John Deere 3038E Review
Buyers Guides
Our Partners