2013 Kioti RX6010PC Cab Tractor Review
We test out the first tractor in the new RX series
By Geof Fowler, Photography by Kioti, Sep 14, 2012
Kioti has been manufacturing tractors for the North American market for over 25 years using a four-series platform consisting of the CS Subcompact series (22.5 horsepower), CK series (22-34 horsepower), DK series (38-90 horsepower) and DS series (34-45 horsepower). After
our July review of the CK20S
, we asked Kioti marketing "what was new?" leading to this review of their all new RX series.
The first tractor unveiled in this new series is the RX6010 which comes in C and PC variants, with the C models getting a 12 x 12 fully synchronized manual transmission and the PC models a hydraulic power shuttle. Both get parent Daedong's 4B243TLWM turbocharged four-cylinder in-line water-cooled 59 gross HP diesel powerplants. Rated to deliver 49.1 horsepower at the power take off (PTO), the 148.6 ci engine makes that power at a relatively low 2600 rpm, which makes for longer life and greater fuel efficiency.
Our test tractor was equipped with a wet, multi-plate clutch hydraulic shuttle shift transmission. This set up provides clutchless shifting between forward and reverse using a turn signal-like stalk on the left side of the steering column. Four speeds in an "H" shift pattern combined with three gear ranges give the RX6010PC 12 forward and 12 reverse gears, translating into near-hydrostatic variability over the 1.16-19.6 mph forward and 1.14-19.28 mph reverse speed ranges.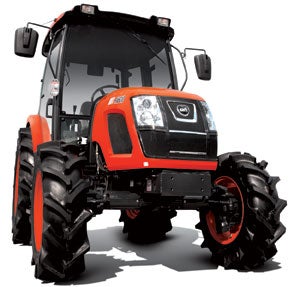 A tandem gear pump allocates 11.0 gpm to the implement and 6.9 gpm to the power steering (17.9 gpm total). Combined with dual hydraulic cylinders at the rear, the Category II three-point hitch (3PH) can lift a whopping 5,242 lbs at the hitch end. Category II means the top link accepts a 1" diameter pin and the lower lift arms 1-1/8" pins, so implements need to be sized appropriately (Cat-I adaptor kits are readily available). The rear 540 rpm PTO comes standard with Auto and Manual modes (switch controlled) where the PTO automatically stops when the 3PH is lifted in Auto but does not in Manual. This feature is especially nice when running PTO-driven implements such as a brush hog or tiller for reasons of both safety and driveline protection. There is no mid PTO option. A seven-pole electrical connector and an adjustable drawbar are standard, as is the dual rear hydraulic remote (second and third rear remotes are an option).
Open the cab door and climb up two cleated steps (from either side) and you'll be treated to a roomy, glass-filled enclosure. The seat is ergonomic and features full adjustability, including operator weight, and the controls are well marked with the overall layout getting an "intuitive" rating from each of our testers. The steering wheel tilts to preference and there was plenty of room, though our longest legged tester (6'4") felt the joystick was positioned a little tight against his right knee.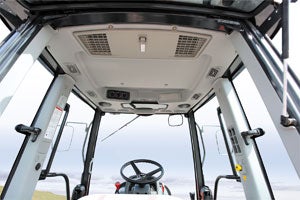 Shut the door and the cabin has an "air-tight" quietness that is confirmed after firing up the powerplant. Kioti has done its homework with seals and the sourcing of tempered glass. The A/C blew cold and was able to keep the cabin comfortable even on an almost 90# day. On those days where the outside temperature is more comfortable, the rear ¼ panel windows swing open to channel in fresh air and the rear opens wide – the latter especially welcome when hooking up rear implements. The view out the front is also worthy of mention with the sloping hood (which tilts open a full 60# for ease of service) designed to aid visibility.
In addition to the abovementioned controls, there is a dash mounted switch for hydraulic 2WD/4WD actuation, a large tachometer and gauges for temperature and fuel level. Split brakes allow the RX6010PC to make a 9.9' turn and are suspended rather than through-floor mounted (as are all pedals with the exception of the differential lock) and make for a roomier cockpit. Next to the operator's right thigh are the levers for the 3PH, which include position control so the implement can be returned to the exact position time after time and draft control so plows and other deep cultivation implements adjust the top link in relation to varying soil conditions.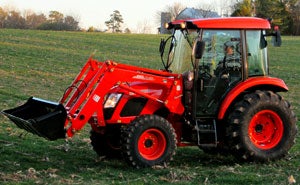 Other cab niceties include a cup holder on the left and a gadget tray on the right, as well as a 12V power outlet for that MP3 player or iPhone. The cab is radio ready and a rear wiper/washer is an available option.
Guiding the 7,771-pound RX6010PC (the KL601 loader and bucket adds 1,369 lbs) away from the dealer lot and towards an adjoining field where a gravel pile awaited, we were impressed with the tractor stability and the responsiveness of the loader to joystick inputs. We later learned the rear tires were loaded. The KL601 is a quick-attach design with built-in parking stands.
Operating at a maximum 2630.7 psi and flowing 10.57 gpm, it can lift 2,506 lbs in its 80" wide/11.3 cubic foot skid-steer compatible bucket to a height of 114". Later we compared specifications and were surprised that the DK45SE we tested in March lifted 2,761 lbs, but then realized that was to a height almost 7" lower. The RX6010PC/KL601 combo with the bucket in full dump clears 85.5" so most vehicles/trailers will be well within its capability. Raise time takes 4.3 seconds, lower 2.9 seconds, full dump 3.1 seconds and full curl 2.0 seconds. The combo also offers a 6.3" dig depth. It didn't take long to relocate that gravel pile – especially when a heaped bucket can contain 17.3 cubic feet of material.
Our test tractor was not backhoe equipped, but a KB2485 subframe mount option is available that can dig to a depth of 94.4" and has a digging force rating of 3,748 lbs. The RX6010PC we tested rode on 9.5-20 front and 14.9-28 rear Ag tires (industrial tires are an option) and measured 145.7" long to the 3PH arm tips. Ground clearance was 15.7" and the height to the top of the cab measured 102.8". Kioti gives the RX6010PC a 24-month warranty that covers parts and labor.
So you already know our first impression was favorable, can you guess what our second thought was? If you're thinking we can't wait to see what other models Kioti will roll out bearing the RX nomenclature, then you've read our minds.
Related Reading
2012 Kioti CK20S HST Review
2012 Kioti DK45SE HST Cab Review
2011 Kioti CK20S HST Overview
Buyers Guides
Our Partners