2013 Kubota BX2370 HST Review
BX Series gets a facelift
By Geof Fowler, Photography by Kubota, Mar 15, 2013
Kubota's BX series has been the top selling subcompact of the last decade, and for good reason. Starting with powerful and reliable Kubota-manufactured diesel powerplants that are matched to durable hydrostatic transmissions and placed into well-designed, compact platforms; the end result is exactly what has made this segment of the tractor marketplace explode.
These are machines made to do serious work but are still easy to operate, come with pricing relatively easy on ones wallet, and at the end of the day are something a proud owner might wash and wax as carefully as a favorite automobile.
The BX 70 Series is made up of four models, the 18-horsepower BX1870, the 23 horsepower BX2370, the 23 horsepower BX25D (a factory tractor-loader-backhoe set up), and the 25.5 horsepower BX2670. All are three-cylinder designs with displacements ranging from 43.9 to 61.1 ci. Our BX2370 tractor came with a D902 54.8 ci variant that is rated to deliver 17.7 horsepower at the power take off (PTO) at 3200 rpm. Mated to a two-range hydrostatic transmission operated by a treadle foot pedal, the set up allows infinite control over the 0-8.4 mph forward and 0-6.5 mph reverse speed capability.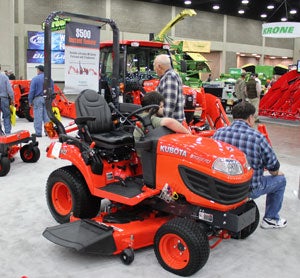 BX Series tractors come standard with mid (2500 rpm) and rear (540 rpm) PTOs. The system used is a live independent type that is engaged using a wet hydraulic clutch. While treadle pedals are not our most desired method of controlling tractor forward and reverse travel, Kubota's system is well laid out, easy to use, easy to get used to, and nicely modulated. We also appreciate the layout of the front pedal which can be operated if so desired by pushing down to go forward and then slipping a toe underneath and lifting the pedal to reverse direction. For those who prefer, a heel pedal can accomplish the same direction change.
Kubota's new 70 Series get a big improvement in the brake department. In the past the brake pedal has been located above the right side treadle pedal, which made it impossible to use to aid in turning or getting unstuck. Now positioned as a left foot pedal, the arrangement becomes fully functional, and is no longer just a parking brake.
The operator's platform is an area that has been greatly refined. Not only is the relocation of the brake pedal a big improvement, but the steering wheel is also in a much better position. Operators will find the floor entirely flat and rubber isolated, so you can comfortably stretch out. And the treadle toe and heel are connected below the deck for added space. The high visibility dash is another area of refinement, with the analog tach located on the left side and a modern LCD readout (white background with black increments) on the right. In between are warning lights for PTO engagement, battery, headlights, turn signals and low fuel.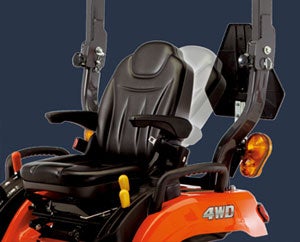 Kubota engineers didn't ignore the seat when it came to refinements. Featuring a new high-back design, the seat is fully padded and has molded lumbar sides to keep the operator comfortably in place. As well, the seatback now reclines and arm rests are standard.
Levers are color coded and ergonomically positioned. From the operator's seat, controls for 2WD/4WD, cruise, PTO, loader and three-point hitch (3PH) are all within easy reach. One quibble we have is that the 3PH uses a quarter inching valve rather than position control. Though the system works well enough, it still leaves us wishing for more.
Making it easier to store BX tractors in smaller sheds and garages, the roll over protection system (ROPS) now folds on every BX model. Other cab features include a cupholder, 12V DC outlet and two well-positioned grab handles. A toolbox is available as an option. Headlamps are halogen.
Powering the 3PH on the BX2370 is a single hydraulic pump flowing 6.2 gpm to power steering and implement needs. Cat 1 lift capacity is rated at 680 lbs at 24" behind pin. Our test tractor was equipped with the BX25D loader and the quick attach bucket option. This nifty feature makes it quick and easy to swap from a bucket to a pallet fork or a front blade. The BX25D is a curved boom design for better visibility and the hoses are all located inside the arms for protection. Rated to lift 745 lbs to a full lift height of 71.3", we measured dump clearance at 52.4" which is quite competitive for this segment but might put those high bed sides on your pickup out of reach. Time to raise from the ground to full height was 3.5 seconds, lowering back down took 2.7 seconds, curling took 2.4 seconds and dump time was 1.7 seconds – not bad considering the pump output. Dig depth is 4.7".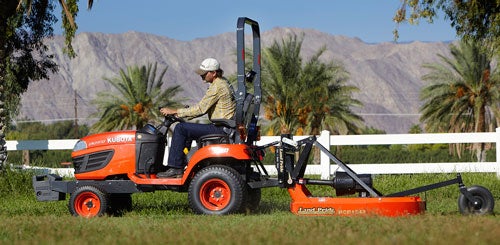 Along with the loader, our test tractor came with a 60" standard cut mower deck. We immediately noted the 6" of clearance the BX now has when the deck is in transport position. The added clearance might be enough in many cases to leave the mower deck on when doing loader work and not risk having your mower become an expensive skid plate. Cut height is adjustable using a dial height knob. Kubota offers five mid-mount deck options ranging from fine cut models in 48" and 54" widths to the 60" deck our tractor was equipped with. All decks are shaft-driven, stamped one-piece designs that are easily removed or attached.
The turf tires on our test tractor were size 18 x 1.5-10 at the front and 26 x 12-12 at the rear. R1 Ag and R4 Industrial options are available. For most applications they would be fine, but if you plan on loader work in muddy conditions, consider going with R4s which are a good compromise and offer better traction with less turf damage than R1s.
MSRP for our test tractor (tractor, loader valve, turf tires, 60" deck, loader, ballast box and quick attach bucket system) ran just under $17,000. Other options if we were ordering this machine might include pallet forks ($338), a dealer installed grille guard ($162) and LED fender and ROPS lights ($198/set).
The BX2370 measures 95.5" long x 44.5" wide and rides on a 55.1" wheelbase. With the ROPS in the raised position, the height is 87.2". Ground clearance is 8.7".
Kubota backs each BX used in consumer applications with a bumper-to-bumper warranty for 24 months or 1500 hours. Powertrain warranty is extended to 36 months or 2000 hours.
Related Reading
2012 Kubota BX2360 HST Review
2012 Kubota BX1860 Review
2012 Kioti CS2410 HST Review
2012 Yanmar Sc2400 HST Review
2012 Mahindra Max 28 XL HST Review
Buyers Guides
Our Partners