2012 Mahindra Max 28 XL HST Review
This sub-compact tractor offers Maximum performance
By Geof Fowler, Photography by Mahindra, May 18, 2012
The top dog in the Mahindra Max lineup has the look that says this tractor has an attitude and backs it up with enough performance to have our reviewers come away quite impressed.
Mahindra unveiled the Max lineup of sub-compact tractors a tease at a time beginning with a countdown website that sent potential purchasers scurrying to their local dealers to inquire when they could see one (we know we did) and letting slip little hints of what a game changer the series would be until Max tractors started hitting dealer stocks, in some cases just weeks ago. We were fortunate to get our hands (if only for a very short time) on an early Max 22 and ran that review here in February. When we got word that a shipment of Max 22s, 25s and a single Max 28 HST (there is also a shuttle shift manual transmission model available) had arrived, we were off to see our local dealer.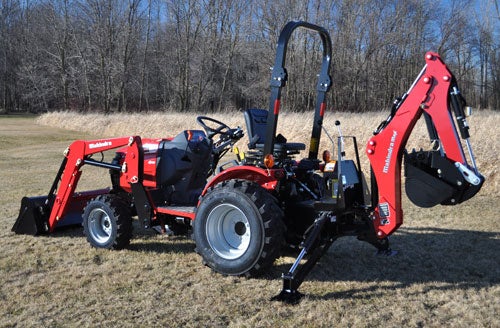 Let's start with the bad news first: Mahindra has totally been caught flat footed with the demand for Max tractors. Our dealer told us these are flying off his shelves and certain customer combinations are proving a challenge to obtain. Dealers are certainly cooperating with each other but most expected the Max 25 with only a $600 premium over the 22 and getting three extra horses under the hood would be the big mover. As it turned out, the Max 22 delivers plenty of performance and has been the popular one and when purchasers are looking for more oomph, they are drifting to the Max 28. Mahindra and its suppliers are rapidly ramping things up and are well on their way to meeting that demand.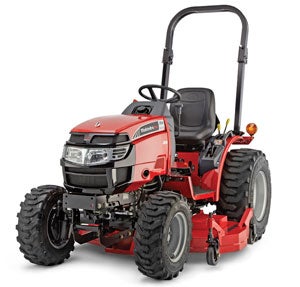 As mentioned above, when we tested the Max 22 our time was rushed, due to the unit being already sold and the proud owner-to-be anxious to take delivery. This time the clock wasn't ticking and our testers were able to learn quite a bit more about the Max.
The Max advantage is short and sweet: more "big" tractor features with fewer compromises in a competitively priced machine backed by the biggest tractor manufacturer in the world. Let's talk about some of those advantages. First, the Max frame is heavy duty cast iron. When we reviewed the Max 22, we called it a "full length frame" – which it is – but with more time to explore the Max 28 which is similarly constructed, we learned Max frames are much more than that. In a full size Ag tractor, the frame consists of the diesel engine securely bolted to the transmission, which is securely bolted to the differential. All the components are high-strength cast iron, which does not flex and makes for a much stronger frame - albeit heavier – than a welded channel steel. Max engines are manufactured by Mitsubishi, and are designed to offer deep reserves of power at lower rpm. Lower rpm equate to less wear and less wear equates to longer life – not to mention better fuel efficiency. Mahindra has designed the Max lineup to take advantage of those advantages.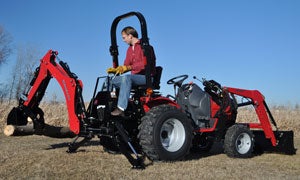 The Max 28 gets an 80.4 ci three-cylinder Mitsubishi diesel that makes 28 gross horsepower at 2600 rpm. The hydro version we tested sends 22 horsepower to the power take off (PTO). Manual shuttle transmission tractors get an additional 1.5 horsepower at the PTO due to the inherent power losses in hydro transmissions. No matter, the 28 Max HST has plenty of power for any task you might put it through.
Sitting in the comfortable medium back seat with suspension, the operator is treated to an uncluttered platform with a large tachometer taking center stage flanked by fuel and temperature gauges and a lot of LED informative alerts. Control for the three-point hitch (3PH), position of course, is a lever on the right fenderwell with adjustable stops. Transmission range control – two-speed – is on the left fenderwell, along with the mid and rear PTO selector (mid PTO is optional). 2WD/4WD control is just above the differential lock, which is engaged by the operator's left heel. A clutch pedal in the traditional position engages/disengages the PTO. Control over the hydrostat goes to the operator's right foot. The Max uses a front/rear pedal arrangement that is similar to Kubota's treadle but spaced farther apart. While not necessarily the favorite arrangement of all our testers, the Max's set up is effective, easy to use (and possibly safer), well modulated and comfortably positioned. Above the front hydro pedal are split brakes that can be locked together or used independently – though some gymnastics would be required to use them and the hydro pedal at the same time. No matter, with 4WD, differential lock and an impressive turning radius (more on this later), most users will never need to use these other than when setting the parking brake.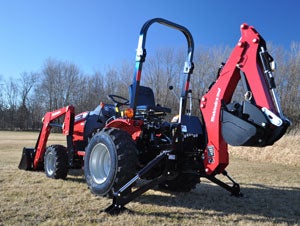 Moving to the rear of the tractor, the 3PH has a class-leading lift capacity of 2205 lbs. Turnbuckles are the stabilizing method but are conveniently located outboard of the lift arms. The rear PTO gets to rated 540 rpm at an engine speed (clearly marked on the tach) of 2376 rpm. An extra hydraulic spool is a factory or dealer added option. A draw bar is standard.
Our test tractor was outfitted with the ML205 loader, which gets 4.6 gpm from the hydraulic pump and is rated to lift 1402 lbs. to the 82.7" lift height. We were impressed with the responsiveness of the hydraulics. Even at low (1500) rpm, the lift/lower, dump/curl back functions were snappy. Float is standard and the joystick, which is mounted on the loader stanchions, falls in a more comfortable position than on the 28's smaller brothers. Chalk that up to the additional space Mahindra engineers had to work with on the Max 28. A 54" bucket is the only factory supplied size, but it seemed well suited to the Max 28 capabilities.
Our test tractor was also outfitted with the MB63A backhoe. The seat swivels, rather than the two-seat arrangement some manufacturers use, and worked quite effortlessly. As with the loader, the responsiveness was excellent. We found the controls intuitive, finely modulated, and the platform roomy enough even for our tallest (6' 4") tester. Digging depth is rated at 76.3".
Spooling around the test area, tester after tester remarked at how surprisingly nimble the Max 28 was. Mahindra specifications list a 6.6' turning radius, but it felt even tighter than that. Certainly, the Max 28 has the tightest turning radius in this class that we can think of. And even at full turn, the impact to the ground was no more than any other 1819 lb (base) tractor, and perhaps even less with the 12 x 16.5 rear and 23 x 8.5-12 front industrial tires. The Max 28 is 109.3" long and 54.3" wide.
As mentioned above, a mid PTO is available as a factory or dealer installed option. We were quoted an approximate cost of $900. Order your Max 28 with the mid PTO and you are able to run a 60" three-blade mower that can be adjusted to cut heights from 1" – 4", and implements such as a front snowblower or broom.
Mahindra is a Japan Quality Medal Winner and a Deming Application Prize Winner. This quality is backed up with a 30-day guarantee giving buyers the confidence to ensure they made the right decision. Mahindra tractors get a five-year powertrain warranty. With a MSRP or $14,310 (tractor only), financing options that include 0% - 60 months, 4.25% - 72 months or up to $3,000 cash back with standard rates, and implement bundling incentives, the Max 28 might just be that tractor you have been waiting for. Check one out. We think you'll be glad you did.
Related Reading
2012 Mahindra Max 22 Review
2011 Mahindra Model 16 Overview
2011 Kubota B2620 Review
Buyers Guides
Our Partners