2012 Yanmar Sc2400 HST Review
Two-pump hydraulics help set this subcompact tractor apart
By Geof Fowler, Photography by Yanmar, Jun 08, 2012
Subcompact (SCUT) tractors are a fast-growing industry segment aimed squarely at homeowners with acreage, hobby farmers, horse owners and contractors with light construction requirements. The recipe is simple: upscale a heavy-duty lawn and garden tractor with a sturdy frame, throw in a torquey, efficient diesel powerplant, and give the machine powerful hydraulics. The end result is a capable performer that doesn't break the bank, is designed to last long hours – lifetimes in most cases – and is compatible with most readily available attachments. Yanmar's Sc2400 does just that and raises the ante with features that even we didn't expect to see.
The Sc2400 and its close cousin the Sc2450, which is the same basic machine with the addition of a backhoe and a few other niceties detailed below, are manufactured at Yanmar's state-of-the-art facility in Osaka, Japan and assembled in Adairsville, Ga. Yanmar has been manufacturing small diesel engines since 1930 and is credited with the first horizontal powerplant in 1933. Yanmar has also been building complete tractors for their own sales as well as manufacturers such as John Deere to whom they had shipped more than 100,000 machines by 1986. In 2006, Yanmar partnered with Cub Cadet in bringing a line of compact utility tractors (CUT) to the North American market. By 2011 market conditions were such that Yanmar saw an opportunity to take full responsibility for sales, marketing and customer service, and did just that.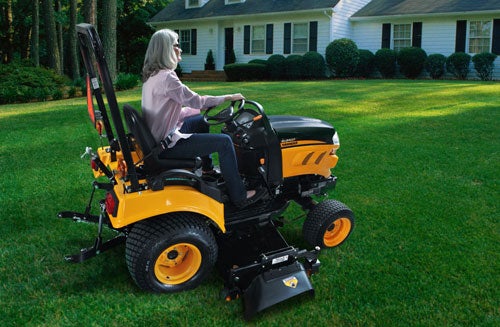 In April we reviewed Yanmar's Ex2900 and came away impressed with the combination of value, features and performance with the only negative being a minor one: the somewhat dated design. The Sc series carries none of that perceived baggage, being a thoroughly modern design beginning with the power source. Delivering power to both the Sc2400 and Sc2450 is a Yanmar designed and manufactured 55.1 c.i. three-cylinder diesel engine that through the wonders of indirect injection makes 24 gross horsepower at 3200 rpm and 16.5 horsepower at the power take off (PTO). Mid-PTO rpm (2100), which is standard, comes at a slightly higher 3,338 rpm, while rear PTO rpm (540) and also standard, comes at 3,111 rpm.
Both Sc variants are outfitted with two-range hydrostatic transmissions that can be shifted from low to high or high to low on the fly. Add to that a 4WD system that also does not require stopping to engage or disengage and a differential lock to keep tire slippage to a minimum and you know these are tractors delivering productivity that is certain to show up in the bonus category at the end of each day. Sc tractors also get two separate hydraulic pumps, rather than the combo compromise some of its competition uses that sends 3.5 gpm to the power steering and 3.4 gpm to the implement. With 6.9 total gpm on tap, don't look for either Sc variant to shortchange steering ability for implement lift or vice versa.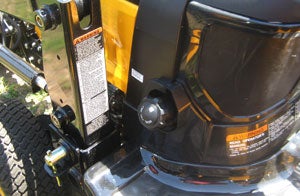 Stepping closer to a Sc2400, several things stand out. First, the fuel filler location has been moved from the usual "on top of the hood" location to the lower left side next to the loader stanchion and just above platform foot level. Anyone who has hefted a five-gallon can to shoulder height is sure to appreciate this design departure. Settling into the high-back seat, you see an uncluttered illuminated dash with analog gauges for engine rpm and fuel level with LED lights for warnings and notifications.
On the left fenderwell is the selector for high and low ranges (interestingly, there is no neutral position as Yanmar has gone to a system that only requires the brake to be depressed to start the tractor), a lever that sends power to the mid or rear PTO or both (convenient if an owner wanted to run a combination such as a front blower and a rear sand spreader), PTO on/off switch, a Reverse Override Switch (allowing reverse operation while mowing with one press of the switch), and a cupholder. The right fenderwell contains the loader joystick and a lever to lock out accidental use and the rockshaft control for the three point hitch (3PH) which we were pleasantly surprised to find comes with full position control so you don't have to just guess where you want that implement returned to. Nice.
Differential lock for those slippery conditions is easily activated by the operators left heel, while 2WD/4WD and the 3PH rate of drop are all conveniently placed on the console below the seat. Control over the hydro is infinite, using a treadle pedal. Those familiar with Kubota or Mahindra controls will feel right at home. Though not our favorite arrangement – and we wonder why Yanmar departed from the nice two-pedal setup on the Ex2900 – it worked well and was nicely modulated. However, it does take up a big chunk of right foot real estate (along with the brake/parking brake levers) and might make someone with a large shoe size feel a bit claustrophobic.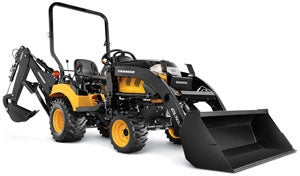 Our Sc2400 was equipped with the CL100 loader. The CL100 is a quick-tach design (pull two pins, lower the twin stands and disconnect the hydraulic hoses before driving away) that comes with a non-removable 49" bucket (five cubic feet) and is rated to lift 700 lbs. to max lift height of 71.0". With the twin pumps powering the hydraulics, reactions were snappy – even at idle. Yanmar says the hydraulic response is 3.5 seconds to lift to full height, 2.5 seconds down, 2.0 seconds rollback, and 1.5 seconds to dump (all without load). Our testers universally felt the CL100 was a perfect match to the Sc2400 capabilities.
Our Sc2400 was also equipped with Yanmar's MM60RSe mid mount mower (MMM). The MM60RSe is a side discharge deck made from 11-gauge steel that has a 6" transport height and easy adjustment over the 1-4" cut height. We especially liked the heavy duty wheels (four) which we prefer over the ball-type many manufacturers have gone to. Cut quality was on comparable with any of the 60"+ decks we have tested.
If the Sc2450 is ordered, a curved boom backhoe with a 76.5" digging depth replaces the 3PH and the purchaser gets a swivel seat along with a folding ROPS. As well, 8" and 12" buckets are available and anyone familiar with standard backhoe controls should instantly feel at home.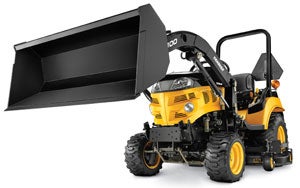 Driving the Sc2400, we immediately knew the transmission was geared differently than competitive SCUTs. Delving into Yanmar specs revealed that the Sc2400 has a 9.3 mph high forward top speed and a 6.0 mph reverse. Low range top speed is 5.6 mph forward and 3.6 mph reverse. We're not sure how many Sc owners will actually mow at 9.3 mph, but if the ground is smooth enough, the Sc2400 has plenty of power to propel the tractor while turning the deck.
The Sc2400 measures 44.5" wide (w/R4 tires) and rides on a 55.1 wheelbase. Ground clearance is 7.5" and the ready-to-go weight is 1280 lbs. Tire sizes are 18" x 8.5" – 10" front and 26" x 12.0" – 12" rear and turn; industrial and bar (Ag) are all offered. Yanmar warranty's the Sc2400 powertrain for five years and the entire tractor for two years. When we checked price, we were surprised to find the Sc2400 carried a slight premium over the John Deere 1023e. When quizzed about this, the dealer told us that Yanmar does offer a discount for cash purchasers but its real strength is in financing – even going out as far as 72 months with no cash down. Combine the creative financing with the snappy two-pump hydraulics, position control on the 3PH, Yanmar reliability, and this might just be the perfect tractor for your needs. If you're in the market for a SCUT tractor, you owe it to yourself to check out the Sc2400.
Related Reading
2012 Yanmar Ex2900 Review
2012 Kioti CS2410 HST Review
2012 John Deere 1000 Series Review
Buyers Guides
Our Partners