2015 Challenger MT685E Review
A row crop workhorse
By Geof Fowler, Photography by AGCO, Feb 19, 2015
The Challenger MT600 Series was first introduced in 2003 as the largest wheeled tractors available from the brand acquired by AGCO in 2001. The machines at that time made between 160 and 225 power take off (PTO) horsepower. Subsequent series updates included revision letters to the nomenclature, other enhancements and, of course, more power. In 2014, E Series tractors were unveiled as a five-model fleet, ranging from 270 to 370 gross horsepower with PTO horsepower having grown from 205 to 290 horsepower.
Power today across the series comes from turbocharged, six-cylinder, 8.4L, AGCO Power 84 engines that use air-to-air intercooling, high pressure Bosch common rail injection, electronic engine management, cooled exhaust gas recirculation (cEGR), and selective catalytic reduction (SCR) to achieve today's economy triad of high power, low fuel consumption and reduced emissions, the latter conforming to EPA Final Tier 4 (FT4) requirements.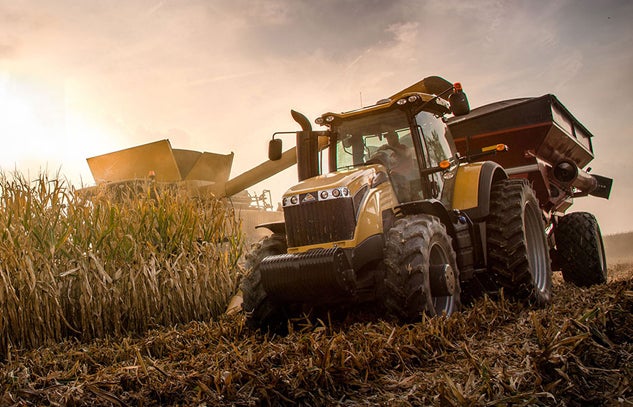 The transmission used across the series is the TechStar CVT with PowerManagement (PM) that allows for stepless control over the 0.02 – 17 mph forward and 0.02 – 10 mph reverse field / 31 mph forward and 24 mph reverse transport speed capabilities (options required for the higher transport speeds are detailed below).
COMPARISON: Read our review of the 2015 Challenger MT875E
Hydraulics run through a Closed Center Load Sensing (CCLS) system that flows 54 gpm at 2900 psi. To prevent cross contamination, transmission and rear axle fluids are kept apart from system hydraulics in separate reservoirs. The hydraulic system comes standard with four fingertip-controlled rear remotes with up to six optional. For increased versatility, another option allows for two fingertip-controlled valves with two additional remotes that are joystick controlled. Befitting a machine of this power and hydraulic flow, the Cat 3/4N three-point hitch (3PH) has a lift capacity of 26,455 lbs at link ends (over 22,000 lbs at the industry standard of 24" behind). Standard drawbar is a Cat 3 with drop pin with options for a HD Cat 3 or a Cat 4. The rear PTO is a 1000/1000E system running a 1-3/4-inch diameter 20-spline shaft.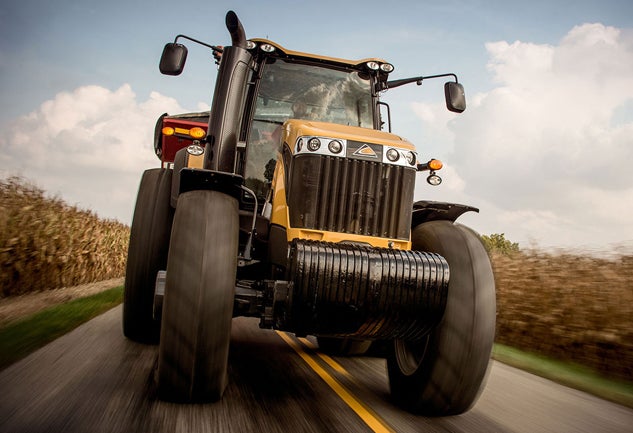 Climb up into the cab using stairs that can be configured in 13 positions from steps to a ladder to suit operator preference and you'll find a near unobstructed 360-degree outward view through 67.3 cubic feet of glass. Three cab suspensions are offered with the basic model shock modulated by rubber grommets, option two getting a four-point passive hydraulic suspension and option three moving up to four-point active hydraulic suspension. Whichever configuration ordered, the seat is air suspended and living room comfortable for the long hours these machines are certain to see. Specs claim a 71 dBA sound rating.
COMPARISON: Read our review of the 2015 Fendt 724 Vario
Behind the wheel, which tilts and telescopes for comfort, a three function power reverser turn stalk is located to the left with an orange electronic park brake just underneath. To disengage the brake all that is required is a pull of the switch. Lifting the power reverser stalk and then moving it forward or backward engages the transmission in the selected direction. Increases or decreases of speed (there are four control speeds) are accomplished by additional nudges of the stalk up or down. At no time is clutching required.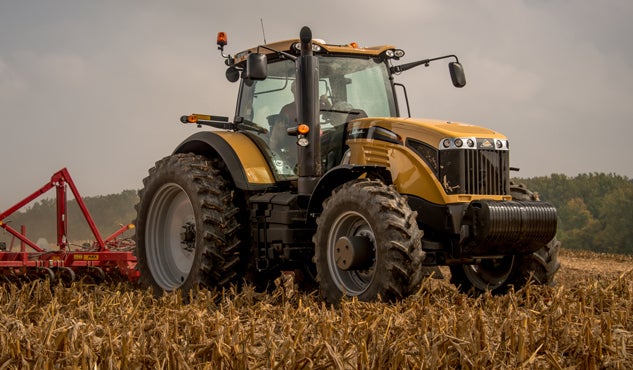 The Tractor Management Center houses all the main necessary tractor controls. There is a transmission control lever that also can be used to speed up or slow down. Two thumb buttons, one for range selection the other for headland turn management, are also located on the transmission control lever. In front of the console are two rocker switches that control SV1 and SV2 cruise speeds and raise and lower the 3PH. Next to those rocker switches are fingertip controls for the rear remotes. To control 3PH height, a rotating depth wheel is located on the right next to rocker switches for engine A/B preset, foot pedal or hand control, and power management. There is a hand throttle, two-stage PTO switch, another fingertip rocker control, and more switches for differential lock, 2WD/4WD, true track steering, hazard, drive lights, outside mirror defrost, and autoguide settings. A flip up switch box provides more controls for less frequently used adjustments such as rear 3PH adjustment, variable steering, cab suspension, front 3PH if so equipped, and outside power mirror positioning.
A 7" color LCD TMC display gives the operator quick-glance monitoring of major tractor functions and allows on-the-fly adjustments. AutoGuide 3000 is standard and the system is AgCommand ready (all that's required is a subscription).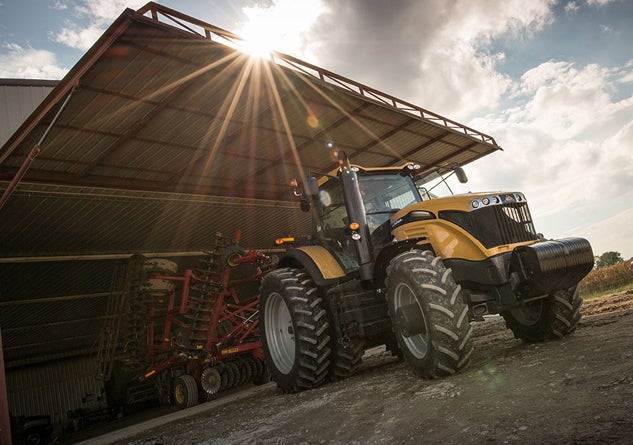 Outside the MT685E a definite family look is evident. The narrow-waisted hood affords good forward view around the one piece hood that opens high for easy access to maintenance points. Undoing the tether strap allows the hood to open even further while removing the side panels allows access even to components such as the twin 120 amp alternators. The new Cyclair cooling package features a two plane design that provides 33% better performance and easier serviceability.
COMPARISON: Read our review of the 2015 John Deere 9620R
Following the frame contours, one can see how the cast steel front axle designed to handle the high horsepower can turn as sharply as it can – up to 55 degrees while 4WD is engaged. There are two front axle choices, fixed or hydraulic suspension with the latter required for the 31 mph transport option. And to handle challenging slope conditions, the axle can pivot centrally as much as 11 degrees in either direction.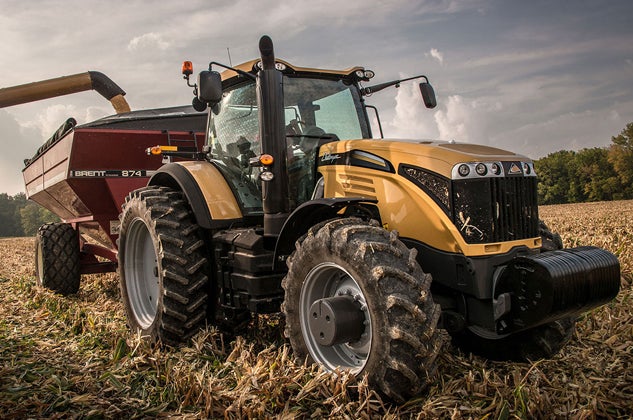 Other important niceties are brakes sufficient to stop the 23,810 lb. (base) MT685E and whatever attachment is being used, full locking electro-hydraulic differential lock, allowance for up to 24 front suitcase weights, fuel (166 gal.) and diesel exhaust fluid (DEF) (15.8 gal.) fill from ground level with a tool box integrated into the main tank. Also included is a rear seven-pin trailer electrical connector, three-pin dual controller and nine-pin ISOBUS connections, rear fender controls to raise/lower 3PH along with a PTO stop switch, and an automatic battery disconnect after 30 minutes of shutoff. Options to consider are 4.33-inch diameter rear axles that can be 118 inches (long) or 105 inches (short), and a power beyond kit that provides full tractor hydraulic flow and pressure to an implement on a single control valve.
The MT685E measures 218.6 inches long by 141 inches high and rides on a 122-inch wheelbase. Typical tire configurations might have 520/85R46 rear duals with 1480/70R34 front singles.
Agribusinesses demanding a serious row crop workhorse would be well served to have the MT685E on their short list.
Buyers Guides
Our Partners