2015 Fendt 724 Vario Review
Capable of row-crop work yet still sized to excel as a heavy loader
By Geof Fowler, Photography by AGCO, Oct 17, 2014
Fendt history dates back to 1930 when the 6HP Dieselross was introduced with a mower and plow. Along the way Fendt industry firsts include front axle suspension, cab suspension, Vario (CVT) stepless transmission, stabilization control and reactive steering, introduction of tractor data terminals, and electrically controlled spool valves for hydraulic functions. And the CVT introduction some two decades before becoming the industry buzzword it is today certainly is worthy of acknowledgement – today there are over 100,000 Fendt CVT equipped tractors in the field.
The Fendt 700 Series lineup consists of 6 models ranging from 145 to 240 hp, offered with a broad range of premium options and price points. These are compact, high horsepower (780 ft. lbs. of torque @ 1450 rpm) tractors suitable for row-crop work yet still sized to excel at heavy loader work. Power across the board comes from 6.06 L Deutz 6-cylinder engines that utilize cooled Exhaust Gas Recirculation (cEGR), Selective Catalytic Reduction (SCR) and a coated soot filter to achieve EPA Final Tier 4 (FT4) emissions compliance. These engines are turbocharged, come with air-to-air aftercooling, and through multiple injections, allow the use of biodiesel fuels. Fuel consumption reports from the field have averaged a highly efficient 5.3 gallons per hour, which can mean a competitive advantage of as much as ½ gallon per hour over class competitive tractors, or 5-gallons over a 10-hour day. With 105 gallons of fuel and 10 gallons of Diesel Exhaust Fluid (DEF) onboard, 700 Series tractors are well equipped to stay in the field and work those longer hours.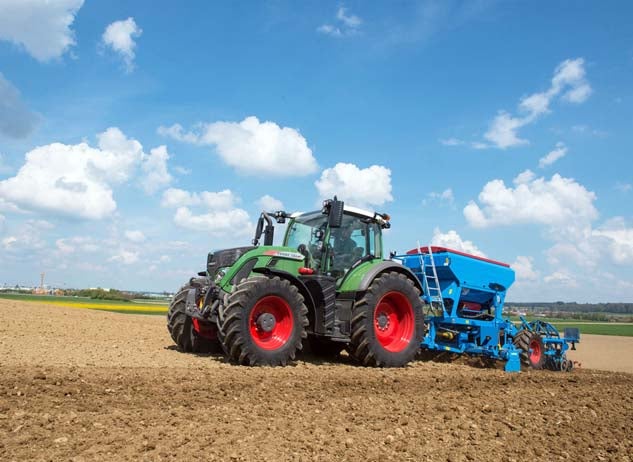 Our review tractor came with Fendt's ML180 HD Vario transmission (714/716 models get ML140 transmissions, 718/720 models the ML180 and 722/724 models the HD version). These are true clutchless transmissions that only require the operator to select a desired ground speed while the Tractor Management System (TMS) takes care of the rest. Two speed ranges allow infinitely adjustable 0.02–17 forward and 0.02–10.5 mph reverse travel in C1, and 0.01–31 forward and 0.01–19 mph in C2. Creeper gears are built in and speeds can be dialed down as low as 66'/hour for those special applications. In addition, there are 4 individual cruise control settings with 2 allocated for field use and 2 for transport needs. Four acceleration rates are also programmable using either the joystick or foot pedal which is especially convenient for loader work. Engine rpm at 31 mph is just 1700, but dial things down to 1450 and ground speed is only reduced to 25 mph.
Hydraulics can flow as much as 50 gpm giving the rear three point hitch (3PH) a lift capacity of 21,120 lbs. and the front 3PH (there are 3 front hitch options) a lift capacity of 9,740 lbs. with the system able to support 7 electro hydraulic double-acting remotes (5 rear, 2 front). 700 Series tractors can be outfitted with an optional front power take off (PTO), while the standard rear PTO can be upgraded to a 4-speed 1000E PTO able to maintain 1000 PTO RMP at reduced engine speeds and saving fuel. Fendt 700 Series tractors are among the most fuel efficient machines in their class.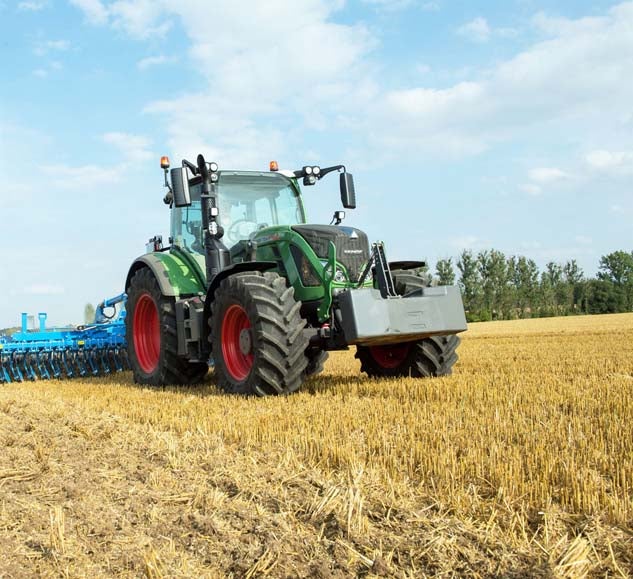 Our review machine was outfitted with Fendt's 5X90 loader which is row-crop compatible and capable of lifting 6,632 lbs. to a lift height of 177". The loader can track loaded weight for operations such as dairy feed or hay bales on the cab job computer, comes with vibration, and is self-leveling with hoses routed through the frame for protection. Dump clearance is 136.8" so almost any trailer or truck is well within reach. Dig depth is 9.8" and max capacity 7,778 lbs.
So how does it all work? Quite well. Climb up into the deluxe cab which features lots of glass, a curved top for loader visibility and a wiper that covers 300°. A right hand control arm pod is ergonomically designed and intuitively color coded with blue controls for hydraulics, orange for engine and transmission, green for 4WD, suspension and lights, and yellow for the PTO(s). Fendt's VarioTerminal 10.4B is a backlit LCD screen that can display in 26 languages. For headland management, the system electronics can be programmed to controlling 22 consecutive functions in 4 sequences for up to 15 implements. The display is also capable of monitoring up to 2 cameras and the entire display can be customized for individual control and preference.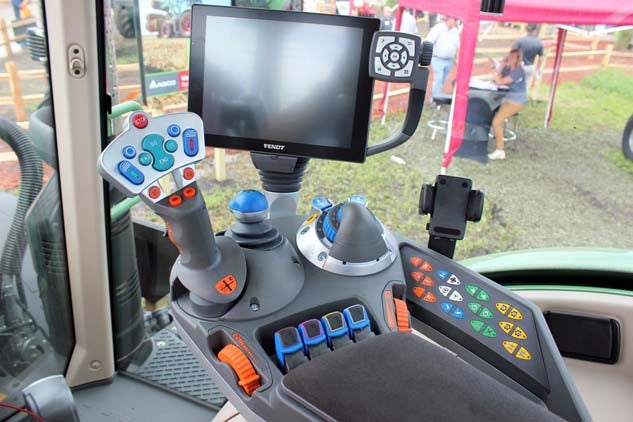 There are two joysticks, one for transmission functions and the other for loader/implement use. A single bump of the transmission control can result in speed changes as sensitive as 0.1 mph while the loader joystick is a cross-gate set up controlling 2 selective control valves (SCRs).
Other performance niceties include Fendt Stability Control, VarioActive Steering System which allows the steering angle to increase from 26.6° to 43.3° at slow speeds and is great for loader work in tight spaces, 100% LED lighting, onboard diagnostics, fender controls for 3PH linkage, valves and PTO, and all-wheel braking, the latter of which is a dual circuit system providing precise control. Options include VarioGuide automatic steering (Sat-assist), VarioDoc for maintenance record keeping, and the abovementioned PTO and hitch configurations.
At the Farm Progress Show held in Boone, IA this summer, Tractor.com caught up with John Slama, AGCO's Marketing Specialist for HHP Tractors who was especially enthusiastic about the 700 Series. Favorite features were plenty, but Slama spoke highly of the 700 Series front axle suspension. When asked if the suspension was designed to improve ride or control powerhop, the answer was both.
Slama also mentioned the engine technologies many of which have been covered above, emphasizing the coated filter designed to last a lifetime that automatically cleans the system without requiring additional downstream fuel injections into the exhaust stream.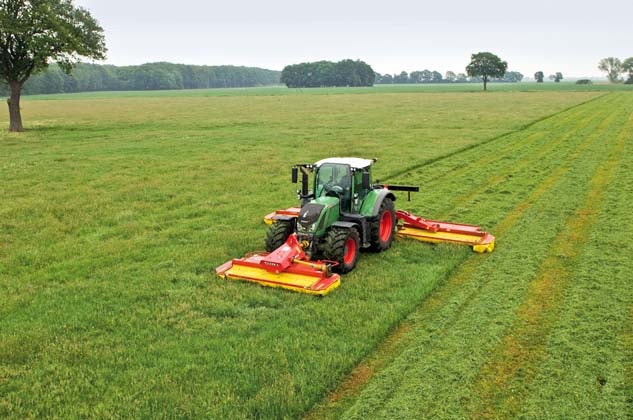 Another Fendt improvement for 2014 is the equipping of all 700 Series tractors with the stronger front axles previously only available on the 722 and 724. The end result: bigger payloads and improved steering control. The 724 Vario on display at the FPS was loaded and carried a MSRP of $346K but Slama said a base 724 retails for $257K. He also asked which custom color we would take ours in. And yes, Fendt tractors can come in Jet Black/Red, Fir Green/Alum., Black Cherry/Alum., and Steel Blue/Alum. with chrome exhaust and grill options.
The 724 weighs 17,416 lbs. and measures 206" long x 100" wide x 120" tall and rides on a 110" wheelbase. Turning radius is 18' and there is 22" of ground clearance. Weight distribution can be varied with as much as 60% on the front or 60% on the rear axle. AGCO stands behind the 700 Series with a 36 month/3000 hour warranty that includes full maintenance for the same period – including oil, belts, filters and maintenance items. For anyone in the market for a compact sized high horsepower workhorse, the Fendt 724 is well worth considering.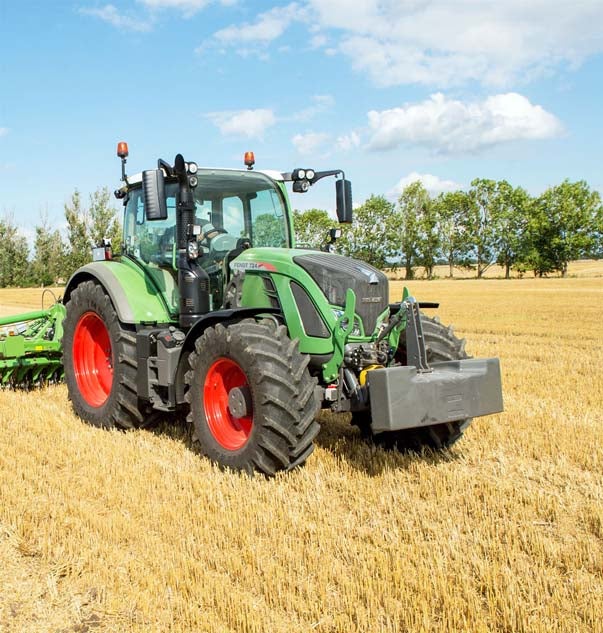 Buyers Guides
Our Partners