2016 JCB Telemaster TM320 Review
New articulated telescopic handler has agribusinesses rethinking handling chores
By Geof Fowler, Photography by JCB, Dec 24, 2015
JCB is a privately-held global company that manufactures some 300 different machines at 22 plants spread over four continents. Though JCB has been in the North American marketplace for more than 40 years, it wasn't until 2000 that a full support facility was established in Savanah, Ga. Today, JCB North America provides support for more than 120 American and Canadian dealers from a 500,000 square foot business center. JCB manufactures its own axles, engines, transmissions, cabs and hydraulic cylinders.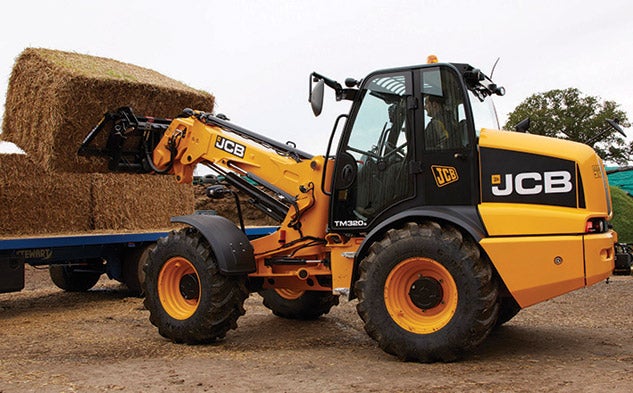 Telehandlers are widely attributed to forklift adaptations pioneered by the Matbro Co. in Surrey, England – date uncertain but possibly around the late 70s. JCB pioneered its first telehandler in 1977. While historians can argue who was first, Matbro went bankrupt in 2003 while JCB thrives today with revenues exceeding $1B.
The JCB Telemaster Series (TM) is comprised of two new models: the 74 horsepower TM220 and the 125 horsepower TM320 subject of this review. There is also a higher horsepower variant (TM320S) available. More about this later.
Powering the TM320 is a JCB EcoMAX four-cylinder engine displacing 4.4L. The mill is a stroker layout (bore smaller than stroke) and uses high-pressure common rail injection, a variable geometry turbocharger (VGT) and exhaust gas recirculation (EGR) to achieve EPA Tier 4i (interim) compliance without requiring a diesel particulate filter (DPF) or diesel exhaust fluid (DEF) additions. Gross horsepower is 125 at 2200 rpm with a max 550 lb-ft of torque coming at 1500 rpm. Onboard fuel is 42 gallons.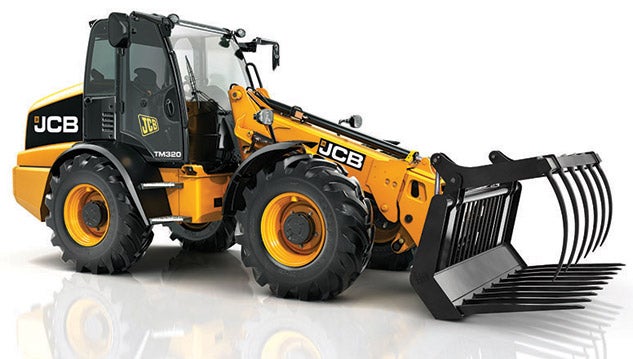 The six-speed powershift transmission used in the TM320 incorporates a Torquelock torque converter, which locks up in gears four, five and six and has two operating modes: automatic and manual. Shifts are accomplished using convenient thumb buttons located on top of the loader joystick, which is also used to control forward and reverse directional travel. For right side cab access, the joystick and armrest console folds upward and out of the way. Top travel speed is 25 mph.
COMPARISON: Read our review of the 2016 JCB 4220 Fastrac
Hydraulic output runs through a flow sharing system that can provide as much as 37 gpm at 3336 psi when needed with the flow rate cab adjustable. JCB rates cycle times at: 6.0 seconds full boom raise, 4.4 seconds full boom lower, 4.0 seconds full boom extension, 2.6 seconds full boom retraction, 2.6 seconds full bucket dump, and 3.0 seconds full bucket curl. Lift capacity is 6390 lbs (3.2Tn) to a max height of 17'1". Max forward reach (extension) at full lift height is 4'6" with a possible forward reach (extension) at ground level of 9'10". Lift capacity at full reach is 3530 lbs. Counterbalance comes from a cast rear weight that doubles as a bumper and incorporates the rear lights recessed for protection. The TM320 also has undercarriage protection plates to shield the drivetrain from damage.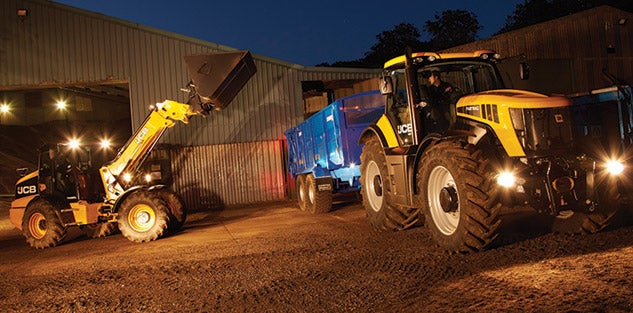 Climbing up the inclined steps, which are staggered for ease of access, and into the cab the operator will find a high, central driving position with 4'2" of cabin width and 360 degrees of view. The standard seat is fully adjustable with mechanical suspension (an air ride seat is optional) and the steering column tilts for operator comfort. Most driving controls are located on the right armrest console which houses the abovementioned joystick with rocker and rotary switches for various functions. There is a 12V outlet for charging devices as-well-as a cup-holder and space for storage. Fittingly, the interior surfaces are black to go along with the JCB theme all the while reducing daytime glare. Instrumentation includes a fully digital fuel gauge and speedometer with displays for engine and transmission temperature and hydraulic flow. Warnings are both audible and visual. Front and rear window washer/wipers are standard as is a three-speed heater with replaceable air filter. Air conditioning is optional.
A smooth ride system (SRS) that can be engaged when a selectable travel speed is reached or constantly at all time allows the boom and load to move independently of the cabin. SRS translates to a smoother ride with less operator fatigue and greatly reduced stress on the chassis and frame. Also contributing to machine stress reduction is the oscillating center pivot point and chassis articulation that helps keep the weight distributed over each of the four wheels. Traction, stability and ride comfort are also improved.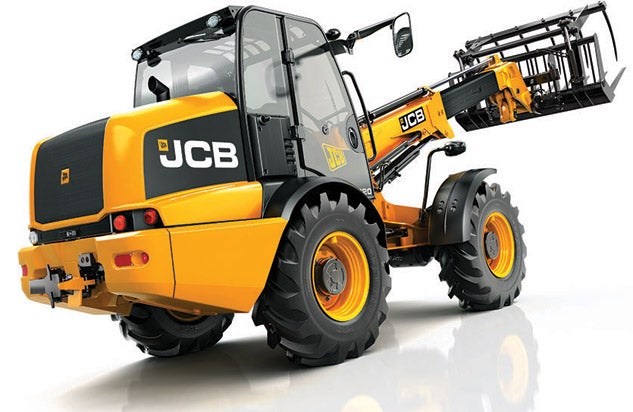 The TM320 measures 8'10" to the top of the ROPS and FOPS certified cab and is 7'8" wide. Overall length measured to the front wheels is 15'6" and the wheelbase is 8'2" with 17" of ground clearance. Made possible by a 34-degree articulation angle, the turning radius for the 17,627-pound machine is 14'3". Standard tires are Michelin XMCL 460/70 R24.
COMPARISON: Read our review of the 2015 McCormick X4.70 Cab Tractor Review
Earlier we made mention of a TM320S variant. This model gets a few ponies by upping engine displacement to 4.8L. To put more power to the ground the transmission torque convertor locks up in gears two through six. Hydraulics also get a 14% boost and flow 42 gpm. JCB also offers a variant for recycling and waste handling (TM320WM). For increased environmental and operator safety, these machines have the roof and windshield reinforced with steel rods, puncture resistant tires, extra light guarding, heavier-duty undercarriage plates, steel fenders, cab carbon air filters, and a white noise backup alarm.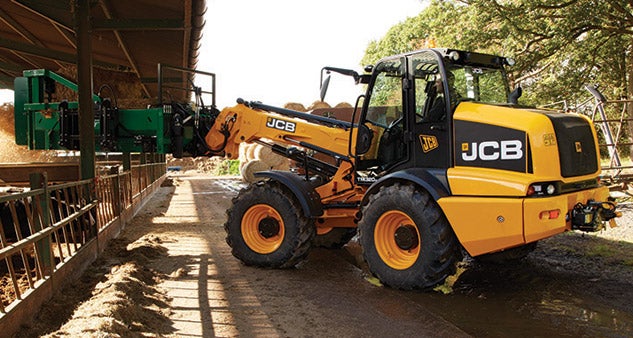 Though relatively new in use to the North American marketplace, articulated telescopic handlers are able to maneuver in tight quarters, lift heavy loads to hard-to-access places such as a hay barn loft or to load high sided trucks and bins.
Agribusinesses today are challenged on so many fronts and the ones that intend to be here tomorrow must constantly examine the methods and equipment used to maximize their productivity. An articulating telehandler such as the TM320 might just be that piece of equipment you wonder how you ever did without.
Buyers Guides
Our Partners