2016 JCB 4220 Fastrac Review
Heavyweight performer for field, livestock and haulage work
By Geof Fowler, Photography by JCB, Nov 13, 2015
JCB was founded by Joseph Cyril Bamford in 1945 when the clever innovator from Uttoxeter, Staffordshire, England began manufacturing tilt-type farm wagons using a second-hand welder and war surplus materials. By 1948 JCB employed six and had added hydraulic tilt to the wagons – a foreshadowing of what was to come. Along the way, JCB moved to nearby Rocester and adopted the yellow and black paint theme. 1953 saw the introduction of the first backhoe loader, the JCB Mk I Excavator. By 1996, the 200,000 backhoe milestone was reached. Today, JCB employs over 11,000 and has revenues that exceed $1 billion. The Fastrac subject of this review was the culmination of four years of development and £12 million. Its introduction in 1990 heralded the first genuine full suspension, high-speed draught tractor.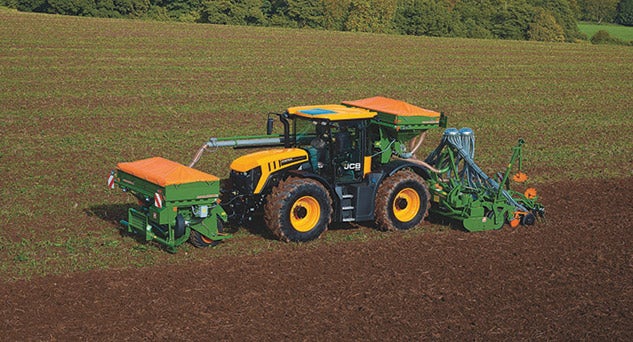 The Fastrac 4000 series consists of three models with a choice of power levels on a single platform size. The 4160 is rated to deliver 160 hp (175 max) and 553 lb-ft torque, the 4190, 189 hp (208 max) and 627 lb-ft torque, and the 4220, 217 hp (235 max) and 700 lb-ft torque. All are AGCO Power 66AWF turbocharged and intercooled 6.6L six-cylinder engines that are EPA Final Tier 4 (FT4) compliant using selective catalytic reduction (SCR) technology. Power is put through a two-range CVT transmission that has six modes of operation and a low speed range of 0-19 mph and a high speed range of 0-37 mph.
COMPARISON: Read our review of the Claas XERION 5000
Hydraulics run through a closed center system with a separate gear pump for power steering demands. The system allows for a rear Cat III three-point hitch (3PH) lift capacity of 13,200 lbs with options for 15,400 lbs. and 17,600 lbs. If equipped, the front Cat II 3PH has a lift capacity of 7,716 lbs. Rear 3PH control is electronic with raise/lower with depth, draft/position intermix, rate of drop and max lift height control. External raise/lower fender controls are standard. Front 3PH control is also electronic with raise/lower with depth, rate of drop and max lift height control. External raise/lower control is part of the front 3PH package. Auxiliary hydraulic power runs through an axial pump flowing 39 gpm (2100 engine rpm) at 3046 psi. The auxiliary system can support up to six double acting valves with flow and time control and constant pumping and float. Three rear spool valves with free flow return are standard with options for 3,4 or 5 rear and 0, 1 or 2 front spools (front free flow return, power beyond, and priority flow control in the green spool). The hydraulic couplers are deluxe with quick release (release under pressure).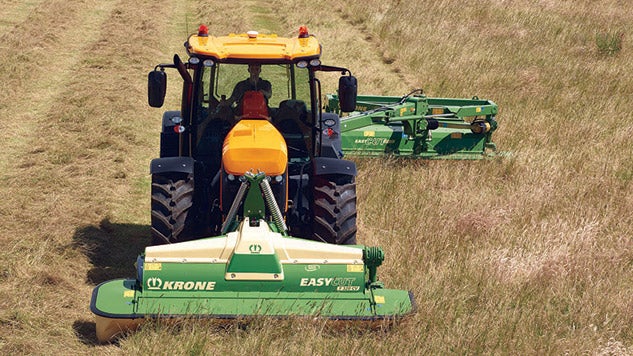 Power take off (PTO) horsepower is 140 on the 4160, 169 on the 4190 and 195 on the 4220. The rear PTO has soft electro-hydraulic engagement and electro-hydraulic shifting from 540/540E/1000/1000E ranges. Standard equipment is a 6 or 21 spline 1-3/8" dia. shaft with an option for a 6 or 20 spline 1-3/4" shaft. A front PTO is an option and if so equipped with deliver 1000 PTO rpm at 1900 engine rpm. A 1-3/8" diameter 21-spline shaft is utilized. Fuel efficiency is also maximized with a full 37 mph transport speed reached at 1600 engine rpm or by dropping down to 1400 engine rpm allows for a 31 mph travel speed.
COMPARISON: Read our review of the 2016 New Holland T7.315
Fastrac 4000 models ride on beam-type axles with outboard epicyclic reduction hubs. An epicyclic reduction hub assembly employs six gears with one in the center, another ringing the outside, and four others in constant contact with the inner and outer gears. There is no slip associated with this type of planetary drive. Ten studs front and back are used to attach the wheels. The rear axle is self-leveling and, combined with the hydraulic front suspension, maintains a correct ride height no matter where the implement is mounted (more on this later) or what condition is encountered. The active suspension reacts quickly to changes in load and automatically restores ride height. And if equipped with the optional double-acting suspension which features larger components, the system can also be used to lower the tractor to aid in attaching deck-mounted attachments.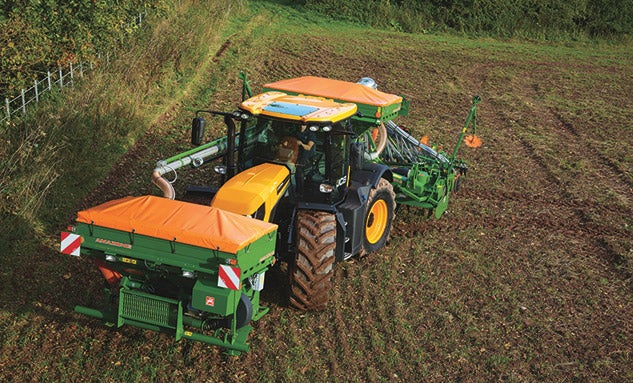 Climb up into the extra wide CommandPlus cab and you'll find there is enough room for a full-size instructor seat. Settle into the operator seat, which is fully adjustable with air suspension and able to swivel 50-degrees right and 20-degrees left, and you'll find excellent visibility over rear implements with minimal strain to one's neck. Controls are well laid out with a color slim-line instrument panel that adjusts with the steering wheel position selected and contains major information and alerts necessary. The right arm console that also swivels with the seat contains a joystick and rocker switches for the most used functions. A color touch screen terminal is standard and offers electronic control over functions such as headland turn assist (HTA), which can set up and store sequences with up to 15 steps each for as many as five different implements. Order the optional exterior lighting package, which uses 16 LED lights to make daylight out of nighttime, and you'll also get a nifty delay that allows illumination for one to leave the barn before shutting off automatically.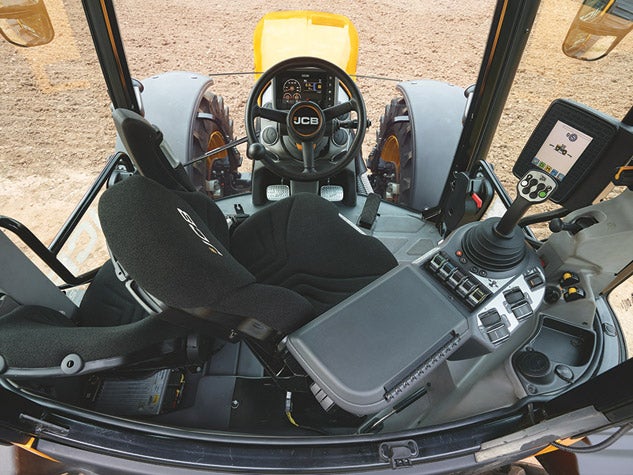 As mentioned above, the implement mounting system is unique to a tractor of this class and size and makes use of five positions: drawbar, front 3PH, rear 3PH, front chassis and the rear deck. The rear deck can handle an implement weight of up to 8,800 lbs. Maximum vehicle weight is 30,000 lbs.
COMPARISON: Read our review of the 2015 Hesston WR9870 Self-Propelled Windrower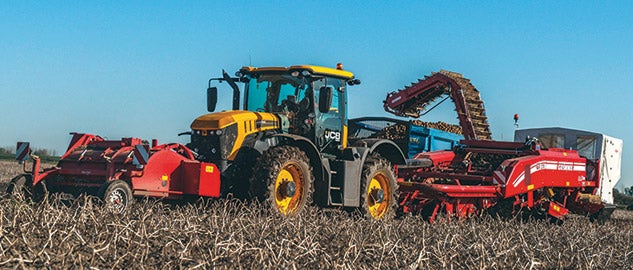 Fastrac tractors come GPS ready from the factory and, when used in conjunction with HTA, combine for increased accuracy and reduced operator fatigue. JCB LiveLink rounds out the electronics and allows remote dealer service monitoring. LiveLink also offers security with geo-fence and curfew alerts. Two other neat options for Fastrac models are Rapid Steer and four-wheel steering. Rapid steer makes headland turns easier and requires just two turns lock-to-lock. Choose the four-wheel steering option and the turning radius is reduced to as little as 16'-1" (tire dependent). Four-wheel steering can operate in five steering modes: Proportional, where the front and rear wheels turn in almost the same amount but in opposite directions; Crab-steer, where the wheels turn the same direction and allow the tractor to skitter somewhat sidewards; True-tracking, where the wheels turn in opposite directions but in exactly the same proportion; Two-wheel steer, where just the front tires turn; and Delay, where the tractor can make somewhat of a 90-degree turn.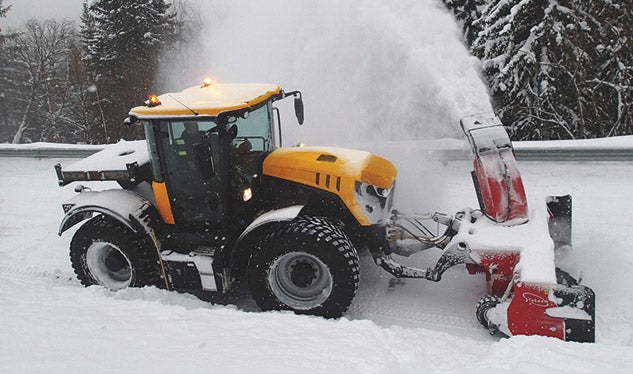 Maintenance is simple on Fastrac tractors; the hood lifts high for access and the cooling pack folds out for easy cleaning. Engine oil can be checked without raising the hood and the batteries (2 x 110 amp hour) and brake fluid reservoir are accessible under the left side step. Fuel, DEF and hydraulic oil fills are all located on the same side.
Fastrac 4000 tractors measure 9'-10" to the top of the cab, ride on a 9'-9" wheelbase, are 17'-9" overall, and have 1'-6" of ground clearance. Onboard fuel is 103 gallons with 34.3 gallons DEF capacity. Tire options include 600/70R30 and 540/65R34 to compliment the near 50/50 neutral weight distribution. For an agribusiness requiring a heavy-duty 160 to 217 horsepower workhorse with the added flexibility of five attachment mounting points, the Fastrac series would certainly be well worth checking out.
Buyers Guides
Our Partners