Claas XERION 5000 Review
A 500+ horsepower titan
By Geof Fowler, Photography by Claas, Oct 16, 2015
Clarholz, Germany is a small town northeast of Dusseldorf where in 1913 August Class began to manufacture and repair straw binders. In 1914 brothers Franz and Bernhard joined the business, soon moving to Harsewinkel to manufacture agricultural machinery. In 1921 brothers Claas developed its first in-house knotter and in 1923 patented the design that included a floating knotter jaw – the profile of which serves as the company logo.

The 1930s saw the development of the first Claas combine and high density straw presses, which were improvements over what was then available. In 1946 Claas introduced the Claas SUPER cross-axial harvester, which led the way for HERCULES, Claas' first self-propelled harvester. Today Claas employs more than 11,000 workers and is known for the highest quality agricultural solutions.

The XERION was first introduced in 1993 and has seen many upgrades and advancements while keeping with a unique standout feature: the option for a variable (rotating) cab. VC models in normal configuration sit in the middle of the tractor and rely on large windows for visibility both forward and rearward. To get an even better view over rear implements such as snow blowers, chippers or attachments used for silage, at a press of a button, the XERION VC cab rotates 180-degrees and moves to a rear facing position over the rear axle. The cab positioning changeover is accomplished in about 30 seconds and is amazing to see for the first time in person.

A second unique standout feature is what Claas calls the TRAC concept, where all four tires (or duals if so equipped) are sized the same, are all driven via a constant velocity transmission (CVT), and all tires steer for maximum traction and reduced ground compaction.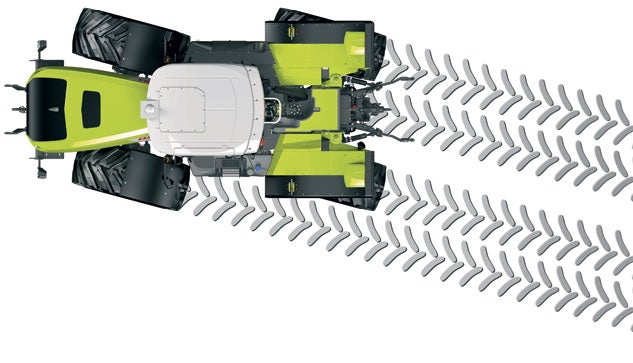 Powering the three XERION variants are Mercedes six-cylinder in-line engines. The 4000 engine displaces 10.6 liters and makes 422 nominal horsepower (435 max) while developing 1548 lb-ft of torque. The 4500 and 5000 share the same 12.8L engines with the 4500 developing 476 nominal horsepower (490 max) with 1696 lb-ft of torque and the 5000 developing 517 nominal horsepower (530 max) with 1807 lb-ft of torque. All engine ratings are at 1900 rpm and are compliant with Tier 4f emission standards. With the high torque developed by the Mercedes powerplants, 1000 PTO rpm comes at just 1730 engine rpm.
COMPARISON: Read our review of the 2015 John Deere 9620R
Power is sent to the ground using one of two ZF constant velocity transmissions (CVTs). The ZF Eccom 4.5 transmission has an integral PTO and longitudinal differential lock and is standard equipment for XERION 4000 and available as an option for the 4500 and 5000 models. The ZF Eccom 5.0 comes standard for 4500 and 5000 TRAC models, but not available on the 4000. As with the 4.5, the 5.0 has an integral PTO but no longitudinal differential lock. For the 5000, max transport speed is 25 mph but on the 4500 can be upped to 31 mph. Full-time 4WD also comes with the 5.0. Whichever setup and tractor is selected, the CVT provides efficient conversion of engine power and driving comfort unique in this horsepower class.
Big high horsepower tractors need big high capacity hydraulics and XERION models don't disappoint with three choices. The base system provides up to 51.5 gpm at 2900 psi. For more demanding applications, such as operating an air seeder, the optional twin priority hydraulic system adds a second pump flowing 21 gpm (72.5 gpm total). For machines equipped with ZF Eccom 4.5 transmissions, a third hydraulic ancillary drive can be added delivering an additional 66 gpm at 3770 psi. This third circuit can provide up to 120 horsepower of additional output as a hydraulic pump.
For XERION tractors with front hitches, two double-acting spool valves are installed to provide power. Since the linkage is fully integrated into the frame, a continuous lift capacity of 18,000 lbs is possible and the system has vibration dampening. At the rear, up to six double-acting spool valves are available (seven if no hitch is fitted) along with power-beyond connections. The rear three-point hitch (3PH) is Cat 4N and uses double-acting rams to deliver a continuous lift capacity of 22,480 lbs. As with the front hitch, vibration dampening is part and parcel of the system. Control over front and rear hitches is through convenient thumb switches located on the CMOTION handle (more on this later).
One of the reasons XERION machines get so much power to the ground is through the near even weight distribution from front-to-back. Without additional ballast, 55% of the weight is carried on the front axle and 45% on the rear. And for those situations where different ballasting is required, up to 7,500 lbs front and 11,000 lbs rear can be added using a modular stacking setup.
COMPARISON: Read our review of the 2015 Fendt 724 Vario
The standard drawbar has an auto pin function for ease of hook up and has a vertical load rating of 6,600 lbs. For more demanding applications, a heavy-duty drawbar is available that can handle over 22,000 lbs of vertical load capacity. The heavy-duty drawbar can handle 2" and 2.75" draw pins. While a drawbar is highly-effective at pulling an implement, the method concentrates the load on the tractor's rear axle. As implements get larger, axle loads increase. For those extra-large implements, XERION machines come with a mid-mounted 110 mm ball hitch located just behind the cab. Using the mid-mounted ball allows even axle distribution of up to 33,000 lbs.
The XERION cab is deluxe and is a four-post design with canted glass panels that increase interior space and shading from the sun while improving operator visibility. A mechanical cab suspension is standard but a semi-active suspension system is available for even more operator comfort. Interior sound levels run 69 dBA or less.
The control layout is minimal, as CVT-equipped machines tend to allow, with just a go-pedal on the floor, a shuttle lever stalk on the tilting steering column, and the majority of needed controls on the adjustable right armrest, which houses the abovementioned CMOTION handle. On the CMOTION handle are toggle switches for F5/F6 and F3/F4, cruise control, start/reverse, front and rear linkages, F7/F8 buttons, headland management, F1/F2 buttons, and GPS guidance. Sound complicated? Really it's not, with everything literally a thumb, finger or wrist away. Just right of the CMOTION handle are rocker switches for a variety of less-used functions ranging from parking brake engagement to position control of the rear 3PH.
Fore of the CMOTION handle and armrest is an adjustable 8.4" color LCD screen, given the acronym CEBIS (Claas electronic on-board information system). CEBIS is an intuitive graphical interface that allows the operator at a glance to easily access information needed for maximum productivity. There are road and operating screens and a HOTKEY for quick access to other functions. Sequence recording is simple and telematics and ISOBUS compatibility is built in.
XERION tractors measure 299" long by 117.3" wide and run on a 141.7" wheelbase. Overall height is 153.2" with 17.9" of ground clearance. With 800/70R38 single tires, fluids topped off, and front and rear linkages installed, 4500 and 5000 TRAC VC models weigh 38,470 lbs with the 4000 coming in at 37,590 lbs. Substantial machines, with substantial power and substantial hydraulics, for an agribusiness in need of such capability, the XERION lineup would be well worth checking out.
Buyers Guides
Our Partners