2015 Yanmar 424 TLB Review
The largest of Yanmar's new red tractors is a real workhorse
By Geof Fowler, Photography by Geof Fowler, Jan 22, 2015
Yanmar first sent notice to the competition last summer through a Y Convoy that snaked across much of the U.S. going from dealership to dealership. In June we covered the 221 model and in July the 324 and were impressed with both, especially at the price point they were positioned at.
Yanmar didn't have a 424 for us to see this summer. Though we knew it was basically a 324 with larger tires and wheels, we were curious why Yanmar included the 424 as a separate model. When we learned that Big Boy's Toys in Pomfret, Conn. had a 424 in stock, and that it was in tractor-loader-backhoe (TLB) form, we decided it was time to find out.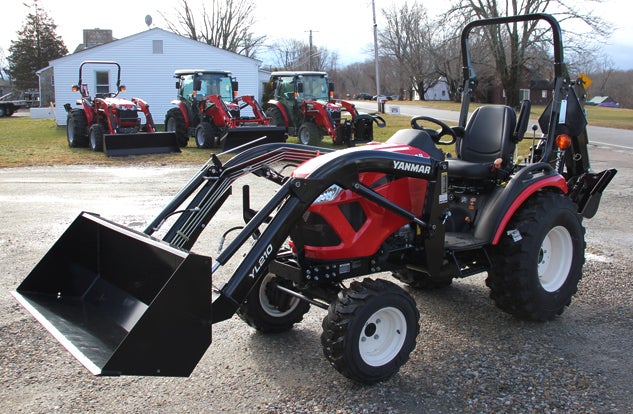 Power for the 424 comes from the same 3TNV80F engine used in the 324. This is a stroker (bore diameter smaller than the piston stroke) mill displacing 1.3L and utilizing indirect injection to achieve 23.9 gross and 18.1 power take off (PTO) horsepower at a rated engine speed of 3200 rpm. Torque output is 45.7 lb-ft and the emissions compliance is EPA Final Tier 4 (FT4). Mid PTO speed is 2057 rpm and rear 554 rpm, both coming at rated engine speed.
COMPARISON: Read our review of the 2014 Yanmar 324 HST
Mated to the 3TNV80F is a two-range hydrostatic transmission controlled by a side-by-side pedal arrangement that allows for finely modulated control over the 0-6.3 forward and 0-4.3 mph reverse (low range) and 0-13.1 forward and 0-9.1 mph reverse (high range) speeds. Cruise control is an option.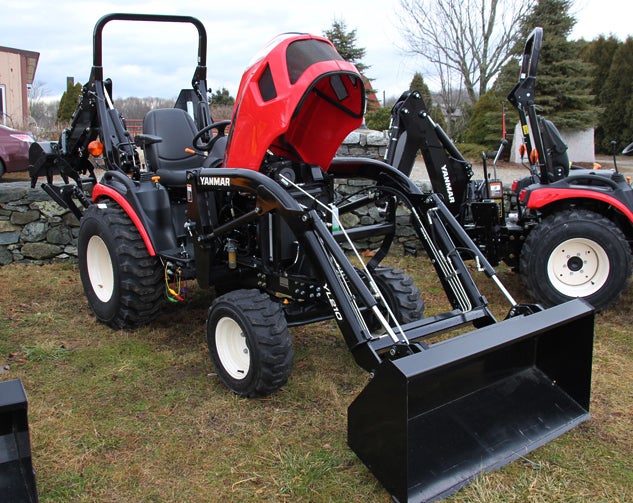 Hydraulic power comes from a twin pump open center system flowing 4.3 gpm to implement needs and 3.7 gpm to power steering requirements (8.0 gpm total). This is the same hydraulic system used in the 221 and 324 but the 324 and 424 units operate at 2429 psi vs. 1891 psi, which gives the three-point hitch (3PH) a lift capacity of 1209 lbs. Position control is standard, so an operator can return the 3PH to a selectable point time after time.
Climb up on the 424 and settle into the comfortable high-back suspension seat with adjustable armrests, those familiar with Yanmar's other red tractors will find the control layout identical. Levers are color coded and positioned in ergonomically friendly positions, the dashboard is digital with a needle tachometer, 3PH controls are to the right along with the loader joystick which is nicely integrated into the fender console, and the transmission range and PTO controls are to the left. Turn the key to the left for the glow plugs to actuate and then to the right to start. The 3TNV80F fires up immediately and settles into a quiet FT4 idle.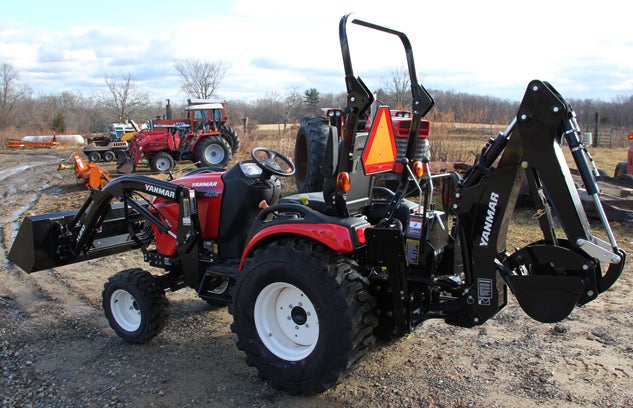 Heading off to the north forty behind Big Boy's Toys, the 424 felt substantial, more planted than the smaller tired 324. You knew the B65 backhoe and all that added mass was behind the tractor, but never did it upset the tractor dynamics. Turning the seat for backhoe use took a little fidgeting as this was a brand new tractor and the linkage was stiff – not to mention cold – but the mechanism is as good as most tractors in this segment. Dropping down the loader bucket and outrigger stabilizers, we found backhoe operation acceptable at idle, albeit a little slow – exactly what inexperienced users with nearby obstructions will immediately appreciate. Crank up the throttle a bit, and the backhoe operates quickly and forcefully. Dig depth is 76.5" and reach is 104". Bucket cylinder dig force is 2038 lbs with the dipperstick force capacity rated at 1,187 lbs.
COMPARISON: Read our review of the 2015 Kubota L2501 HST
The loader matched to the 424 (and 324) is Yanmar's curved boom YL210. Offering a 79" max lift height, 1200 lb lift capacity, and 3.9" dig depth, the 5.65 cubic foot 53" bucket seemed a little small for the 424s capabilities. Talking to Dan Huff of Big Boy's Toys, he agreed but added the quick-tach mount was the same as other Yanmar tractors where 60" buckets can be had. If we were purchasing a 424, that would be one exchange we'd be asking for. With 4.3 gpm flowing to the YL210 at 2,429 psi, performance is snappy. Raise takes 3.7 seconds, lower 2.3 seconds, full curl 2.3 seconds and full dump 1.6 seconds.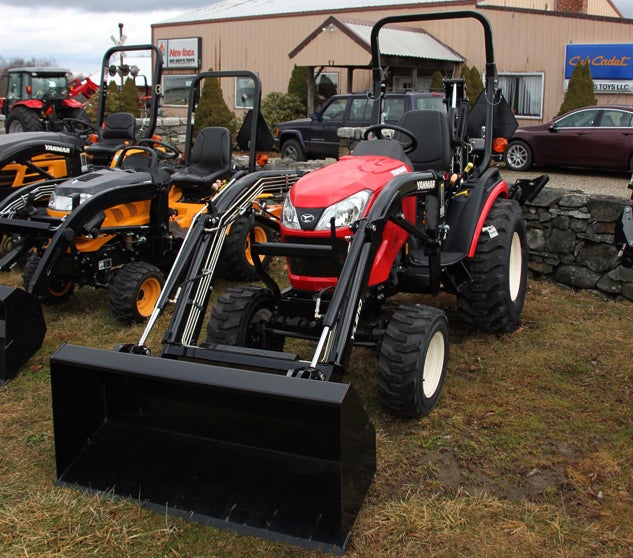 Our test tractor was outfitted with 23x8.5-12 4PR front and 14x17.5 6PR rear industrial tires (R4). This gives the 424 a slightly higher operator view perspective than the 324 as well as results in higher travel speeds across the transmission gear ranges. For those with terrains where it is less likely they will encounter traction diminishing mud or those with manicured lawns, turf tires are available.
COMPARISON: Read our review of the 2014 John Deere 2025R
Other niceties to consider: Yanmar includes 3PH arms for TLB tractors (an option for some competitors), the transmission and front axle are cast iron, and the 424 comes with high/low front headlamps. The 1830 lb 424 measures (tractor only) 105.8" long x 54.1" wide and is 87.2" high to the top of the ROPS (71.8" when folded). The wheelbase is 63" and the ground clearance 9.9". Turning radius is 8.5', but there are no split brakes to enhance the radius.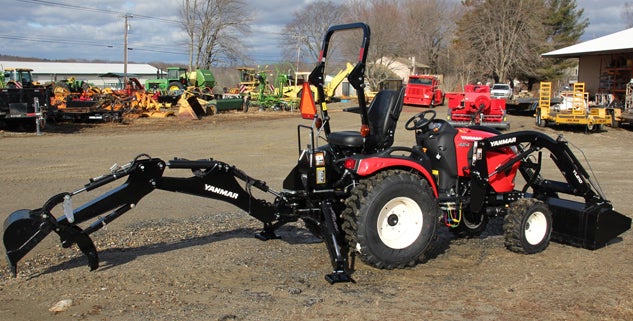 Yanmar gives the 424 (made in Osaka, Japan, assembled in Adairsville, Ga.) two-year/2000-hour bumper-to-bumper protection with the drivetrain getting additional five-year/2000-coverage. MSRP for the 424 in as-tested TLB configuration is $24,321.
For someone in the market for a 24-horsepower tractor that can trench 6.5' deep, has a wide, stable footprint, doesn't see the need for differential lock when there is 4WD, and can do without a third hydro range, the 424 might just be that perfect fit. Factor in Yanmar's long track record and legendary reliability, and this is certainly a package the competition is taking notice of.
Buyers Guides
Our Partners