2014 Yanmar 221 HST Review
An all-new multi-purpose compact tractor, now in red
By Geof Fowler, Photography by Yanmar, Jun 13, 2014
We first got wind of upcoming new tractors from Yanmar early this year, but dealers, whether they knew more than us or not, only met our inquiries with wry smiles and old fashioned wink-wink, nod-nod. So, when we received word that three new models were on a convoy heading to Devon Lane Farm Supply in Belchertown, Mass., we fast emptied our calendar.
Worldwide, Yanmar's reputation for innovation, quality, reliability, and durability is legendary, as is its brand recognition for being produced in the color red. In North America, Yanmar manufactured tractors have been more recognizable in the color green (reflecting a John Deere relationship that dates back to 1977), and then MTD (Cub Cadet) where the bumblebee yellow and black was a clear stand out. For the all-new, three model, multi-purpose compact tractors – the Yanmar Track Tour or Y Convoy as Yanmar's Bill Klein and Bill Summers are calling the Northeast promotional swing – it is a return to the color red with hints that other models will soon follow suit.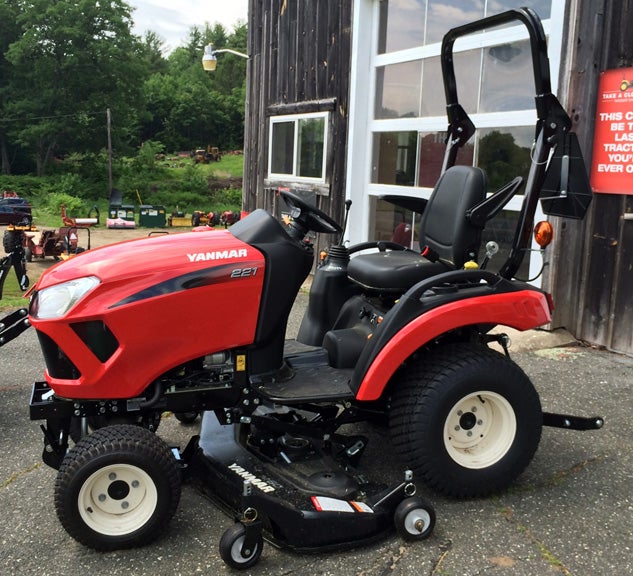 Along with the new models, Yanmar is moving to a numbering system that identifies the tractor series by the first digit and the tractor horsepower by the next two numbers. So, the 221 of this review is a 2 Series model with 21 horsepower, and the larger 324 and 424 models (both subjects to be reviewed in the near future) are 3 and 4 Series with 24 horsepower powerplants. All Yanmar tractors for North American use continue to be manufactured in Osaka, Japan and assembled in Adairsville, Ga.
COMPARISON: Read our review of the 2014 Mahindra Max 24 HST
The 221 is a direct replacement for the SC2400 we reviewed in June of 2012, though it is far from a renumbered model. What Yanmar has done with this new series is a direct result of customer contact where features offered and features actually used were closely looked at along with features not offered that owners wished for. With price playing a big part, you might expect a "cheapening" of the tractor to have taken place, but that isn't the route Yanmar has pursued.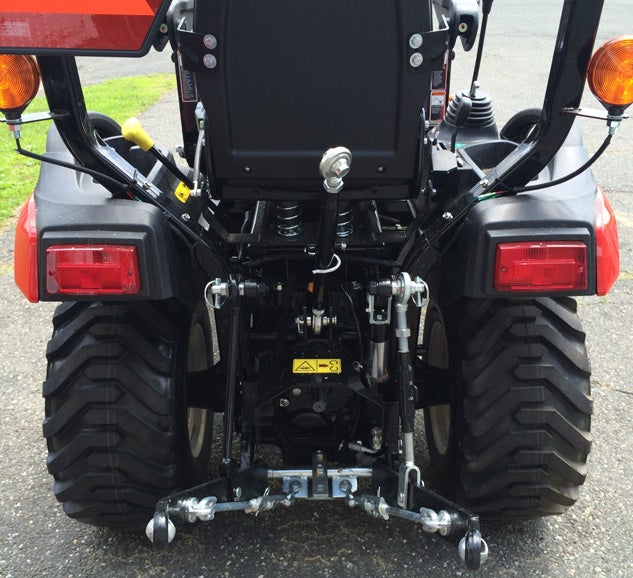 At the heart of the 221 is an all-new 3TNM74F engine that is EPA Final Tier 4 (FT4) compliant. Because the horsepower has been kept below 25, these models achieve this compliance without the need for costly and complex diesel particulate filtration (DPF). The three-cylinder powerplant displaces 60.6 ci and achieves a power take off (PTO) horsepower rating of 15.6 HP at 3200 RPM. Compared to the powerplant used in the SC2400, the gross power is down by 2.5 (21.5 vs. 24) and the PTO output by 0.9 (15.6 vs. 16.5). While we never like to see power go down, we can tell you the seat-of-the-pants feel is that the 221 is at least equal in zip to the SC2400.
Output from the new engine is sent to a single-range hydrostatic transmission. This is in contrast to the two-range unit used in the SC2400. As with horsepower, we usually like to see more gear ranges rather than less, but prospective owners can be comforted that the hydro unit used is the same as the ones used on the two-range 324 and 424 (just minus the additional range). Final forward top speed is down slightly (8.6 vs. 9.3), but reverse is up (6.2 vs. 6.0). Gearing is entirely different and there is still plenty of grunt down low where you might expect a single-range transmission to be deficient.
COMPARISON: Read our review of the 2014 Kioti CK2510 HST
For SC2400 owners, other changes that might be perceived as negatives are: no mid-PTO only option, addition of RIO (reverse mowing option), no differential lock, add-on drawbar, and the relocation of the fuel filler cap to the hood. Talking to the Yanmar folks, having the rear PTO operate while a front blower or mid-mount mower is used doesn't hamper performance, but does save quite a bit of cost. So for these new tractors, there are two PTO selectable positions, one for rear only and one for both. As we have long maintained, the reverse safety is an inconvenience that doesn't guarantee an operator will look rearward while mowing, though in today's lawsuit-happy world it is a reality we understand.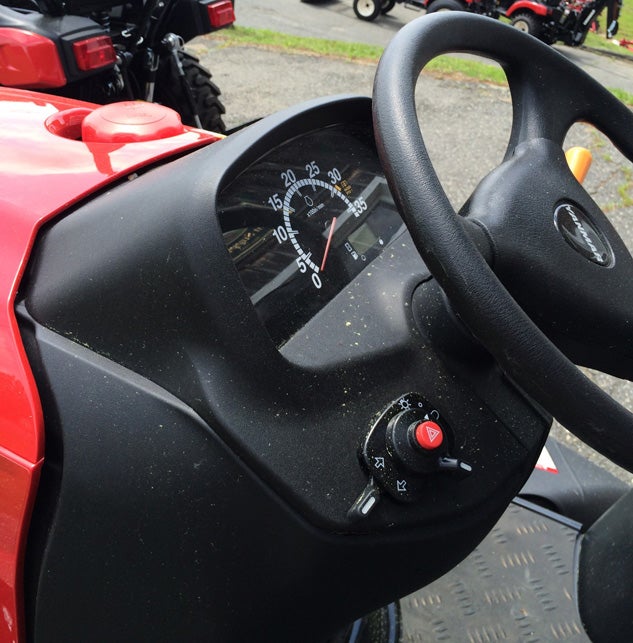 As for the differential lock, customer surveys revealed most owners never used this feature. The drawbar, though perhaps a bit chintzy in appearance, probably will perform all that is required of a tractor of this size and class. And while those familiar with the nice low location of the fuel filler cap on SC2400s might bemoan the relocation to the higher hood position even though it's offset for ease of access, what they get for the compromise is an engine that is reversed with the radiator out in front. End result? A cooler climate for the owner to operate and less build up of grass and debris.
The joystick is now standard and nicely integrated into the right hand fender console. This means a loader will be an easy add-on at a later date. The platform real estate robbing treadle pedal used on the SC2400 has also been jettisoned in favor of a comfortable side-by-side arrangement that offers nice modulation over the entire forward/reverse speed ranges. For purchasers who might have a need for a backhoe in the future, a decision no longer has to be made at time of purchase as it was with the SC2400/SC2450. Down the road a backhoe can easily be added, and for 2014, the backhoe can accommodate a mechanical thumb. Sweet. Another nicety is the new seat, which has armrests and is comfortable enough to spend an entire day in – a big improvement.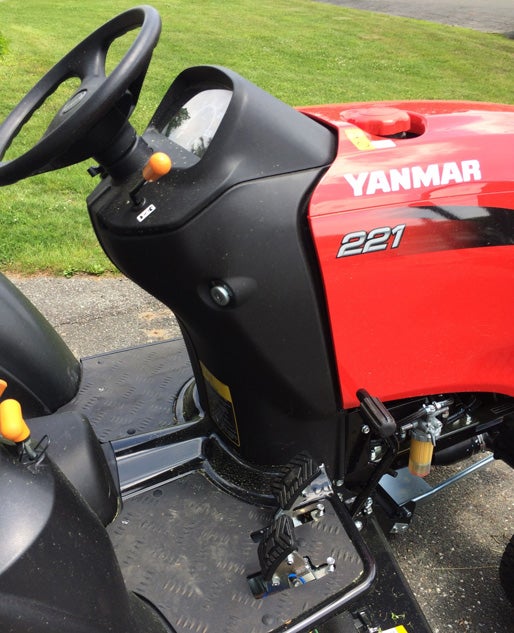 Hydraulic flow has increased in the 221, with 3.7 gpm flowing to the power steering system and 4.3 gpm to implement needs (8.0 gpm total vs. 7.1 on the SC2400). This allows the redesigned loader to gain an extra 125 lbs of lift capacity, along with better cycle times. And finally, the 221 is all cast iron throughout. This means no more aluminum transmissions, and weaker, lighter weight components. While this seems counterintuitive in today's cost cutting world, the 221 actually comes in 257 lbs heavier than a SC2400 (1537 lbs vs. 1280 lbs) for a reduced price.
COMPARISON: Read our review of the 2013 John Deere 1025R FILB
So how does it all work? Loader response, even at idle, is snappy. At mid-throttle we clocked full lift at 3.0 seconds, full lower at 1.8 seconds, full curl at 2.2 seconds, and full dump at 1.5 seconds. Pulling out our dBA meter, idle ranged from 76-80 and at PTO RPM 85-90. As expected from a FT4 powerplant, smoke was nonexistent.
Options on the 221 are few, but cruise control, work lights and a ROPS mounted toolbox are all worthy of consideration. Yanmar warrants the 221 with two-year bumper-to-bumper coverage and extended driveline coverage to five years.
With a MSRP of $11,000, the Yanmar 221 offers a lot of tractor for the buck. Target market for the 221 is "Agri-lifer." When we inquired what that meant, the Yanmar folks said those looking for a serious work tractor built for field use in properties of one to 10+ acres. If you fit into that category and are in the market for a tractor, check out the Yanmar 221. And if you're in the vicinity of Belchertown, Mass., stop in and meet the Shattuck family. You'll find Nate, Tom and Will knowledgeable and friendly.
Buyers Guides
Our Partners