2014 Kioti CK2510 HST Review
This compact utility tractor is anything but entry level
By Geof Fowler, Photography by Kioti, Apr 17, 2014
We first saw Kioti's CK2510 at the National Farm Machinery Show (NFMS) in Louisville last February. We knew it was based on the time tested and proven CK20 we tested in July of 2012 and EPA Tier 4 compliant, but wondered what other improvements had been incorporated. When we were offered the opportunity to find out firsthand, we didn't have to think twice.
The CK2510 is the smallest model in the CK series which consists of tractors ranging from 22 to 34 engine horsepower. Running a Daedong three-cylinder water-cooled powerplant displacing 85 cubic inches, the rated output is 24.5 gross and 19.8 power take off (PTO) horsepower for hydrostatic equipped CK2510s (gear CK2510s have 20 PTO horsepower). CRDI technology is used to achieve Tier 4 compliance without the need for urea additives or regenerative diesel particulate filtration (DPF). The CK2510 powerplant has 2.5 more horsepower than the previous generation engine, but more importantly produces it at a longevity enhancing 200 less RPM (2600 vs. 2800). As alluded to, two transmissions are available; a 6F x 2R dry single shuttle gearbox or the 2-range hydrostatic unit our test tractor was equipped with.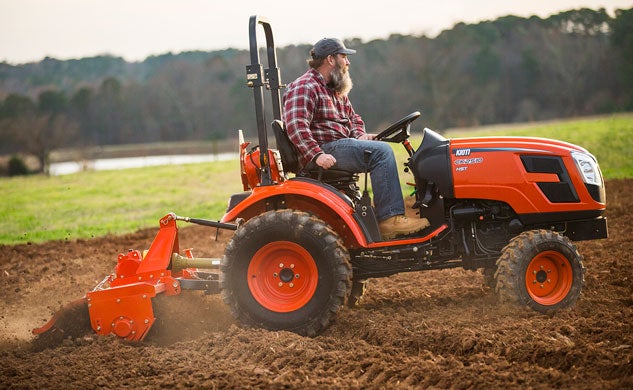 Hydraulics run through a gear pump outputting 11.3 gym. This is a substantial increase over the 7.66 gym output of the CK20, though surprisingly Kioti's rates the CK2510 three-point hitch (3PH) lift capacity 102 lbs less (1203 vs. 1305) at the same industry standard of 24" aft. We don't know if there is a typo in the Kioti literature, but at no time in our testing did the 3PH capability feel at all diminished. Position control is standard so an operator can return an implement to an exact preset position time after time. And at the rear, the standard telescopic lower link ends are sure to be appreciated when hooking up an attachment. A 540 RPM rear PTO is standard fare on the CK2510 though those planning to operate a mid-mount mower (MMM) or front implement such as a blower or broom will need to opt for the mid-PTO option.
COMPARISON: Read our review of the 2011 Kioti CK20S HST
Climb into the deluxe suspension seat that is adjustable fore and aft for operator comfort and you are treated to an ergonomic layout that uses clearly marked, color-coded levers and a well marked, illuminated dash cluster. Front and center is an analog tachometer with a PTO RPM indicator mark. A treadle pedal located on the right floorboard controls forward/reverse and speed. While not necessarily our preferred method of interface with hydrostatic transmissions, the CK2510 setup offers well modulated control over the 0-10.7 forward and 0-7.46 MPH reverse speed ranges. Gear transmission CK2510s have a speed range of 0.75-10.8 forward and 0.92-4.2 MPH reverse. Hydrostatic power steering, cruise (HST only), and 4WD are standard.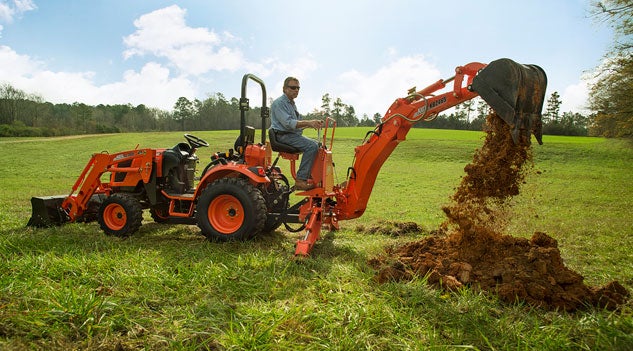 Other niceties are a folding rollover protection system (ROPS) hoop, retractable seatbelt, metal fenders (the hood is composite), cup holder, 6.6 gallons of fuel with the tank located behind the seat, wet disc brakes, and a heavy-duty front axle. For cold weather comfort, Kioti has a "Kab" option.
Our test tractor was equipped with Kioti's new KL2510 loader. Replacing the model KL120 loader, the new model offers similar performance with a few extra pounds of lift capacity (1092 lbs vs. 1076 lbs). With a max lift height of 87.8" and a dump clearance of 67.2", 3.9" dig depth and 1843 lbs of breakout force, we found the KL2510, which operates at up to 2275 psi, to be responsive. Cycle times at PTO RPM were 2.5 seconds for full raise, 1.5 seconds for full lower, 3.5 seconds for full dump, and 1.5 seconds for full curl. Even at idle, full raise took just 4.3 seconds. Bucket size was 50" giving the CK2510/KL2510 a 7.8-cubic-foot capacity. The location and integration of the loader joystick was also worthy of mention, as it is incorporated seamlessly into the right fender cowl.
COMPARISON: Read our review of the 2014 Mahindra eMAX 25 HST
A single backhoe option is available for CK2510 purchasers, and is the same KB2465 model offered for the CK20. A subframe design for sturdy operation and long life, the KB2465 is capable of digging to a depth of 76.3" with a 113.1" reach. The swing arc is a full 180 degrees and 2817.5 lbs of dig force is available with the system operating at 2466 psi. The KB2465 utilizes a separate seat, so there is no need to swing the seat from tractor to backhoe operation while in use. A range of buckets from 9" to a 36" muck type are available and a mechanical thumb is also an option.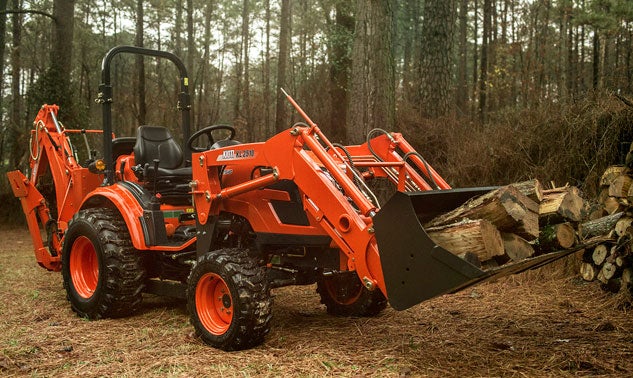 Depending on the user application, three tire choices are available with R1 Ags measuring 7.0-12 front and 11.2-16 rear, R4 turfs measuring 23x8.5-12 front and 33x12.5-16.5 rear, and R3 industrials measuring 23x8.5-12 front and 12-16.5 rear. Dimensions over the CK20 have also grown in stature, with the length now measuring 109", width 49.2", and wheelbase 59.8". Ground clearance is up 1.2" to 13.4" and the tractor-only weight up by 122 lbs to 2,260. Turning radius using brakes is 8.3'.
COMPARISON: Read our review of the 2014 Kubota BX25D TLB
For someone in the market for a tractor of this size and class, the CK2510 offers more grunt over the CK20, Tier 4 emissions compliance, more weight, a larger footprint (slightly), and aggressive styling. Kioti warrants the CK2510 for two years bumper-to-bumper with 48 months of coverage for the powertrain. Incentives are available. We noticed Kioti running a free loader for CK purchases, though the CK2510 was not listed and may be a reason to opt for a CK20 while they are still available. For those looking for a little more weight and power to go along with it, the CK2510 is certainly worthy of a close look.
Buyers Guides
Our Partners