2014 Mahindra eMAX 25 HST Review
Mahindra debuts its all-new eMax lineup
By Geof Fowler, Photography by Mahindra & Geof Fowler, Apr 10, 2014
In February of 2012, Mahindra shook up the tractor world with introduction of the Max series. Foul cried the competition: Max tractors weren't subcompacts but compact utility tractors under the skin. With full cast iron frames rigidly attached to the engine like big tractors, greater capacity hydraulic pumps yielding impressive lift capacities, and a range of attachments with capabilities far exceeding that of the competition are just some of the reasons.
On the forums, it wasn't uncommon to see a post from a prospective 22-28 HP purchaser be encouraged to also look at Mahindra Max tractors. Green, red and orange tractor owners then would respond that Max tractors really weren't subcompacts – as if it mattered to the purchaser who only cared if the machine would accomplish what they needed it to do. And thus a new class of tractor – Mahindra called it a game changer – was born.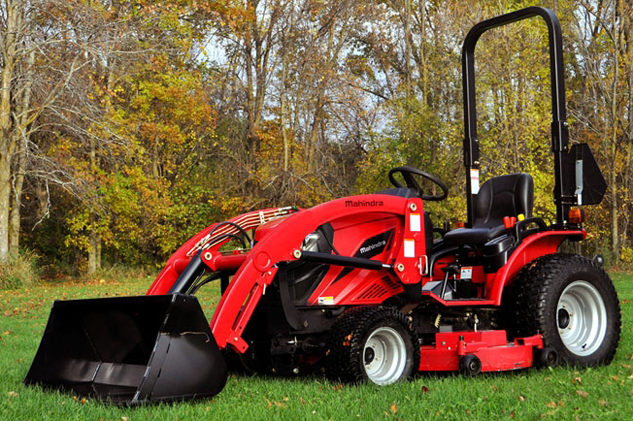 At the National Farm Machinery Show in Louisville last February we got a glimpse of the latest addition to the Max lineup – the eMax series. Specifics were scant (Mahindra is a marketing focused company and a little suspense does make for good press), but there would be three tractors, a 22 HP eMax 22 with a choice of gear or hydrostatic transmissions and a 25 HP eMax that would come in hydrostatic form only. At that time, we noted the side-by-side hydro pedals of the show model as well as the TYM manufacturer's label on the frame and were definitely interested as to when these would be hitting dealer stocks.
When we got word that Mahindra shipments to dealers had begun, we found time during a busy road trip schedule for a visit to Johnson Automotive in Bethany, Conn. where brothers Scott and Jeff operate one of the oldest Mahindra dealerships in the U.S. There we found two eMax 25s.
COMPARISON: Read our review of the 2014 Mahindra Max 25 HST Tractor-Loader-Backhoe
Johnson Automotive had just received these tractors and, in all fairness, hadn't had time to get fully familiar with every aspect of these new machines (Mahindra literature is still forthcoming). Still, Scott was a wealth of knowledge, pointing out several features that are sure to be sales advantages. The first was the transport height of the mid-mount mower (MMM) deck, which we measured at 4 1/2" – a good 2 1/2" higher than on a Max 25. Scott also noted that the Daedong diesel powering eMax tractors was EPA Tier 4 compliant, and as on all other Mahindra tractors, able to achieve those standards without going to a regenerative diesel particulate filter (DPF) or having to consume a urea-based fluid. We spent about 45 minutes with Scott discussing various aspects of the tractor business and how industry sales have finally reached pre-recession levels. Then it was off to the lot with a set of keys.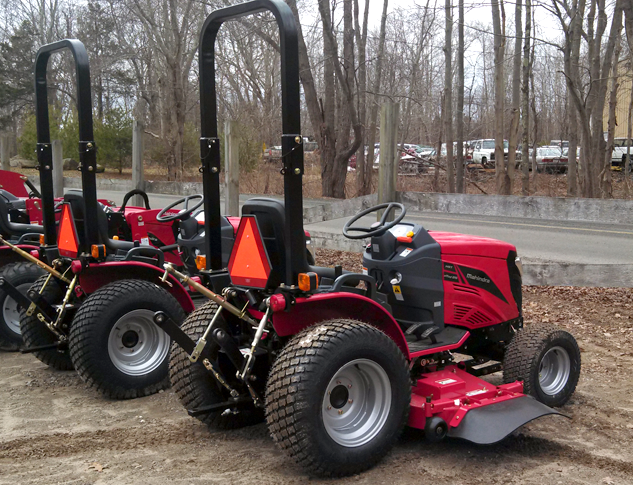 The eMax 25 we tested was equipped only with a 60" MMM, though we were told both a loader and backhoe were available with both able to be added after the initial purchase. Stepping up and into the operator seat, we noted an intuitive control layout that was clear even to a first time user. On the right fender was the rockshaft lever controlling the three-point hitch (3PH) position as well as the MMM lift lower/raise function. There was no position control on the rockshaft, but few tractors at this price point can claim to be so outfitted. Controls on the left fender included a conveniently positioned 2WD/4WD lever, mid and rear PTO selector, and an L – N – H lever for the two-range hydro transmission. Grab handles were located on both fenders.
An otherwise flat platform has a slight transmission tunnel in the center. As mentioned above, the hydrostatic transmission is controlled by side-by-side pedals located to the right with the brake pedal on the left. Included on the dash is a large analog tachometer with a fuel gauge to the left. PTO RPM is clearly indicated, and comes at an engine speed of 3000 RPM. The rest of tractor functions and warnings are through digital idiot lights. Cruise control is standard and there is also a cup holder on the right fender for convenience, though the steering wheel is a stationary unit and cannot tilt. A yellow button to engage the power take off (PTO) is located on the upper right portion of the dash and is engaged by pushing the button and twisting it from 11 to 1 o'clock. Disengaging the PTO requires only a tap of the button.
COMPARISON: Read our review of the 2014 Kubota BX25D TLB
One small issue is a limited amount of rearward seat travel, which positioned the hydro pedals further back than this 5'11" tester would have liked, though the position was not uncomfortable and was easy to get used to. Firing up the powerplant, our dBA meter measured a quiet 82 reading at idle. As on big brother Max tractors, the eMax rides on large tires (29 x 12.5-15 Titan turfs on the rear and 20 x 8-10 on the front) both bigger sizes than the competition. This gives the tractor a decidedly "bigger" feel. Turning radius was surprisingly not big-tractor wide and on par with the most maneuverable subcompacts available. For the prospective owner, the overall feel will definitely rate "substantial" while not sacrificing any everyday usability.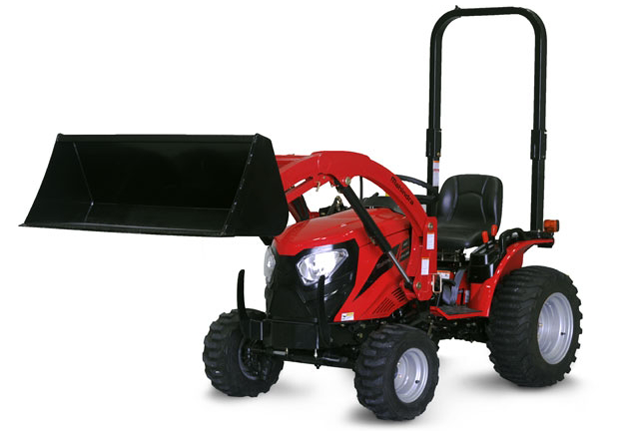 At the rear, the 3PH is rated to lift 1,320 lbs., which is not at all subcompact-like, though the lower link ends do not telescope and sway is controlled by inboard turnbuckles. Other nice features include a one-piece fiberglass hood with easy to remove side panels and access to the battery and other maintenance areas is well thought out. Upon opening the hood, we noticed something we haven't seen on a tractor of this size and class: a horn. Sure enough we had missed the button in the center of the headlamp/turn signal/flasher circuit. Neat. The ROPS also folds for storage.
COMPARISON: Read our review of the 2013 TYM T233 HST
Final specifications were not available at the time of this review, but we do know the loader will lift 900 lbs to a height of 75" and that the gross weight of the eMax 25-only is 1,540 lbs. MSRP is $12,950 for the tractor alone and Mahindra offers incentives that include 0% 72 months, 4.25% 84 months and cash back options. On the Mahindra site is a March Madness bracket that when clicked on shows 2014 MAHINDRA MARCH APRIL MONEY MADNESS with $100 off eMax tractors. With Mahindra's five-year warranty, the eMax 25 might just be that perfect tractor for a homeowner, hobby rancher or landscaper. If you are in the market for a machine of this size and class, check out the new Mahindra line of subcompacts that don't know they aren't compact utility tractors.
Buyers Guides
Our Partners