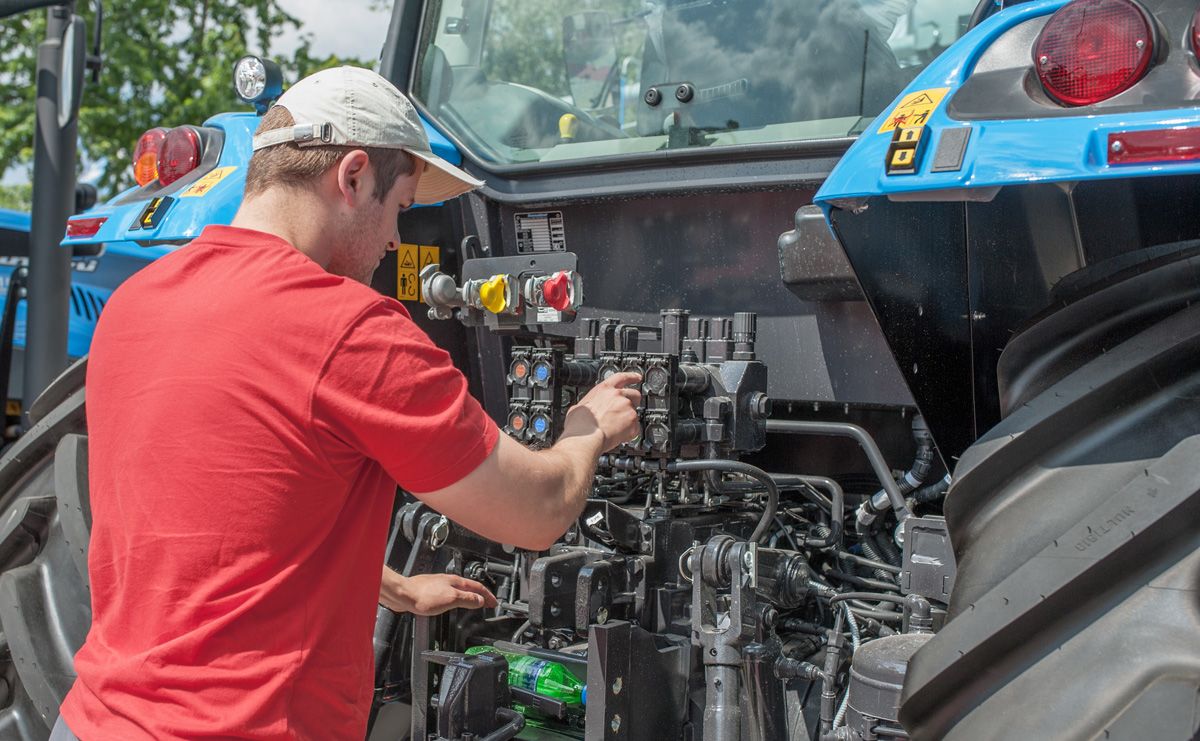 Tractors are designed to work hard and help you get the job done. However, that doesn't mean that things can't break or wear out. Whether you've got a broken water pump or a worn-out gasket, you need to your tractor working again. When you're looking for Tractor Parts, the vendor in the Tractor.com Buyers Guides can help you find what you need to get back up running.
Having the right tractor parts on hand or at least quickly available can mean a lot to a landowner or farmer. Tractors, by their very design are hard working machines. When you work a tractor hard, things do wear out or even break and that means lost time and potentially lost revenue.
The good news is you can easily find a lot of tractor parts online and have them delivered right to your door. Whether that means repair parts you should always have on had, or parts you only buy when things break, you can find most anything you need in or Tractor Parts guide.
(Lead photo by pajtica/Shutterstock.com)
Tractor PTO Parts
The PTO is the lifeblood of many of the most essential tractor implements. If your PTO isn't working…neither are you. Whatever parts you need for your PTO, you can find them in the links below. What kind of PTO parts are available online? Here's a small sampling to give you an idea:
Tractor Alternators
Replacing an alternator is a relatively painless job and one many tractor owners choose to do themselves. Tractor parts like alternators eventually wear and stop working, just like the do in your car or truck. Alternators are mated to your engine and when the engine is running, the alternator charges your battery and helps power any electrical systems on the tractor. When your alternator stops working, the battery gets drained and all the vehicle's electrical components will decide to take a nap. The good news is you can find an alternator to fit your tractor from a variety of vendors, along with some associated parts.
Tractor Batteries
Just like your car or truck, your tractor battery needs to be properly maintained or else you might have to replace it. If your tractor sits for long periods of time, using a trickle charger or battery tender can save you a serious headache when it comes time to put your tractor to work again. Even when your battery is not in use, it the charge will slowly deplete. A trickle charger basically works by not allowing the battery to deplete its charge when its sitting idle for a long time by slowly adding charge to the battery. Of course, sometimes you just need a new battery. Fortunately, you can order one very easily online.
Tractor Bearings
When it comes to stocking up on tractor parts, we'd suggest you keep a good collection of tractor bearings on hand. Bearings wear out over time and fresh bearings just make things run smoother and quieter. You can also maintain your currently bearings by cleaning out the grease with a solvent and packing them with fresh grease.
Tractor Brake Parts
While you will never travel at highway speeds with your tractor, that doesn't mean you don't need brakes work well. Tractor brakes can be replaced or repaired at home with the right tools and a little knowhow. You can pick up all of the brake parts you need with some online sleuthing, but we've already done that for you.
Tractor Clutch Parts
If the clutch on your tractor needs some serious TLC, we've got you covered. Whether you need a whole new clutch kit or just a clutch disc for your tractor, check out the link below to find what you need.
Tractor Exhaust Parts
While we are not sure you need to keep these tractor parts around, if your tractor exhaust ever gets damaged or breaks, you can find everything you need below. From entire muffler and exhaust kits to exhaust silencers and retainer/fastener kits, check out the link below.
Tractor Filters
Keeping extra oil filers, air filters and fuel filters around for your tractor makes a lot of sense. These don't last forever and it takes very little time to make a quick replacement when the time comes. Our links below will lead you in the right direction.
Tractor Gaskets
To make sure your tractor's engine is running with maximum efficiency or the oil pan isn't leaking all over the place, you need gaskets. Rubber gaskets can dry out and crack, rendering them useless over time. Keep a spare or two around in case of emergency so you can get back to work as quickly as possible.
Tractor Hydraulics
Hydraulics make like a whole lot easier and more functional, so when putting together a shopping list of tractor parts, don't forget the hydraulics. From oil to tie rod cylinders to hose replacements to hydraulic pumps, these are some parts you should have available.
Tractor Ignition and Starter Parts
Is your ignition causing you problems? Will your tractor not start like it should? If so, it might be time to look into ordering some ignition and starter parts for your tractor. In the links below, you'll fine ignition coils, ignition switches, and starters for a variety of tractors.
Tractor Pump Parts
Your tractor relies on a variety of pumps to take care of any number of duties. Pumps can break down or cause problems over time, but pretty much anything is fixable or replaceable if you take the time to learn how. Check out the link below to water pumps, fuel injection pumps, power steering pumps, or parts to repair any or all of them.
Tractor Radiator Parts
Tractors work really hard, which generated a lot of heat. Your tractor's radiator makes sure everything stays cool enough to work properly and can prevent some seriously expensive damage when things really heat up. You can find everything from complete radiators for many different tractors to an assortment of hoses and other parts for radiators in the link below.
We are committed to finding, researching, and recommending the best products. We earn commissions from purchases you make using the retail links in our product reviews. Learn more about how this works.